Reading Time:
7
minutes
A fast, safe, and modern that enable developers to establish a new level of interactivity during their custom iPhone app development – the best language known as swift.
Swift consists of several useful features like generics, type interface that makes a swift lot easier to use, and simplifies common patterns used in Objective-C and closures. We can also say that swift combines features of both C and objective – C programming language.
Hence, iPhone app developers can redefine the process of their custom iOS app development using Cocoa Touch in Swift.
Here Are The List Of Reasons To Go With Swift 5 :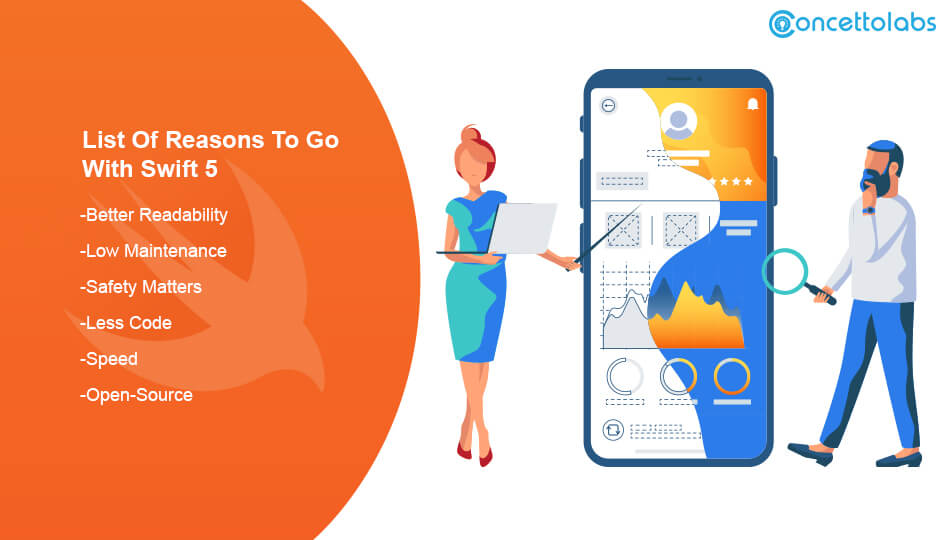 There is always a lot of confusion in the development community among tech startups and enterprises that Swift is a better programming language or not.
While talking about any development SWIFT has always been the center of discussion in several organizations. Apple claimed that the Swift programming language was better than its predecessor.
Swift gives clean syntax which is the best reason to go with it as it makes it easier to write, read, and modify. Compared to Objective-C the number of code lines used lesser in Swift during developing iOS apps.
The reason why startups and enterprise both should choose to develop iPhone apps into Swift as it reduces the development time as well as development cost both. If the iPhone App Development Company charges on an hourly basis that using Swift as a programming language reduces the overall cost of the project.
As apps get published before that apps have a maintenance cost, once the app is downloaded by the targeted users, another required thing is to keep the app updated with new content and keep tracking the performance and integrate additional features that evolve it.
Swift does not keep the dependencies and these make Swift easier to maintain.
For all either startups or large enterprises, building a secure mobile app is always a priority, and if talk about Swift in terms of security or safety than syntax and language construction eliminate different types of mistakes that possible in Objective – C.
Hence to build an app with Swift programming language eliminate the risks that objective C possesses.
Compared to Objective-C developers will require writing less amount of code lines if the developer goes with Swift.
Swift provides code that is less error-prone due to its inline support that manipulates data and text strings. Less coding efforts to build apps for iPhone Swift is best as it ultimately saves a lot of time for your iOS mobile application development.
With several speed advantages over Objective-C during development that results in saving on costs. Swift's performance approaches to one of the C++ that is known to be the fastest algorithm calculation arithmetic.
In 2015 Swift was announced as an open-source. With this announcement, the potential to use Swift across an assortment of platforms and the backend infrastructure has opened up.
The benefit is that developers can give feedback to Apple to make improvements consistently that make it more designed and structured that helps in developing future mobile apps.
An exciting opportunity to be featured in the App Store :
Apple uses a great way to promote their products by featuring apps that use its latest technologies and follow its best practices and trends.
We can say that for the developers it's a great opportunity to hit up the App Store charts with the quality of the product.
Conclusion :
After reading this article all the reasons justify that Swift is the best and most loved programming language that helps to make the right decision. Swift 5 offers long-awaited and new features and also bring ABI stability with improved language.
If you wish to develop iOS apps or hire swift app developers or have concerns related to app development cost than get in touch with Concetto Labs and hire iPhone app developer and our team delivers your dream app in an affordable budget.