Reading Time:
11
minutes
Last year, Microsoft introduced Artificial Intelligence in PowerApps with an AI builder. It changed the way PowerApps worked. For developers, PowerApps has always helped develop excellent business solutions.
It is a powerful low code platform. It enables organizations to utilize apps for data analysis. With these apps, businesses can automate processes. PowerApps platform has helped professional developers drive business growth through apps.
With PowerApps AI builder, you can leverage the CDS or Common Data Service. It is a data store provided in the power platform. Any enterprise can utilize PowerApps with an AI builder by accessing the low code Artificial Intelligence platform. Let's discover some of the key business automation that you can achieve with PowerApps with AI builders.
Business Card Readers:
Now accessing the data of your clients and other key business person became easy. With a business card reader provided in the PowerApp studio, you can access information regarding the business through a card scan.
Further, this feature gets more advanced by integrating a QR code scan. You can use Artificial Intelligence in PowerApps to integrate such an attribute.
Business Outcomes:
Devise strategies for your business and test them on apps with AI models. Now organizations can hire PowerApps developers to use the binary classification in Power platform. It uses historical data and predicts the outcome of new data with classification.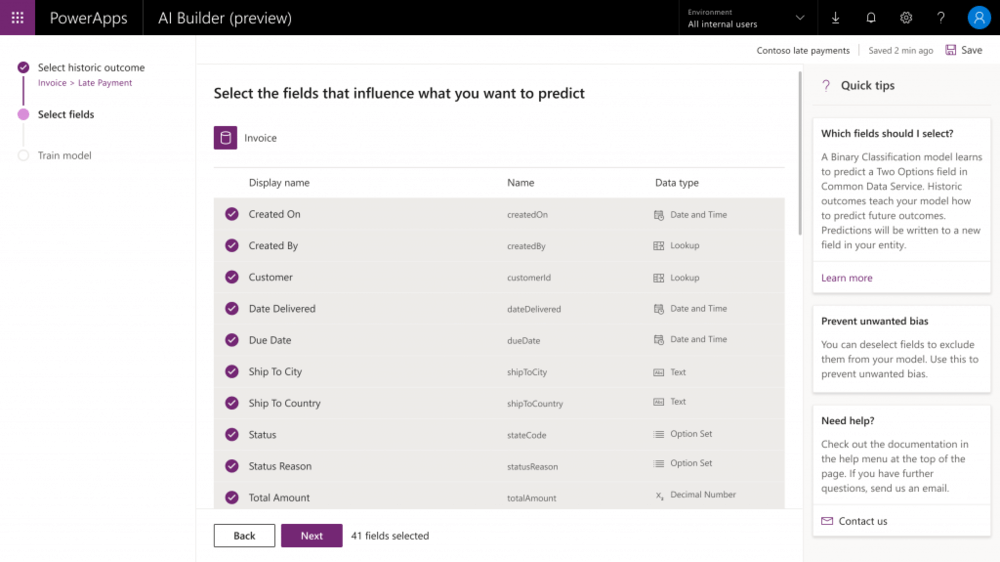 It classifies the data into two categories- Yes/No outcomes. The AI builder binary function uses AI-based algorithms to predict these outcomes. The algorithms learn from the data patterns associated with earlier outcomes and results.
Based on these outcomes, the results of newly found data are compared. By this comparison, it predicts the result of new data. Thus, any business can get predictions on business strategies and new methodologies.
Text Classifications:
Perform analysis of customer's sentiments or route user requests with text classifications. PowerApps developers can use this classification to tag new texts. It tags snippets of text according to the historical data of your business. You can automatically tag the new text with text classification.
You can tag text entries by users with labels to analyze spams, user sentiment, and process user requests. It is a type of Natural Langauge Programming(NLP).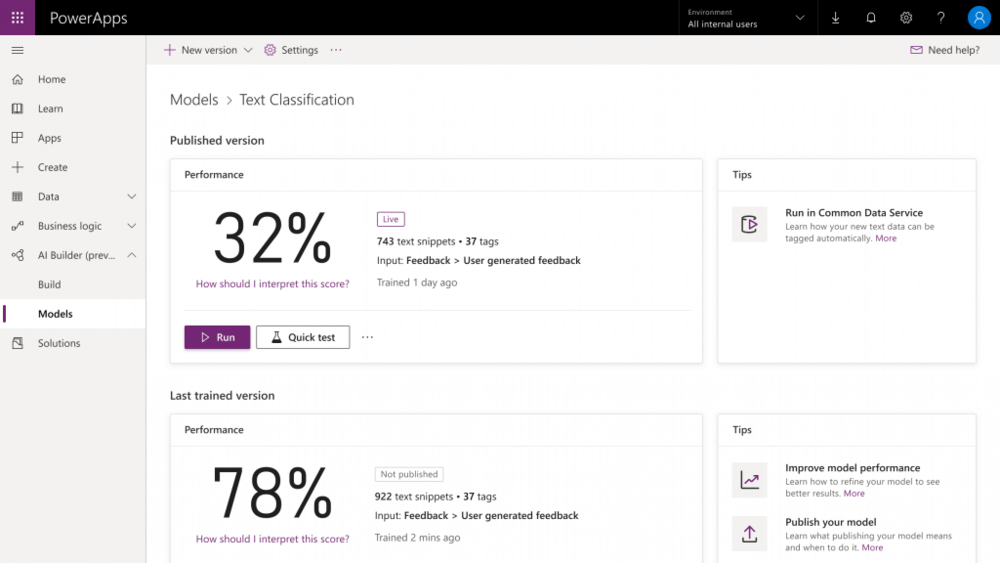 Developers can use it with Microsoft Flow, and PowerApps for process automation in businesses. You can use it to help provide valuable analytics to your experts for further assessment.
You can also use AI builder text classification for the input of other AI functions. Some functions like predictions of business processes, user subscription base, and others can be analyzed. User-generated texts stored in CDS as unstructured data can b identified and used for business analytics.
Detecting Objects:
Now use object detection for business-specific functions. You can count your objects or locate them with this feature. PowerApps developers can design apps around object detection for automation.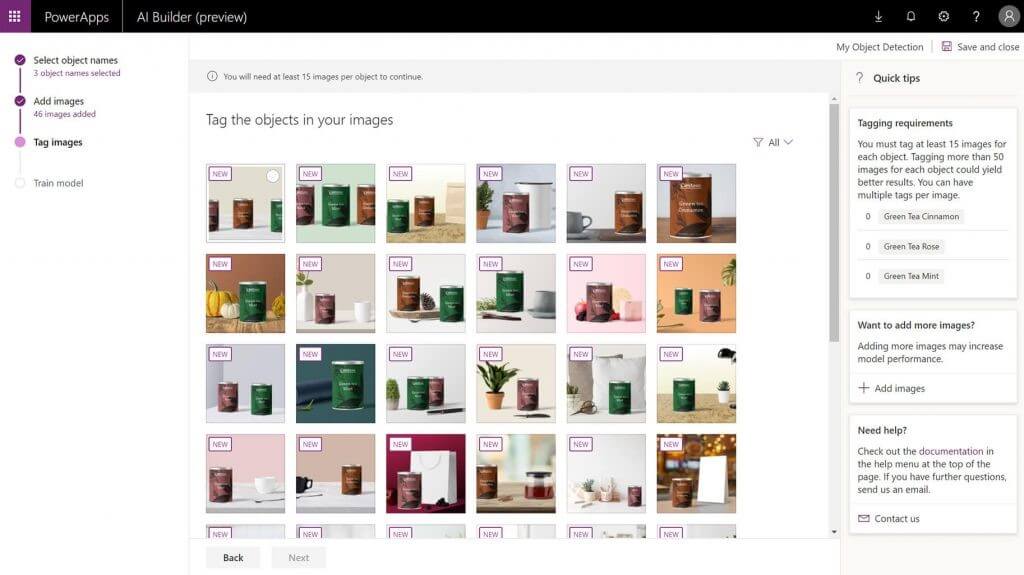 It can be used in manufacturing plants, production lines, and other such processes. In such plants, quality checks can be performed through defect detection with object detection.
While in retail businesses, like e-commerce or offline stores, inventory management can become easy. Retailers can now offer consumer-specific apps and portals. Companies can also use object detection feature in PowerApps with AI builder to achieve error-free operations.
Form Processing:
A form processing model is used to process forms and documents that carry important data in value-pairs. The feature extracts the data from the documents and makes it accessible. PowerApps AI builder has an AI model that analyzes the existing sample documents already in the database. Compares it with the new documents to extract the information. Based on the sample documents, the outcome of the data is predicted.
You can automate the process of form-processing through following steps:
Enable the AI builder in PowerApps by going to the Admin panel.
Sign in to https://web.powerapps.com/ and use an AI builder to access the build function for form processing.
It will open a new window, where the AI model demands sample documents or forms for processing.
Go through all the requirements of the AI model for form processing.
Sample documents that you provide for analysis must meet the requirements, or else the model will fail and send an error message.
Add documents and start analyzing through PowerApps with an AI builder.
As you click on analyze it analyze the steps, structure of a document, data value-pair, data tables, and other fields that you have selected.
Click on the tab called 'Process Quote Model form' to know the data, the model will extract.
Now, train the Artificial Intelligence algorithms in AI builder.
You can also test the model with a quick test to know whether the model can provide accurate data.
Business Analytics:
Driving sales in any business need thorough analytics. Artificial Intelligence in PowerApps is integrated to help developers create powerful applications. Multiple features are integrated into the AI builder leveraging machine learning.
Some of the business analytic functions that you can integrate are:
Consumer data verification
Supply chain analysis
Process data analysis
Subscription churn
Business strategy testing
Product analysis
Trend check
To integrate these AI-based function, you will need PowerApp developers well-versed with the AI builder functions and its algorithmic model.
Conclusion:
Microsoft Power platform is a robust low-code development platform. With the integration of AI-based builder, it is more innovative now. Enterprises always look to find more innovative solutions. The competitive market makes data analytics more essential.
As we saw here, there are several key analytical functions in PowerApps now. The integration of AI models in PowerApps has ensured that there is robust business automation.
It also helps many companies to improve consumer relations through CRM functions. Customer Relationship Management or CRM can be automated with an AI builder. So, firms can analyze customer sentiment regarding their products and adjust it accordingly.
So, if you are looking for a low-code, a robust and automated app for your business then choose PowerApps with AI builder.