Reading Time:
9
minutes
Whenever there is a new tool is launched, it replaces the existing one. There is a dilemma in the user's mind whether the new product is functional and stable. When it comes to PowerApps apps development replacing Infopath, the answer to the same is yes.
Sharing specifications of previous Sharepoint, InfoPath became a tool of choice in the Microsoft stack. It was preferential for developing interactive forms and modifying the SharePoint list and library dialogs. InfoPath still shares support until 2023, April for legacy systems. It got replaced with PowerApps in Microsoft 365. PowerApps is not only restricted to Sharepoint. It helps in stand-alone mobile applications. It could be connected through different data sources integrated with Dynamics 365.
Who is the descendant?
There are a few instances where InfoPath Forms is useful. For instance, it can anonymously collecting information or can print when required. On the other hand, PowerApps is specialized in the digital formulation of data.
PowerApps is continuously getting updated with new features, creating strong functionality. It becomes highly responsive and user-friendly. PowerApps developers optimize their applications for reducing network traffic and enhanced performance on different devices
PowerApps has the power to interact with data through a myriad of sources. It is not restricted like InfoPath. Making changes to PowerApps is easier as it is centrally managed and has automatic updates.
Limitation to PowerApps is that this application is restricted to regular users in your tenant. Guest users cannot access it now. It is though available on Microsoft roadmap. If you want to convert InfoPath forms to PowerApps, save by collaborating with the powerapps app development company.
Minimal But Powerful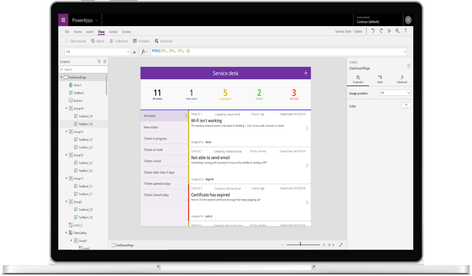 As a WYSIWYG tool, PowerApps editor has different control options. This includes labels, buttons, and text boxes. These can be easily added to the app canvas. Modification is an application with a few clicks.
It has an Excel-style formulaic language used for adding core capability to your application. Microsoft presents PowerApp player, available in iOS, Android and Microsoft App Stores. So, your PowerApps does not need an addition from the app store directly. It gets published in your tenant and accessible through PowerApps player.
It can also be embedded in SharePoint and PowerBI dashboards and reports.
Breaking the Monotony
There are different ways of creating new PowerApps. You can navigate to

Office365.com

and click on the PowerApps icon present on the list. This will take you to PowerApps.com. Here you will find different options for creating applications.
In different cases, PowerApps automatically creates an application based on your data. For instance, if you are willing to connect to a SharePoint list, PowerApps will formulate a default app through three scenes. One is through going through the records in the list, second is going through the details of the record and finally, adding or modification of records.

This template application can be modified for implementing your brand image. You can change the outlook and add more features and functionality. You can also opt for creating a blank app and build it from scratch. This will help you in meeting your needs. One of the best ways is to hire powerapps developers.
PowerApps is useful is a modification of dialogs in both Dynamic 365 and SharePoint Online. Customizing a list form, the process is easier. It is like navigating to the list in SharePoint. Just click on the PowerApps options and select "Customize Forms."
The form is released in the PowerApps editor where you can customize. Best for building stunning list forms for enhancing user-experience for the app. In Dynamics 365, you can easily edit entity forms through navigating the same in the solution explorer.
A lighter version of PowerApps Studio is launched in the same phase of Dynamics. It will allow you to show and hide fields and reorder the same.
The Functionality is Enhancing
Microsoft is adding and enhancing the feature set of PowerApps. It further gives you the right to access new data sources, implementing visual elements. It makes it easier for connecting to services like Azure.
The base version of PowerApps is incorporated in all licenses like Office 365 Business Essentials. For using Premium Connectors, connecting to external services are needed for further collaboration. External services include Salesforce, DocuSign, Jira.
The development of PowerApps was done keeping the non-developer Power Users in mind. It was mainly conducted for improving everyday business functionality. It also helps in connecting data sources and creating rich applications with less or no code.
Developers can use PowerApps for the development of responsive and complex applications. It will help in leveraging multiple data sources and interactions.
Conclusion:
While PowerApps is still growing and formulating features, it is ready to replace InfoPath Forms. It could be in the form of creating interactive forms and modifying the SharePoint list and library dialogs. There are so many things which could be done with PowerApps. It could be considered by organizations for new defining pathways.