Reading Time:
10
minutes
Flutter is an open-source software development kit owned by Google. It's mainly used for developing a mobile application. It released in 2017 and today is preferred as one of the best developing mobile apps. Flutter is a relatively new and complex framework. It makes it hard for developers to understand and work with the SDK truly. Currently, the demand for Flutter developers is increasing. If you're looking to hire a flutter app developer, make sure you look for complete talent.
Let's start with the basics.
In this decade, Flutter development is essential to develop a mobile app, and we don't have any replacement for Flutter. Several start-ups and established businesses in the world need a dedicated flutter app developer online to grow themselves. A lot of flutter app development company provide the best flutter app development services at budget-friendly rates.
How to choose the Flutter app development company?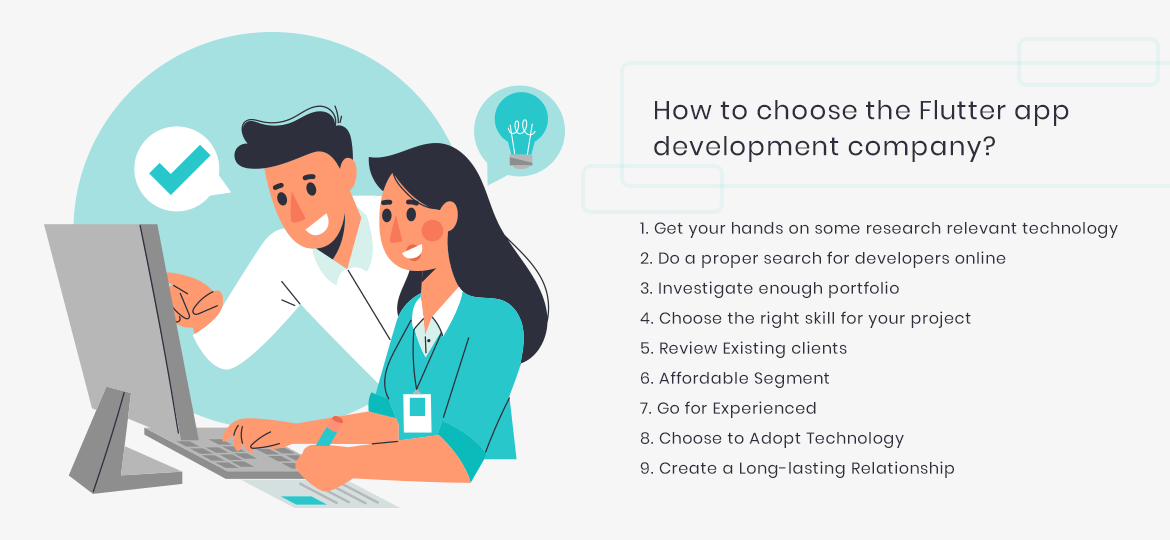 Before outsourcing a Flutter, application development company make sure the company offers the best flutter app services. As not every company provides the best flutter app, developers. Therefore, make sure you keep the following things in mind.
1. Get your hands on some research relevant technology.
To hire a tech professional, the user needs to know related technology. If you're not familiar with relevant technology, then there's a chance your flutter developer doesn't perform well. Therefore, research well before hiring a developer; otherwise, you'll sound like a fool.
2. Do a proper search for developers online.
Developing a flutter application may not be a piece of cake for everyone. But one can hire flutter developers easily from the internet. It's tough to get the right developer that best suits your project needs. So, do a proper search before hiring the developer.
3. Investigate enough portfolio
It's one of the essential parts if you need a dedicated Flutter app developer online. Do not hurry while hiring a flutter developer Online. Investigate though enough portfolio which gives a perfect vision of developer and apt for your dream project.
4. Choose the right skill for your project.
After hiring a flutter app developer now, it's time to choose the right project. Choose the project based on the skills the developer has. Make the decision correctly by checking the requirements regarding the gifts.
5. Review Existing clients
Note the developer's behavior and its developing process. There's a time when one feels unfamiliar to contact the previous client, but we can't take the risk. Therefore, it's suitable to inquire.
6. Affordable Segment
One can try out some fake inquiries on the various website that are providing flutter development services. Get proper knowledge of the actual price for app development going on in the market. Try bargaining as it's not a bad thing if you're saving several bucks from it.
7. Go for Experienced
Discuss the experience requirement. If your project is complex and needs more creativity to add to it, go for experienced flutter app developers.
8. Choose to Adopt Technology
Never hesitate to craft your idea onto your flutter application. Get detailed information from your developer and tailor the app based on your needs. Choose the right technology for a theme and plugins development. Add the best choice of relevant color to your project.
9. Create a Long-lasting Relationship
It's not a one-time task. Try to build a long-term relationship with your client. Make new friends while developing an app. If this sounds pleasant to the developer, then they'll help in the development process. Anyone is free to share their vision with the developer.
Quick tips for hiring a flutter app developer
It should be among the top flutter app development company from where you can hire flutter app developers with ease.
If the client is spending more, then they must get the best flutter mobile app development.
Any client needs to interview with a flutter developer before hiring them.
Anyone should hire a team of flutter developers within a click.
Get the best out of flutter mobile development.
FAQ for Flutter App Development
What Business benefits Flutter development offer?
Flutter uses a single codebase and multiple platforms. It offers fast development. Offers hot reloading features for developers to code easier.
Offers best UI/UX rich apps
Flutter is best to build UI/UX rich apps. The tool comes with an in-built material design, rich motion APIs, natural scrolling, and other platform awareness. It works best for cross-platform tools.
When to find an App developer?
After research, you can finalize the app concept, and one can begin looking at, app developer. Once you identify your target market's problem, it's time to give a solution with your app. Outline some ideas for your app and put together all rough wireframes of what you want inside your application. Finding an app developer is one of the enormous tasks, therefore vet your developer thoroughly and get organized with your search.
What is the best way to find an app developer?
For outsourcing a flutter application development company, there are plenty of ways available. But to hire flutter app development, several platforms are used. Check below a few devices that help in finding the developer that right fits your requirements.
Extended Networks
Local Colleges and Universities
Freelancer Outlets
Are you ready to hire?
Well, the ball is in your court. Hope we were able to serve you with better information to hire flutter developers. However, if you're a start-up and planning to start a software development venture, the best option is to hire an in-house flutter developer team. In case you need any guidance for outsourcing a Flutter Application Development Company, get in touch with us.
How To Hire A Flutter App Developer And Streamline The Hiring Process?