Reading Time:
10
minutes
This is the dream of every business owner to see their business scaling. But not every digital meets the good fate.
Have you ever thought that why does this happen?
There are multiple reasons behind it. It can be due to poor concept, wrong tech stack, and many more.
But we are not going to discuss other aspects with this post, but only one!
That is the integration of new app trends within the digital solution. Trending technologies help your consumers to fall in love with your portal!
But wait, how to get it?
You need to study the user-behavior pattern. Track who visits your application & checks what triggers their interest or what irks them most.
Every audience is different and their demand varies. To make an efficient digital solution select a leading mobile app development company only.
The selection of an efficient company plays a huge role. With an experienced team, you can select the best for your app concept. Such a company ensures that you practice the latest technological trends.
In this post, some of the app development trends that are going to rule the app world in 2020 are mentioned herewith. Just take a look and pick the best trend to be a part of your development process.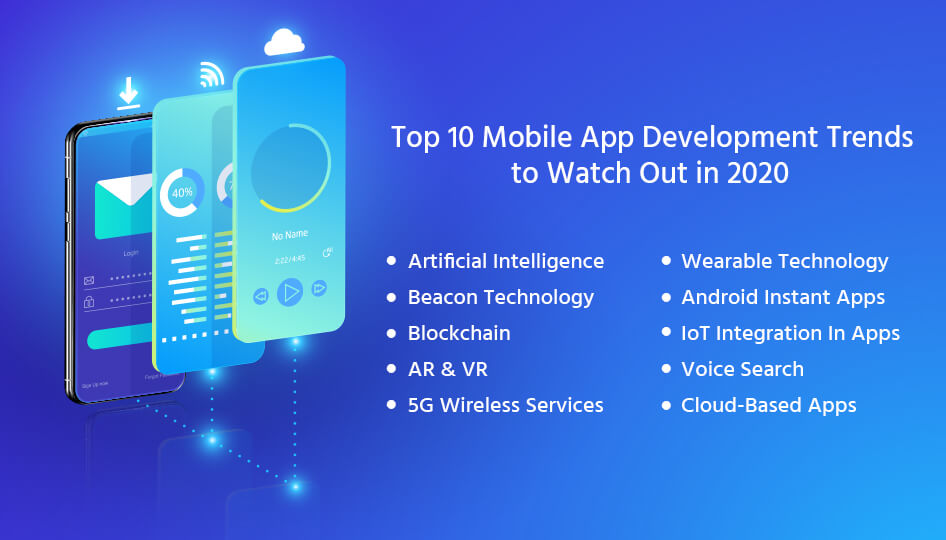 1. Artificial Intelligence
Artificial Intelligence is a top-notch technology. Today AI is responsible for many businesses to excel ahead. Another out product of AI is a chatbot, which a new marketing tool for brands.
2. Beacon Technology
Beacon brings comfort & convenience to the selling process. The BLE- Bluetooth Low Energy BLE sends signals. Beacon is a perfect choice for the retail industry along with others.
When someone enters the beacon zone, technology starts to work. It receives signals and triggers buying behavior.
3. Blockchain
Blockchain is the distributed ledger system. It is one of the most effective methods of collective data storage. Blockchain allows database management, retail, hospital, networking, education to function well.
Different industries process their financial /non-financial transactions. It offers a high level of security without involving any agent.
4. AR & VR
Augmented Reality & Virtual Reality are the best technologies. They are interactive, simple and fast development trends. By using these trends you can bring your business much closer to your audience. Also, you let them access the services closely and as per their convenience.
5. 5G Wireless Services
5G is filled with innovation & creativity and its speed is the best aspect. It is expected that 5G speed will be more than 100% compared to 4G.
6. Wearable Technology
Wearable technology has brought many benefits to different businesses. Many influential brands are engaging with a larger customer base. This will continue to impact user behavior in the future as well.
7. Android Instant Apps
Android Instant Apps are engaging! As they allow the users to access the services seamlessly.
Hire Android developer, to brings native apps like functionalities. Such solutions are smaller in size and deliver an excellent user experience. This makes your consumers stay hooked to your business.
8. IoT In Mobile Apps
The space of the Internet of Things is growing massively. IoT lets anyone control the equipment or other products from the home and office. This triggers convenience at its peak.
9. Voice Search
A technology that is blooming in the current technology space, is voice search. It fits the demands of the user-behavior, also solves the problems. Your buyer can place orders conveniently.
10. Cloud-Based Apps
Cloud technology makes the fluid process of data storage. With cloud services, there are multiple other benefits also. Businesses get to reduce the hosting cost & get storage capacity.
Conclusion App Trends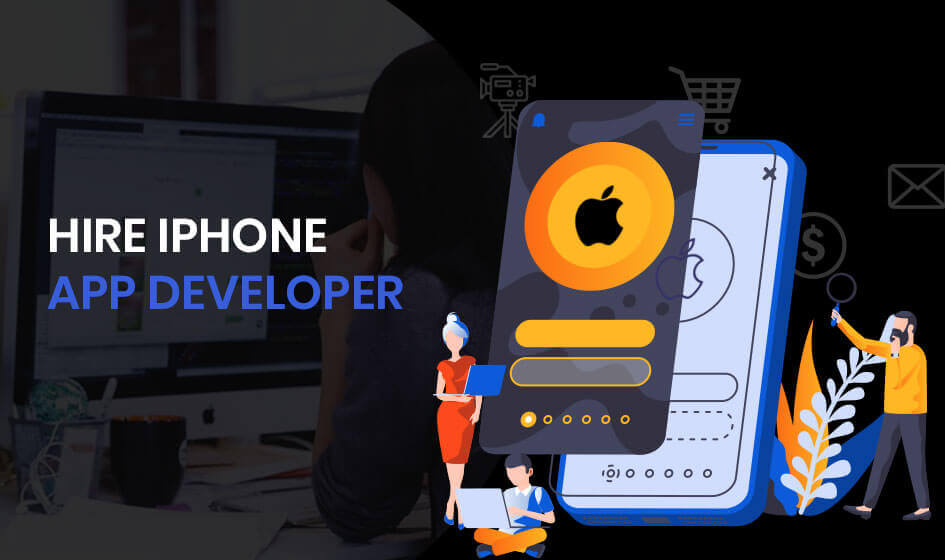 There are many technologies in the market, but you need to play smart. Study and research about your users, find out what they want. Accordingly, pick a suitable one that also meets the branding message.
Each business has a unique branding voice, figure out yours. And match it with your chosen technology. Also, hire iOS app developer team, which has skills and expertise.
Let your users learn more about your app. This helps in implementing any type of change or update in the future.
Last but not least, your app must include the latest app trends. But there is something which should never be missed.
Do you wonder what it is???
Well, it is the users' expectations. Yes, your mobile solution must speak every bit of their requirements.
Hence it is much recommended that you need to let your original app concept not get buried in the tons of your expectations. Your app must be a clear indicator of your users' preferences and expectations.
Understand what your users want? If they want a simple yet elegant app, then don't fear of creating such.
Don't be a victim of excessive app features. Keep the features as minimal as possible. Sometimes the creativity has to take a back-seat when it comes to dealing with a new product like an app. Design a simple yet clean look, which gives the convenience to your users than any trouble.
Following these tactics, you can win over your competitors. So don't wait any longer! Pick the best company and help your business to scale in 2020.