Reading Time:
11
minutes
Introduction To Google Sitelinks :
Whenever you search something on google, Google sitelinks appear under the first search result on the search engine result pages known as SERPs. That is nothing but the internal links to the websites with short information or description.
Sitelinks help users to navigate around your website and proven to be an important factor in terms of SEO. Also, helps to provide a better user experience and allows users to head directly to the page of choice rather than clicking on another extra click.
In today's article will learn in detail how to get Google Sitelinks for your WordPress Site but before starting the same let's focus on the reasons behind the importance of Google Sitelinks.
Why Google Sitelinks Are Important :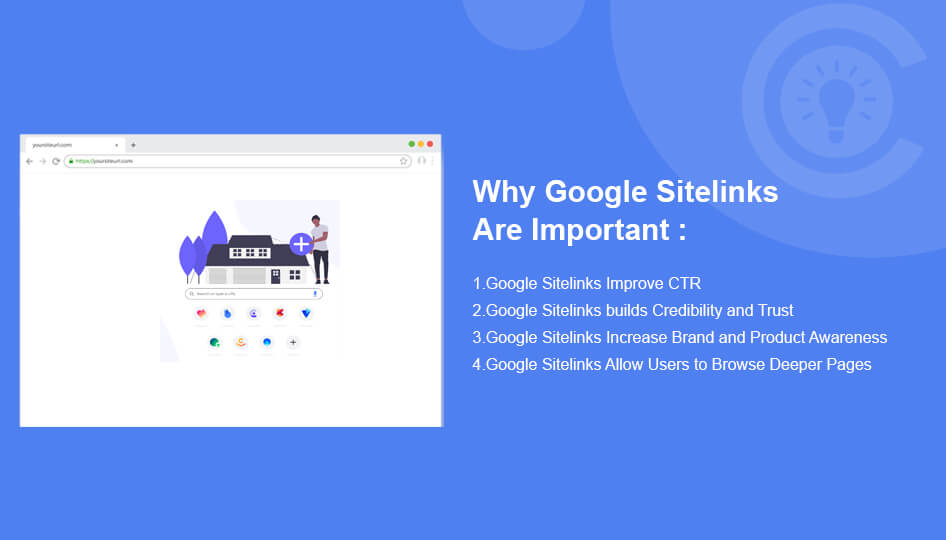 There are a number of reasons as to how sitelinks can benefit websites and visitors both at a time.
Google Sitelinks Improve CTR (Click-Through Rate) :
Based on the particular search query a good CTR will work. For example, if a user searches a simple brand than sitelinks offers more relevant pages that can work for the product and service.
To give instant access to the searchers to your most popular pages will help to entice them to click through a search engine.
As much as people click on your site in the SERPs, the more consistently you will rank for that search term that increases organic traffic.
To make an effort to optimize your website for sitelinks is well worth the investment.
Google Sitelinks builds Credibility and Trust :
The websites that are poorly optimized are unlikely to have sitelinks displayed in all the SERPs.
Google wants to provide the best possible answer for the searched queries by users and here the sitelinks took up space on Google results and won't give much space to a poorly optimized site.
Some of the websites can be even benefits from a search box within the sitelinks also.
Google Sitelinks Increase Brand and Product Awareness :
Google Sitelinks's purpose is to present some of the website's most important pages to searchers to improve the search experience.
These display the pages that are most relevant to the query as per Google, based on the website's structure and content.
These pages are often product pages, pricing pages, blogs, about pages that help users to find more information about a company or a Website.
Basically, it helps to educate about what you have to offer without them even visiting your site and speeds up getting potential customers to the most popular product pages.
Google Sitelinks Allow Users to Browse Deeper Pages :
Most of the time people will browse your homepage, service pages, and product pages without delving further into your content.
The Sitelinks displays the website's most popular pages that include best-selling products, top blog posts, and download the guide as well.
Google sitelinks works well for software tools also as they pull in the specific tool pages.
Along with the improved SEO and CTR, sitelinks helps to benefit from increased conversions.
Let's Explore How To Get Google Sitelinks For WebSite :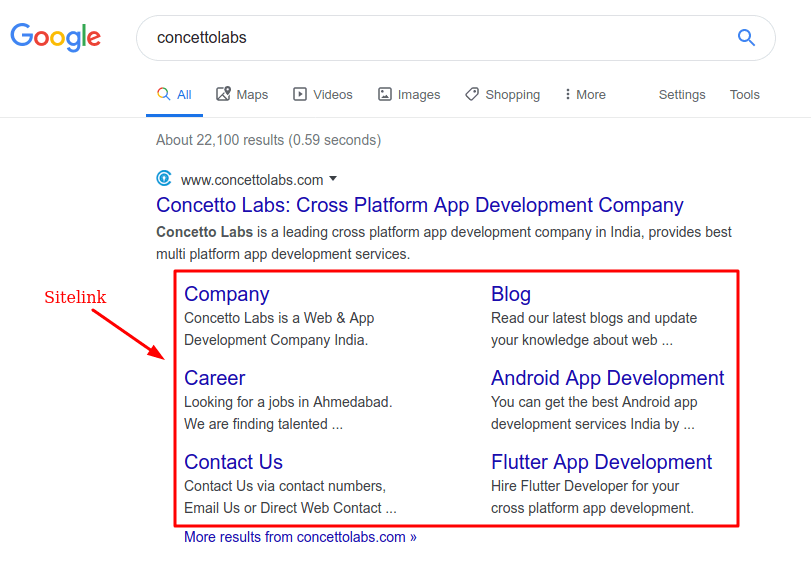 The throwback of these is that you cannot set your sitelinks as all rights are managed by the google algorithms but just like other aspects of SEO there is a certain best practice that helps to improve chances of getting your sitelinks.
Unique Website Name :
To have a unique brand name is an important factor as it can be lead to rank in the first position. For example, search for 'apple' in the browser and it brings you to the tech giant rather than fruit and the reason behind that is Google understands a user's intent. If the name doesn't have a strong brand presence than it gets difficult to rank a fairly generic name.
Rank At Position #1 for Your Brand Name :
To get the google sitelinks of your website you need to make sure that it is ranking at #1 to get a chance of getting sitelinks. With this, you also need to keep in mind that the company name needs to be unique.
To do so all you need to do is to audit backlinks and check that all online citations use the correct name, phone number, URL, and address. Keep blogging and make use of content marketing methods to spread your brand further across the web.
Use Structured Data :
The reason to use structured data is that it helps Google and other search engines to get a better understanding of your websites which is also known as rich snippets.
Other ways structured data can help to improve the appearance of the website in the SERPs by displaying event snippets and displaying review. This helps when it comes to sitelinks. When you use rich snippets it won't guarantee that Google will display sitelinks but it's a good way to push things in the right direction.
Other major points to get the Google Sitelinks for your WordPress site are as below :
Use of clear website structure and navigation
To add an XML sitemap on to google search console
To use relevant page titles
Build internal links
Increase brand awareness
Summary :
By giving these guidelines it doesn't guarantee you will get sitelinks for your website but surely benefits are well worth if users able to put the time in that leads to increase chances of getting sitelinks, brand awareness, and boost organic traffic.
Other things to learn in deep for a better project or to grab more business you can do, Hire WordPress Developers India from Concetto Labs and build your dream projects at an affordable cost.
Benefits we offer after Hire WordPress Expert From Us :
Less Time Consuming and High-Quality Work
Better Understanding of Users
Flexibility in Hiring
Unique Content and Search Engine Optimization
Knowledge of Multiple Languages
Data Confidentiality and Security
A solution to All Problems Related to WordPress
100% Customization & Technical Support
Web Analytics