Reading Time:
12
minutes
Jump Down:
Eating healthy food is something very essential in your daily diet as it dramatically helps for boosting your immune system. People tend to eat healthily, but junk food always fascinates with some fantastic variety and taste. Besides this, the primary reason for not eating healthy is the pain of cooking after working for hours. Working people often want to spend their Sundays lying on the bed rather than exploring the grocery market and supermarket. Due to this, the emergence of healthy meal delivery services has come into play!
You might have heard about meal delivery services, but these apps mainly serve you healthy meals. Whether you're on a diet or bored of cooking, take your phone out, order your healthy meal delivery and it is available at your doorstep.
Here's the list of top healthy meal services app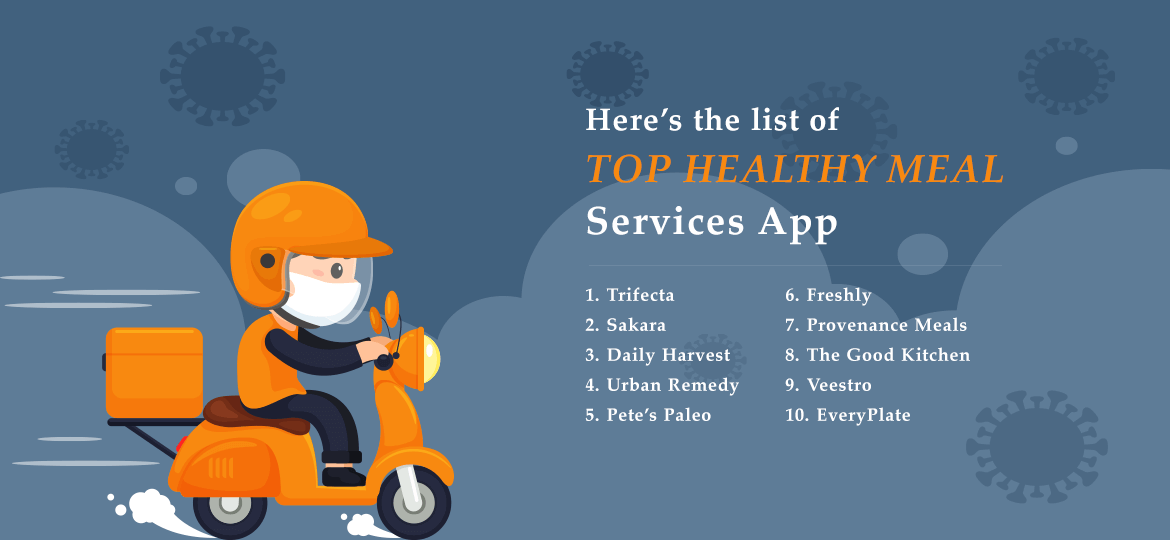 This best food delivery app was founded by an avid athlete brother and sister, namely Greg and Elizabeth Connolly. They offer food that helps to fuel the growth of individuals, enhancing the lifestyle of athletes typically. You can choose from their keto, vegetarian, vegan, paleo, or classic meals, depending upon your diet plan. More so, Trifecta also provides you with customized meals as well as per your choice.
2. Sakara: 100% plant-based, organic ready-to-eat meals. Delivered to you
Sakara life app not only provides you with healthy meals, but it is a lifestyle for many. You can check with the loyal customers of Sakara. It might sound weird, but it is a reality. You will get your weekly deliveries with detox water and Palo Santo along with the packed meals using healthy ingredients. The food offered by Sakara is plant-based and is in pastel green color mostly, which includes colorful veggies, edible flowers, etc.
3. Daily Harvest: One-Step-Prep, Chef-crafted Food Built on Organic Ingredients. Delivered to You.
If you happened to be a pro user on Instagram, then you might have come across people talking about Daily Harvest. They offer portable cups filled with fresh-frozen veggies that you need only to blend and add some smoothies for better taste. Moreover, you can heat the ingredients and eat it randomly, depending upon your taste and choice. These cute packaging aims to provide you with flexibility and take it along with you wherever you plan to go.
4. Urban Remedy: Organic Fresh Food Company
Urban remedy believes in the concept of "food is medicine." Every ingredient used in the healthy meals delivered by Urban remedy includes the property of anti-inflammatory. This is not uncommon because the founder of this organization, Neka Pasquale, mainly believe in the fact that "food is healing." You get the opportunity to choose from eight meals choice, and one of them is specifically for brides to support the immune system and fight inflammation.
5. Petel's Paleo – Bringing Fine Dining to Your Cave
Pete's Paleo provides you with dinner that follows a basic formula, which is meat, starchy, greens, and vegetables. Don't even attempt to read the ingredients in the food received because it includes those stuff that you won't even prefer to purchase from the grocery store. Meat like lamb and pork butt and vegetables like Rutabaga and Turnips are used in the food.
6. Freshly
What if you can cook the food within three minutes? This is what Freshly offers! Freshly provide you with cooked food, which is not at all frozen so reheating the food doesn't take a long time. More so, freshly explicitly proves their name because their food is not only fresh, but their packaging is also gluten-free and super organic. So, you can everything recycle Freshly.
7. Provenance Meals – Organic Prepared Meal Delivery Service
It's a top food delivery apps available only in the greater New York City presently. Here people can stay assured that whatever they're eating is obtained in the vicinity and sustainably. The master chef of Provenance meals got her grade from the French Culinary Institute, and then move onto some prominent restaurants to attain experience. This organization follows a unique approach with an on-call group of natural nutritionists that only help in delivering healthy food to eat but also help to reduce packaging and food waste reduction.
8. The Good Kitchen
The good guy's kitchen is your family kitchen menu because the meals it offers are either for family or couples, depending upon your choice. Recently, the company has also launched "the lunchbox" too, which is meant for children as well. This restaurant focuses only on delivering pleasing food and customer experience. If the customer doesn't find anything exciting or didn't like the food, then you can claim for money back, you can also pause, switch your plan, or cancel the order anytime.
9. Veestro | Healthy, Plant-Based, Organic Prepared Meal Delivery
Many people don't prefer vegetarian meals, which precludes classic burgers, Bolognese, burritos. This is where Veestro proves to be beneficial for such people! Veestro aims for increasing the number of plants you eat, even if you're not completely giving up on meat. They strive to provide you with food that can be modified by adding some more flavors, including gluten-free, high-protein, and kosher.
10. EveryPlate | The Affordable Meal Kit for Everyone
Every plate is all about being more approachable and providing excellent meals at an affordable price. All its recipe is easy to adhere and take around 30minutes to complete from the start and finish. Here's a great advantage for food lovers that each week's meals are dispatched in recyclable and climate-smart packaging.
Conclusion
These are some of the popular food apps that are ruling the market with their healthy food apps meal services. If you're also planning for food delivery app development, then it can be an ideal choice. This clearly means that the food business is recession-proof that fulfills the daily need of working people who don't prefer cooking or don't have enough time. This app is the right solution for many people across the globe.
Are you looking for a reliable food app development company that can help you develop a scalable and efficient mobile app for your business? No need to worry! We at Concetto Labs provide you with quality mobile app services, regardless of the business domain as our developers are highly qualified and experienced. Get in touch with our team or you can shoot an email at info@concettolabs.com
Healthy Food Apps- Top 10 Brands That Will Serve You Delicious And Healthy Food
---
Lorem Ipsum is simply dummy text of the printing and typesetting industry. Lorem Ipsum has been the industry's standard dummy text ever since the 1500s