Reading Time:
12
minutes
Gone those days, when you have to call your nearby restaurant to order foods in their noisy background. Thankfully, in the age of smartphone apps, things become much easier with food delivery apps that allow you to order food online and get it delivered straight to your doorstep. With just a few screen taps, you can get access to hundreds of delicious restaurants & their cuisine dishes.
All you need to do is download the food delivery app, select dishes, place an order, do the payment, and get quick delivery. But there are tons of food delivery apps so choosing the right app is quite difficult so we have created a list of top 10 food delivery apps. So you don't have to spend hours scrolling through your app store to fulfill your hunger.
1. GrubHub: Food Delivery | Restaurant Takeout
Available on: Android & iOS
When you think about ordering food online, GrubHub is the first name that comes into your mind. It has partnered with 50000+ restaurants over 1100+ cities to deliver faster & quicker food services to their customers. Simply download their app from the app store and install it on your smartphone. When you open the app, it will ask you to enter your location where you want food delivery and you can start browsing nearby restaurants and menus without any hassle. if you are looking for particular dishes or a specific cuisine you can quickly find it by searching within the app. You can also save your address and repeat your past orders within a minute. The app is completely free but the restaurant minimum order value and delivery charges may vary.
2. Clone of UberEats
Available on: Android & iOS
Everyone is familiar with the brand name Uber that offers a taxi ride to any location. Back in 2014, after fulfilling taxi demands they have started UberEats to become the best food delivery app development company across the globe. It follows the same Uber Taxi model to quickly deliver food to their ordering customers. UberEats has expanded its business to 1000+ major cities around the world. And It instantly recognized as a popular food delivery app as their customer has the same brand emotion towards their food delivery app. It allows you to see estimated food delivery time from the app. When you open the app it automatically identifies your location and displays food menus from the nearby restaurants. After ordering online, you can pay your order amount in cash, net banking, wallets, or using your credit or debit cards.
3. Clone of Seamless
Available on: Android & iOS
As the name suggests seamless provides quality food delivery service to their food hunters. Using the app, one can quickly order and get their food delivered to their home with few or none delivery charges. It offers 24×7 customer support to assist its customers in real-time. The app allows you to pay online or offline whatever convenient to you and it charges nothing unless you don't fit their minimum order criteria. Moreover, you can also get a discount and deals on your favorites restaurants over time.
4. Clone of Zomato
Available on: Android & iOS
If you are a foodie, you probably have heard the name of Zomato – an online food delivery app. This food delivery app was launched back in 2008 by Deepinder and Pankaj. No matter where your restaurant is, you can be part of their online food delivery partners within minutes if you belong to any of their 24 operational countries. The app comes with easy navigation, using which you can quickly browse different restaurants, cuisines, or filter restaurants based on deals and reviews. The best feature of the app is you can track their Zomato food delivery valet after placing an order. Apart from ordering online food, you can also book your restaurant table using the app.
5. Clone of Doordash
Available on: Android & iOS
Founded by Stanford University students, DoorDash is an on-demand logistics startup that dives into the food delivery business like Uber. On the basis of food delivery service by the restaurant, it assigns them Delight Score based on food quality, delivery speed, and popularity that calculated into one ultimate score. However, DoorDash deliveries are slower compared to other apps because it takes approx an hour. But it offers a range of food cuisines like Italian, Mexican, Brazilian, Korean as well as European even if it's not so popular. Depending on location their delivery charges and taxes may vary.
6. Clone of Postmates
Available on: Android & iOS
Postmates is more than just a food delivery services app owned by Amazon. After his recent tie-up with Walmart, Postmates became the largest grocery delivery company in the USA. Besides ordering online food you can also order groceries. Since it's not a complete food delivery app, you have some limitations while ordering food online. However, it fulfills all your food-related needs together. They do offer subscription plans to their regular ordering customers such as Unlimited Delivery just for $10/month where you can get free home delivery if you place an order more than the value of $25. It's grocery delivery features makes it unique among the other food ordering apps.
7. Clone of Foodpanda
Available on: Android & iOS
Foodpanda is one of the largest food delivery app that serves across 50 countries along with a tie-up of 15000+ restaurants. Started back in 2012, the app redesigned its food delivery model in 2013 with a new tag line to make online food ordering quick and easy. It brings a wide range of food cuisines on the go to their hungry customers. You can rely on Foodpanda for ordering your breakfast, lunch, or dinner delivered at your location whether it is day or night. Apart from that, it offers charming deals and discounts before you place an order using their app. You can also track the location of their delivery valet once your order is accepted. Like other apps, it offers online as well as offline cash on delivery payment mode to their customers from their straightforward app.
Looking for top food delivery app development companies?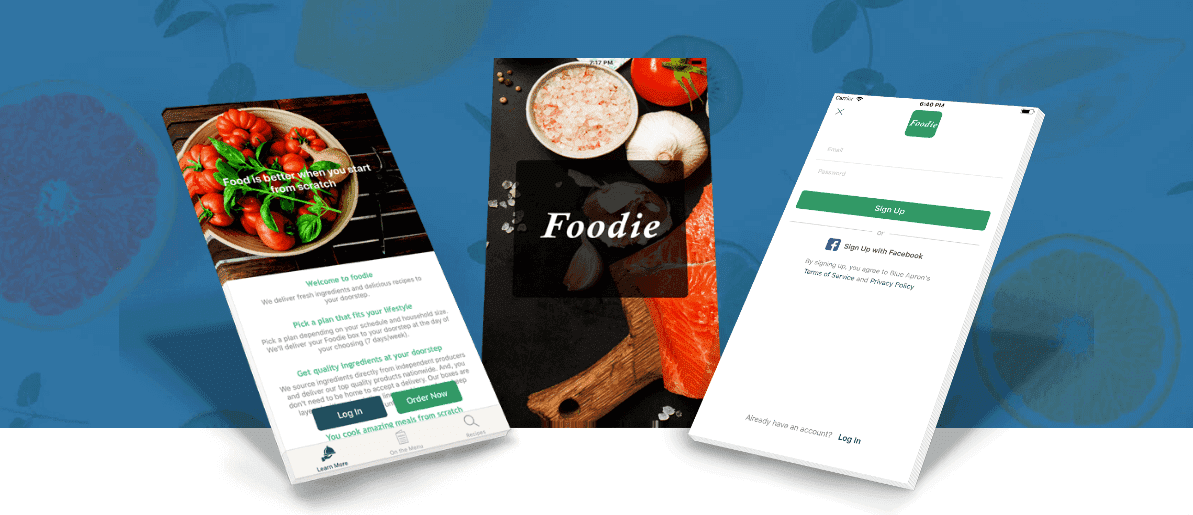 If yes, choose the best cross-platform app development company in the market that are experienced enough to understand and execute your idea right from wireframe, design till launch for the food delivery app. Let your app satisfy your customer's hunger pangs in a hassle freeway.
This was our hungry pick for the best food delivery apps of 2019 that we have researched and found it useful to fill your hungry stomach. So, If you are hungry after reading this post, you can pick any of the above food delivery apps to order your food online and get it delivered to your location in no time.
Top 7 Food Ordering Apps You Can't Miss Out To Try In 2019!