Reading Time:
9
minutes
It was the year 2017 when Fuchsia was first discovered by Google. Same like Android and Chrome OS, Fuchsia is Google's best-known software venture. It pops up as a single command line and looks totally different than any other mobile operating system. The fact is we don't know much about this operating system as currently there is a ton of mystery surrounding this OS.
We don't have any idea about Goggle plans and will Android Fuchsia is a new Android. Moreover, we aren't aware of the aim of replacing Android nor we know that will we be needing Android App Development Company in the future. To clear your doubts. Let's find out more about Google fuchsia.
Google Fuchsia is an open-source and free piece of software where one can share and collaborate on various projects. It is not based on Linux but rather it's a Google's new microkernel called Zircon which was previously known as Magenta. Magenta means it's a single system that performs a single job as part of a larger mechanism. Travis Geiselbrecht is a coder who developed Zircon and created NewOS Kernel that powers Haiku OS. Google Fuchsia can run on all smartphones, tablets, and desktop with having scalability to get into the core of its design.
What is Google Fuchsia for?
According to the rumors Fuchsia is going to replace Android and Chrome OS in the next five years. While the company hasn't declared yet. In the Google Conference talk, they have mentioned that this platform will target all form factors and not just PC, Phones or tablets. We can't assure but we can assume that Android is well-known to venture into the household appliance while Fuchsia will work smartly with Refrigerators, toothbrushes, and other vacuum cleaners.
Google Fuchsia is more likely to work with the IoT-Internet of things, where it will describe as the ubiquity of smart devices. Thinking about the future, let's imagine milk cartons that talk to your fridge for order replacement or re-order via Amazon when you're running low. So be prepared for the smart move as we are heading towards the digital world.
Influence of Fuchsia on Mobile App Development Companies
Google Fuchsia will have a great impact on several Android app development companies. To be fair you can hire android app developer as one can develop an app using any compatible Programming language for Fuchsia OS. It's a new kind of Flutter SDK that supports mobile solutions for all various OS such as iOS, Android, and Fuchsia.
Fuchsia as Flutter is an OS where Flutter developers can develop app seamlessly on any platform using Flutter SDK so you need to pay less on mobile development cost. You can hire android programmer or hire flutter developers to integrate with Google Fuchsia compatible apps. Flutter is capable to support material design using advanced UI elements including 120 FPS animations and volumetric shadows.
What's inside of Google Fuchsia?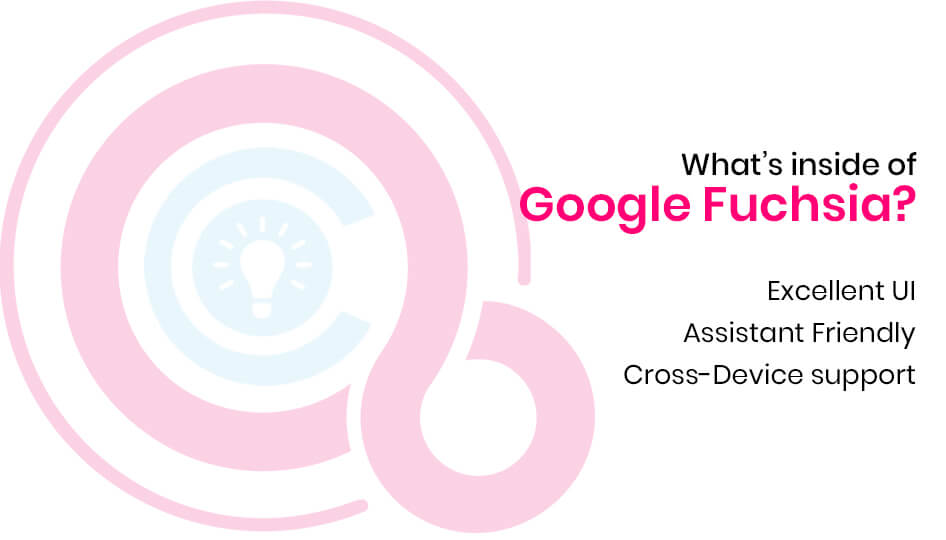 As Fuchsia is written in Flutter SDK it has chuck of Fuchsia that runs on Android devices. So, hire android developer to take benefit of this OS. Moreover, this version of fuchsia is called Armadillo which completely reimagines the home screen. The screen appears as a big scrolling list with a profile picture, date, city and battery icon at the center. Let's check a few of the Fuchsia features to see how it acts kind of like Google.
Users can simply drag the recent apps and when dropped you can organize into the personalized home screen or drop on the top with entering the split-screen mode. A maximum of three spilled apps is possible.
Google fuchsia works under one OS intending to run on all devices such as smart speakers and other home devices. With using these features user can draw apps, use the camera, and do on-screen activities that are used to enhance Google Assistant features.
Cross-Device support and Customized Kernel
Hire Android app developer to build an app for Fuchsia as it can work on any devices across different platforms. Moreover, Fuchsia apps as Flutter OS will enable developers to get access to the direct kernel with enhancing the security of the device and remain compatible after the system upgrade.
Concluding Thoughts
Fuchsia is still in its early stage so it's hard to say how this news will make the transition to larger devices. Therefore, it will probably take a while to work well for all new hardware at least a year or two before it breaks into the mainstream market.
But you should stop here if you're looking to stand in the crowd. You can android app Development Company or hire android programmer to try out Fuchsia for yourself with previewing the version and its working. Let us wait for a while and see how Google's new OS will be a potential successor to Android.