Reading Time:
9
minutes
Healthcare trends come numerous used in various hospitals, patients, and health system that rely on digital health technologies. In this pandemic, there are multiple unusual disruptions available in the healthcare industry. The healthcare industry is growing slow.
AI in healthcare offers essential technologies to resolve the crisis and helps in generating future growth. With the insight of the technology, one needs to use a proven system. It provides sureness, performance, and efficiency. Let's know how healthcare trends help to refine the industry in 2021.
Top Healthcare Trends to watch in 2021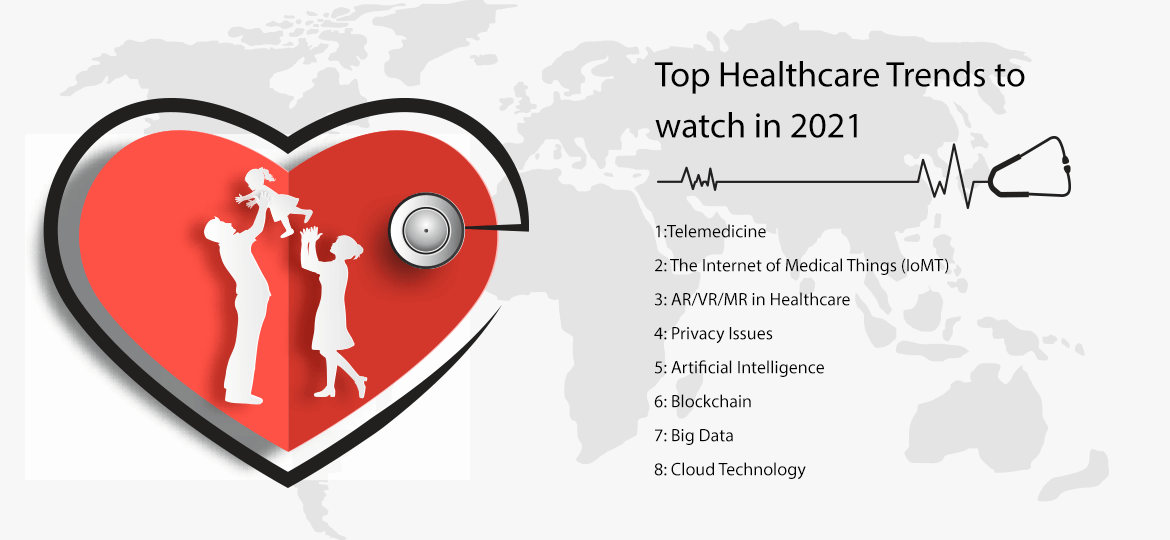 1. Telemedicine
45% of the industry uses telehealth methods. It helps in reducing contact between healthcare workers and other patients. For example, wearable devices are used to enable healthcare workers. They use real-time patient data. Researchers say telehealth seems to break $185 billion by 2026. The telemedicine app is used to provide robust telehealth services. Healthcare app development company uses EHR (electronic health records). EHR integrate your app into your telemedicine app. It comes with security to convenience with considering the needs of the users.
2. The Internet of Medical Things (IoMT)
Today, IoMT used by a custom healthcare software development company. They track and prevent chronic illness of patients and doctors. Researchers predicted that by 2025, the IoT industry would worth $6.2 trillion. With new healthcare technology trends in 2021, 30% of the market share for IoT devices used for healthcare.
3. AR/VR/MR in Healthcare
Hire healthcare developer to use the technologies like AR/VR/MR. It enhances the quality of telehealth during this pandemic. Various technologies use AR and VR to overcome motor deficiencies. Several Augmented companies monitor the development of technology. Later they integrate their client business. AR is used to bring advancement in the healthcare sectors in robotic surgeries. We can predict that AR and other technology influence using healthcare settings.
4. Privacy Issues
Privacy is an essential issue in health technology that offers HIPAA compliance in 2020. Cloud computing store and retrieve data with securing protected health information with complying them. The healthcare mobile application providers use the existing system to exchange ePHI. The patient using a third-party tool. Keep data secure and transmit in structure format with making the process easier.
5. Artificial Intelligence
Artificial Intelligence helps to improve health care technology using precision, efficiency, and speed. With using machine learning algorithms, healthcare trends use advanced search for chemical and other biological interaction. All healthcare app development company need to find the right approach to treat the patient using the radiotherapy AI tool. The tool allows 3D contouring to produce in a matter of minutes or hours. AI allows making cancer diagnoses and decides on which drugs it should be used to treat patients. AI, data science, and machine learning are essential trends used to increase available data set for ML software to analyze.
6. Blockchain
From 2020, the Blockchain trend used in healthcare industries. It offers digital ledgers that enable the healthcare provider. It makes patient's data secure with improving data security. Blockchain allows numerous users to connect the ledger. Healthcare technology use improves safety and gets convenience with all desired objectives. Develop healthcare mobile application and get greater integrity through a secure system. Blockchain helps to increase transparency through a digital ledger. The transaction logs in to the Blockchain system and helps to save cost and track transactions.
7. Big Data
Big Data is currently served under the best healthcare technology trends, which helps scientists and organizations make life-changing policy recommendations. Using healthcare analysis allows patients to reduce the treatment cost and avoid preventable disease. It uses advanced data mining and analysis technique that changes the number of industries with enabling healthcare professional. Big Data use multiple ways to create a patient's personalized medical map. It can be from simple information to complex composition. At the core, big data lies identify trends in the healthcare space.
8. Cloud Technology
Today's healthcare technology trends 2021 use cloud solutions which allow healthcare organization integrates, interconnect and store data safely. Hire a healthcare developer to keep data centralized, and use multiple formats from numerous sources. By using cloud services, organizations do not need to worry about maintenance and only pay when required. Moreover, cloud services offer a centralized network and make storage data secure. There are several healthcare organizations spending a lot on maintaining local stores for info storing and more. But with the Cloud platform, this problem is resolved even if you have the most underrated healthcare trends.
Wrapping up
The healthcare trends are growing slowly and are setting an excellent training set. The overall results show that which organization fails to incorporate modern technology fails and left behind. Every company needs to focus on healthcare and increase resources to develop technology with avoiding the economies of pandemic and outbreaks.
Additionally, environmental health benefits are driven by tech initiatives to reduce pollution and build resilience. If you're a healthcare app development company looking to learn more about healthcare trends, contact our consultant. If you're looking to transform your business by using healthcare trends, then reach out to us. We have a team that is ready to use new technologies transforming healthcare based on your requirement.
Top Healthcare Trends To Redefine Industry In 2021