Reading Time:
11
minutes
What is the most trending business strategy today? Its mobile app development. There are over 3.5 billion smartphone users around the globe. So, choosing a mobile app to upscale your business is the best strategy. Yet, we see many businesses undermining the whole digital transformation.
The reason behind such an approach is lack of planning. Mobile app development cost management needs extensive planning. If you are a startup looking to have a scalable digital solution, cost management weighs high.
You need to find answers to some questions for efficacy in your mobile app development costs. These questions are.
what type of app should you develop for cost-effectiveness?
What should be the development cost?
maintenance and support costs?
How to scale mobile apps with low-cost feature integrations?
How to cope up with technology transition?
So, let's find some answers!
What type of app costs less?
The cost of mobile app development becomes the deciding factor in the planning stage. What type of app you develop often dictates the cost. There are many types of apps like native, hybrid, cross-platform, and PWAs.
Native apps are platform-related. Android and iOS apps are native. So, the development costs of these apps depend on platforms. For example, a startup wants to develop an app for the iPhone, and then all they need is to hire iPhone developers. The development cost of an iPhone app will depend on the rates charged by developers. These rates are on an hourly-base, full time, or even part-time.
There is development cost related to features also, but, we will get to it at a later stage of this discussion. Before that, let's know about other types of apps. Cross-platform apps are another type of apps. While native apps are platform-specific, cross-platform apps work across the platform. That means you don't need to hire developers for different native platforms.
So, cross-platform apps are a cost-effective option. There has been a demand for cross-platform technologies. Flutter is one cross-platform framework. Many firms are looking to hire flutter app developers for cross-platform apps. It provides rapid development with hot reloading features, minimizing the cost of development.
Now, if you are not looking for a full-fledged app, then hybrid apps can be a good option. Hybrid apps can be cost-effective as they merge web applications with native features.
So, you don't need to spend on application infrastructure. Because it is another HTML code wrapped in a native container. On the costing part, it is a wise decision to hire hybrid mobile app developers.
PWAs or progressive web application is an advanced form of web apps. They are cost-effective. But, the integration of advanced features may prove costly. So, any firm should plan the type of app for development based on its business model.
What should be Development Costs?
Development costs do depend on the type of application. Although, there are other factors to consider before planning a development budget. The first thing that comes to mind is the need for the development team.
A company can hire an in-house development team or choose an offshore service. Remote and offshore development teams can be cost-effective. They provide extensive service without the need for in-house infrastructure. So, your cost related to application infrastructure is lower.
Another aspect is whether to choose in-house servers or cloud servers. Choosing cloud services can reduce costs. So, managing and scaling mobile application becomes easy.
What Are Maintenance & Support Costs?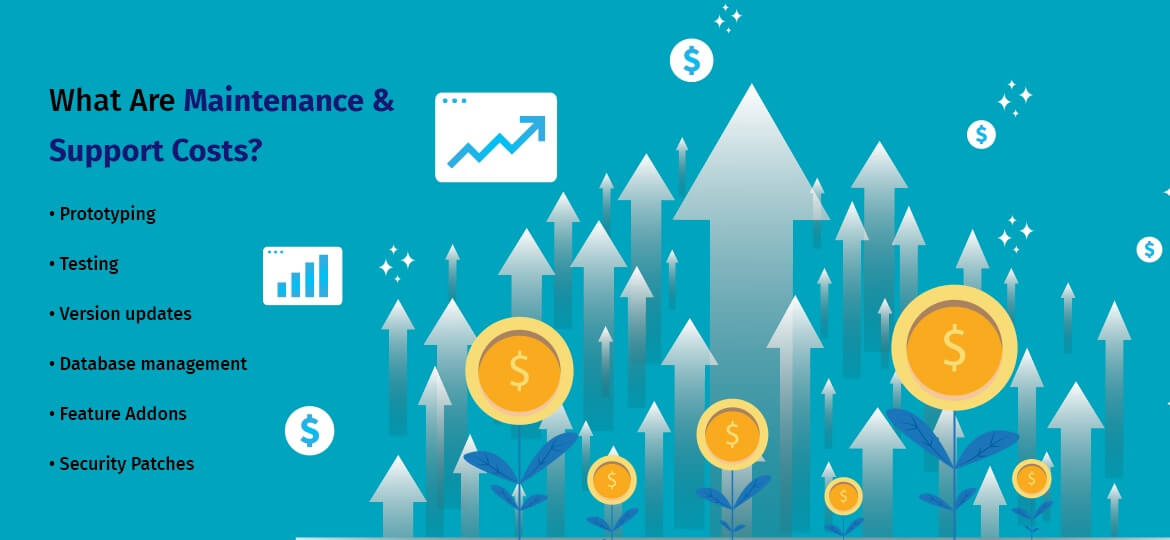 Maintenance and support costs are vital to app retention. If an app is not maintained, then users often stop using them. Because the app starts degrading due to lower maintenance. But, if you don't plan your maintenance cost, you may end up spending more than development cost.
Maintenance cost is often 15-25% of development cost per year. It may look high on the budget. So, what you can do is control costing over aspects of maintenance like.
Prototyping
Testing
Version updates
Database management
 Feature Addons
 Security Patches
Now you can use the Minimum Viable Product(MVP) approach to reduce the cost of prototyping. The automation of testing can render budget-friendly results.
Another method is to use an agile approach to reduce costs. It can help reduce costs on security patches and version updates. Clou servers can help companies with lower database management costs.
How to have feature add-ons at a lower cost?
The development cost can vary over feature add-ons. According to GoodFirms.co, a feature-rich and complex app like Instagram can cost from $70,000 to $100,000.
While a mobile application with medium-level features can cost between $61,000 to $69,000. If you are looking for an app with less functionality like Tinder than costs are between $40,000 to $60,000.
We know now that features dictate the development costs. So, one can plan user-friendly features with low-functionality. These features reduce the development cost.
How to integrate technology transition?
With advanced innovations, there are several transitional integrations in apps. Some are essential to enhance the user experience. While others are based on user-requests. These changes and integrations can prove costly.
Artificial Intelligence(AI), NLP, and the Internet of Things(IoT) are essential to apps. Firms need to plan such technology integrations.
As mobile app development becomes more innovative, new development technologies emerge. The transition of technologies can prove costly if not planned well. The best option is to opt for services that offer such migrations or transitions.
Signing Off
When you factor in all these costs of development, the complete picture will emerge. It will help you gauge your app development decisions. It will help you decide whether to hire android programmer or a Flutter developer.
It's can also help you decide on cloud services over in-house database management. It can help you visualize the cost management on the whole.
So, grab your whiteboard and start formulating your mobile app development budget. Remember to include these essentials.
Yet, if you have doubts then feel free to share with us in below comment section!