Reading Time:
10
minutes
Nowadays, the popularity of business on the internet has grown separately. Also, there are multiple reasons behind it. By investing the least amount of money, one can get the greatest quality of business online. The same thing goes for web-based and mobile applications. .Net development services are in demand. It carries out a consistent, scalable, and dependable environment. All these are helpful for building powerful web applications.
Right now there is a higher demand for .NET development services. So, .Net developers should have proper knowledge and skills for coding. They should have a proper understanding of all the terms related to the coding. It is necessary to check the skill-set of a particular candidate. They must have knowledge of large libraries covering up many algorithms. Added, the knowledge of interface designs, database connections, and data access also matters.
.NET web development facilitates varieties. Additionally, it can make application development much easier. You need to invest in powerful web and mobile development services. As it is in demand right now. However, you need to select the right kind of company and .NET developer.
Let's understand what is .NET?
ASP.NET is a free, open-source, cross-platform developer platform. One can build different types of applications through this single platform. With .NET, you can work in many languages. Also, it gives you access to libraries, editors, games, IoT, etc.
Microsoft is the one who has created .NET as a development framework. It helps you to target any application type to turn as per your need. Developers can reuse their skills and code in .Net. Afterward, they can use it across all their familiar environments.
What are the major business benefits of using .NET development?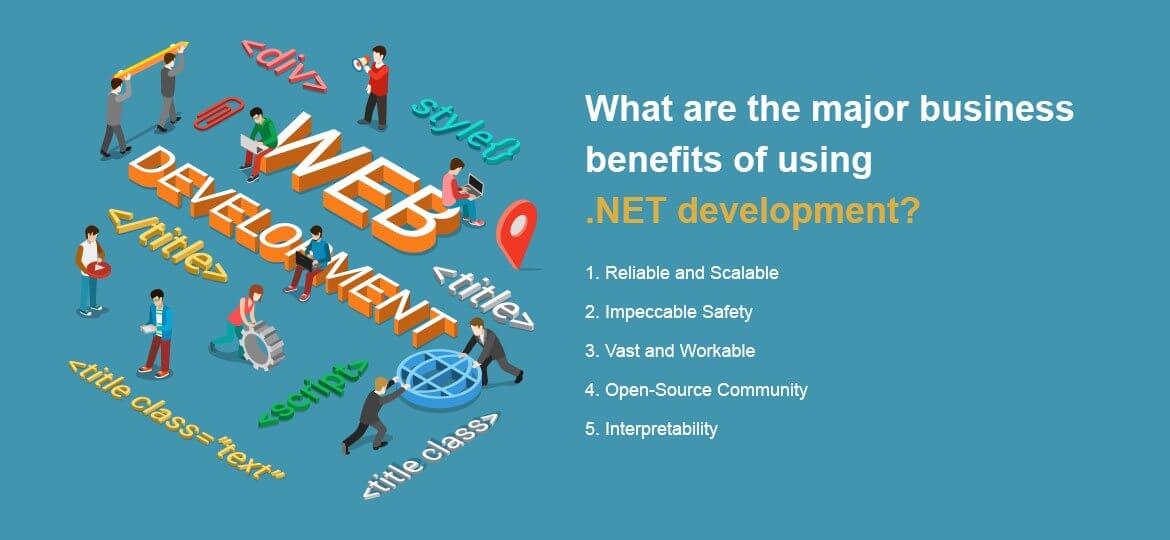 1. Reliable and Scalable
As we know that reliability is the main aim of commercial web and mobile apps. .NET web development framework is the most reliable application development platform. In addition, .NET is the language through which you can easily switch to the client's need. It allows you to change any business application very efficiently and quickly. Therefore, your application can grow as your business grows.
2. Impeccable Safety
.NET is a formidable technological framework in many organizations. From governments to MNCs, the .NET framework is the first choice. because it is the most trustworthy information security framework. Most used India's passport Seva site is also created with the .NET framework.
3. Vast and Workable
.NET web development is the most versatile and flexible service. Because of providing unique mobile app development solutions. Most people use the .NET framework to interact between mobile and web devices. In short, the .NET framework provides an incredible user experience. You can increase product demand among customers.
4. Open-Source Community
Microsoft has created c# primary language to match with JAVA. As Java has a unique cross-platform specification. After successfully competing with Java, they have decided to go for a multi-platform framework. And, here the .NET is! ASP.NET Core only runs on Windows.
Thus, Microsoft made the move to switch on the .NET development framework. It is better than following monolithic nature. And there is no better way which can put in place cross-platform compatibility.
5. Interpretability
Microsoft has released two different editions of Windows 10 IOT. However, It can improve the degree of ease and efficiency. Nowadays, .NET development companies are creating an application that is connected to IoT. This increases the security of interoperability for the software developed. That's how it can help to increase the security of the client's app.
What are the skills that one .NET developer should have?
Only being familiar with one specific language is not enough. Therefore, As a reputed selective company, you should choose wisely. Also, the candidate needs to know libraries and frameworks like MVC, ASP.NET, or entity framework. These are the building blocks for any creative application using. NET.
If they have only coding language only then that is not enough. Soft skills are also required in the right candidate. Good time management, project planning skills, debugging skills should be a must. To achieve all the expectations of the client, listening to a customer is a must. By asking the correct questions, and explaining the process in the right way will work the best.
How is Concetto Labs as a .NET development partner?
Concetto Labs is one of the best companies when it comes to .NET development services. For the last 6 years, Concetto Labs has been working with more than 50 satisfied clients. Most of them have seen .Net expertise. They know how we help them to achieve their software goals without expertise. We work with our clients by focusing on their business requirements only. It is our main concern through which we can give them our best.
Concetto Labs aims to be the best in the market as a .NET application development company. And, we stood out. This has been possible because of creating unique solutions for the clients. .NET web development has huge demand in the market currently.
We have expert Hire NET developers who can meet your desired need for your business growth. In conclusion, Concetto Labs is a cost-saving partner to work with. We can provide you quality solutions in your budget with good experience. We are here to help you out for your best results.
Why is finding the right .NET developer so important?
That's exactly what we do