Reading Time:
10
minutes
Developing mobile applications is a regularly growing business in the world. However, a considerable number of startups appear in the market every year. According to the facts, there are more than 5 million unique mobile users across the world. So, if anyone is looking forward to developing the mobile application, then choosing Android or iOS as a platform will be difficult. There are only two options to consider while entering the market of Android or iOS. Firstly, do not make mistakes while choosing the OS. Secondly, looking forward to which criteria you should rely on.
Android App Development Company: Pros and Cons
Java, C++, and Kotlin are the platforms that develop Android applications using Google tools like Firebase, Android SDK, and Android Jetpack.
Furthermore, let us have a look at the advantages of Android Development.
Fragmentation: Android runs not only runs on smartphones and tablets but also on other platforms, including TVs, refrigerators, car audio systems, etc. Accordingly, the range is more comprehensive, which invites various business opportunities.
Any system will suit the work: Android and SDK are available for every platform, including Windows, Linux, Mac-based-Android studio, and even SDK programs.
Development Environment: IntelliJ IDEA is known as the world's best environment for developing Android studios. This environment consists of intelligent code analysis, easy navigation, automatic code formatting, etc.
Code: The code often is extensive. Hence, the developers do not prefer to print every line of the code. However, the first couple of the characters are only written, and the IDE will continue on its own. The development environment will analyze the code and will automatically generate some of its code.
Java programming language is used for mobile applications, web applications, and also for games.
However, every coin has two sides. Besides Android application benefits, an Android apps development company deals with the variability of the devices and various versions that lend to spend more time for app testing by QA engineers. The variety of Android device makes challenging to develop a product that will perfectly suit for each device. The system is installed on smartphones, watches, radio tapes, recorders, refrigerators, and tables of various brands. Hence, machines do not work similarly, and developers remain unknown about every gadget's parameters.
iOS App Development: Pros and Cons
Unlike Android, iOS has a closed source code. Hence the system operates uniquely on Apple devices. Languages like Objective-C or Swift languages are used to build iOS apps using XCode, iOS SDK, Swift playgrounds.
The benefits of iOS app development are:
1. Income: It is a fact that users of Apple devices make more in-app purchases than Android users. This becomes a massive benefit for business owners.
2. Device certainty: If you select to develop the app on iOS, you only need to adjust them to Apple devices. The development comes to an end in a shorter time as compared to Android app development company
3. Development tutorials: Every device of Apple, including iPhone, iPad, iWatch, Apple TV, Mac OS- has its approach. iOS developers possess a guided practice to make the development process faster and easier.
4. Update transparency: Apple improves the guidelines for iOS application development. However, not leaving the developers in the dark; explaining how to replace code elements with the more productive ones.
Android vs. iOS development: Which one to choose? What is the purpose of the application?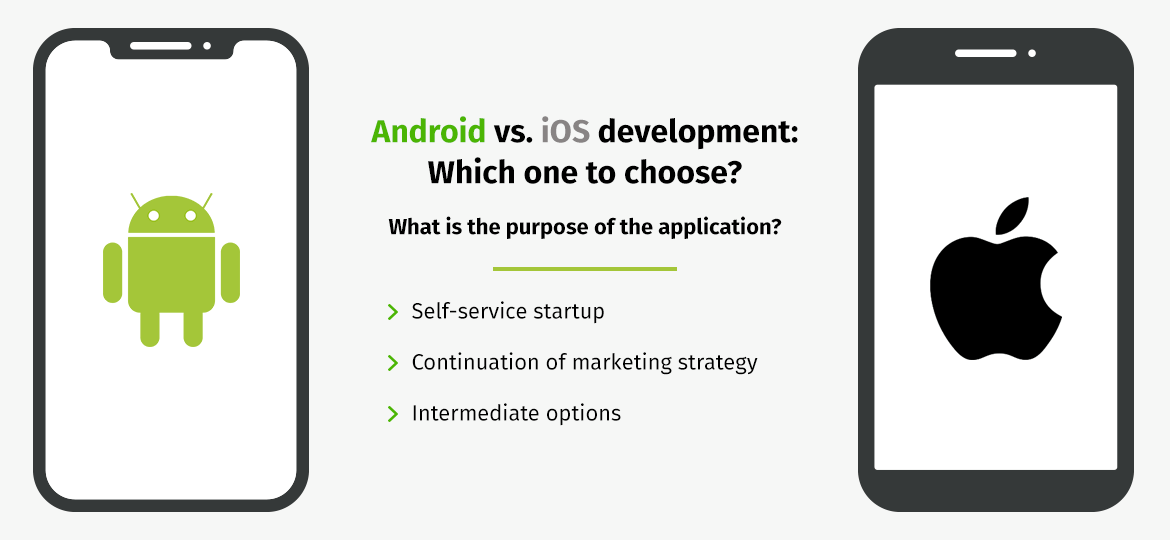 The primary purpose behind developing the application is looking forward to more profit in the business. However, entrepreneurs can achieve more profit in various ways. There are three types of approaches to mobile apps development company and monetization:
1. Self-service startup: This is an independent product and not a continuation of the digitalization of a company and its brand. Such applications need payment. Somehow, they offer customers a limited free version to use the application.
2. Continuation of marketing strategy: Many industries prefer to develop an application to improve the service, especially the service industry. Customers can place an order with few clicks. This is very easy and gives more advantage to the company. Moreover, these are free applications.
3. Intermediate options: Some firms wish to improve their service quality. However, they also post ads and promote add-paid features. Hence, promoting the brand and also making a profit at the same time.
The main aim you need to focus on is bringing meaningful total value for a customer. This is the only situation that will allow you to monetize an application on iOS or Android. Once you are decided on the goals and needs, it becomes straightforward to start with your mobile app company.
What is better for your business?
Considering various features, you will be able to make the right decision. You will need to evaluate needs, future app concept, development costs and then only make the selection. Also, you can hire Android developer from India or iOS developer from India for developing the best apps for iPhone or Android.
Final Conclusion:
According to Internet marketers, it is beneficial to develop a mobile app company for both operating systems. It is better to select the most suitable platform for yourself, depending on your need. Also, you can hire iOS developer from India, depending on the application development you require.
Overall, both the operating system Android or iOS will dominate the market and make your business the top Android firm globally or the top iOS
Which Mobile Platform Should Startups Choose In 2021: Android Or IOS?