Reading Time:
16
minutes
According to a famous quote by Albert Einstein, "Education is not learning of facts, but the training of the mind". It is a powerful quote as education forms the basis of a good life. What we learn today helps us tomorrow. It helps a child to become aware of different fields of knowledge that exist in the world and form their identity in that. Education System helps a child realize their potential and work towards maximizing it. It has the power to change the lives of not only one or two but the whole world.
With time, even the methods and means of education have changed significantly. Earlier, the education system was simply dependent on books. The majority of the topics were only taught to the children by making them read from different texts. However, it has changed today. Now, learning has taken a practical approach. Not only do children learn through books, but there is also a practical approach that emphasizes teaching children the application of knowledge in real-life settings.
Digital learning for students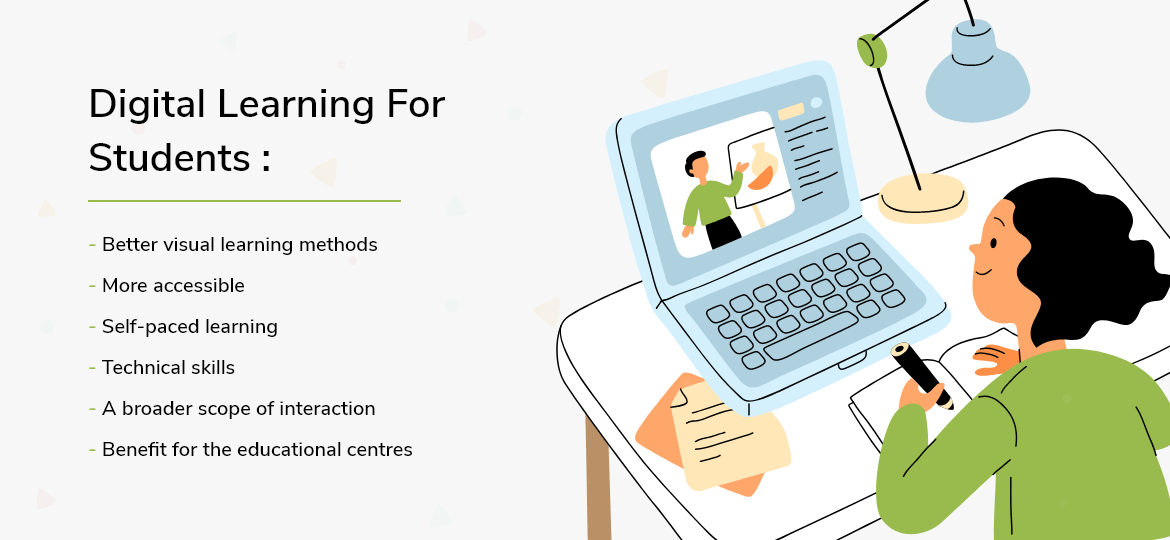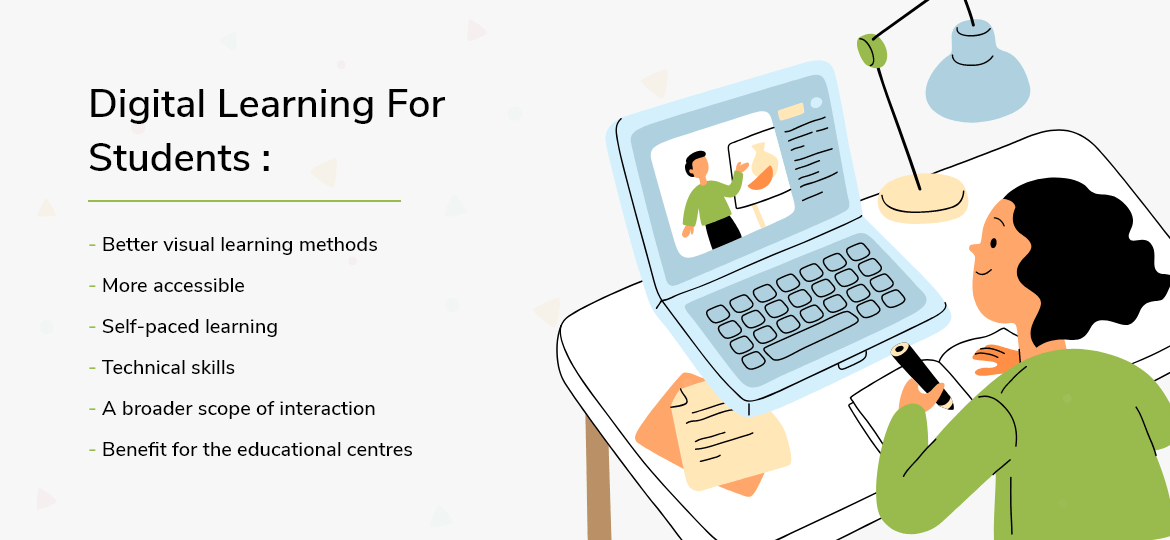 Moreover, learning has also taken a digital form. The books and practical knowledge have changed from learning from PowerPoint presentations to educational videos and ted talks. How we provide knowledge to the young generation has changed completely.
But now, the question arises, does online education benefits children?
Well, many factors state that web-based learning is beneficial for young minds.
1. Better visual learning methods:
Online education offers an opportunity for the students to learn the concepts using digital tools. These might include tools such as graphical representations, educational movies and videos, presentations, and other methods. It is a more captivating form of instilling knowledge, and young children prefer to learn better through visual methods.
2. More accessible:
Education through online mode has become more accessible to students. Even those who live in cities far away from schools or educational institutions can learn irrespective of the distance. This has allowed students to complete their education without any hassle. Especially during the times of covid 19, online learning was more beneficial. With proper use of technology, children were able to continue learning regardless of the situation.
3. Self-paced learning:
Another benefit of online education has been that it is more towards self-paced learning. After the lectures/classes, most of the recordings of the classes and reading material get published on the platform. It ensures that the child can refer to those resources if he/she feels the need to relook at the concepts to understand them again. They can even ask questions comfortably to the teacher.
4. Technical skills:
A major benefit of online learning has been that not only it teaches the child to learn from their home but also, they are getting adjusted to using various technology platforms and how to operate it from a young age. These benefits of e-learning in the workplace can be helpful ahead.
5. A broader scope of interaction:
Many schools and colleges also keep interaction of the students with various professionals all around the world through virtual mode. Many students even got an opportunity to interact with people globally. It helps in increasing the spectrum of perspective globally and across different cultures.
6. Benefit for the educational centers:
There is an aspect of online education according to which online education benefits both the education system and the student. The student benefits are already discussed above, whereas the educational system saves on resources that are necessary when the schools are offline. For example, the cost of maintaining the school building, basic amenities like electricity, water supply, hygiene, food, first aid support, school supplies, and more. Now, a school can operate from home.
Now, we are aware of how online education is beneficial to students. But, can we compare the online learning experience to learning in a classroom?
Disadvantages of online education
Just like there are two sides to a coin, there are also some disadvantages of online learning. Keep reading further to know more.
Offline classes have better learning environments. There are many school psychologists and social psychologists that emphasize the importance of an environment that school provides, which is missing in online education. Offline learning provides an opportunity for the child to learn with other children of his or her age. It helps in teaching the child how to socialize and behave appropriately in a social environment.
In a school environment, children learn to make friends and also groom their personalities according to various challenges posed at different stages. Physical interaction is crucial for a child's development.
Online learning is mostly learning along, only with merely limited interaction with the teachers. It might make the child feel lonely or less motivated to concentrate and continue their study. Studies have found that children also motivate each other to do better merely just by presence. It's called social facilitation. It is absent in online learning. Offline learning also teaches about the role of society in education as well ahead in professional life.
Another limitation of online education has been a lack of practical exposure. Offline learning also provides an opportunity for learning in the environment. It includes conducting experiments and field learning opportunities. In online mode, students have to stick to learning from screens.
It is not that people are not aware of these disadvantages and advantages of online education. You can pick up any online education essay published online and notice that people are well aware of both sides of the debate. But, as responsible parents and learners, we have to choose the best model according to the situation.
Education system of India
The education system of India is one of the most structured and difficult. It not only teaches from the traditional core methods of learning like reading from the books but also integrates it with the practical and digital methods of learning. There is also learning through field exposure and technical methods.
The Indian education system tried to blend the old school values and modern methods effectively to impart knowledge among the young generation. Now, children as young as an elementary school also learn through mobile educational apps as well as books and notebooks provided to them by the school.
There are many ways by which the Indian education system differs from the models approached abroad. But this isn't an Indian education system essay.
Education through mobile apps
The current era is the time of educational mobile app development. This particular trend has made a mark in the studying styles of children in India significantly. The students can understand the concepts taught in their school in a more graphically attractive and mentally convenient way. Now, even an Education app development company focuses on how they can create an app that can teach the children a variety of concepts in the simplest way.
Educational app development aims to create attractive apps that make the children feel that they are playing an interesting game rather than learning. In simple words, they are trying to find ways through which learning is fun for children of all age groups irrespective of the subject they are studying.
Integration with schools and coaching
Even the school authorities and board directors understand the growing prevalence of educational apps in learning. They are considering partnering with the best education apps in India to make learning interesting. This will not be only for students studying in lower classes but also for students preparing for higher levels of education such as board exams and various competitive exams like the JEE, CAT, AIEEE, and more.
Apps are focusing on students aiming to crack the competitive exams. They provide the student with special lectures by the most experienced teachers in the field teaching through special techniques to ensure that learning new and complex concepts is easier to understand by the viewer.
Some apps also offer library app solutions to ease finding resources related to various subjects at the dispense of the students so that they can access the e-library anytime and find whatever they need on their respective devices. Not only course books, but students can also find literature, recreational reading material, and also research papers if they wish.
Management solution
Some educational apps also provide school management solutions to assist the ineffective managing of school records, administrative functions, and attendance of the children. Completing tasks like these is just a few clicks away without needing much time from the manager. It has become so efficient that any data can get tracked from the school records within a few minutes.
Conclusion
Through all the information, we can conclude that technology has had an undeniably strong impact on the learning styles of children. There are many benefits that it adds to the educational system, but there are also some limitations that need to take care of. The schooling system must find the right balance between the two poles. This will carve out a structure that works out and promotes education that offers holistic development of the children. A holistic approach will help them become better individuals. They will be equipped with the correct knowledge and respect basic human values. It can behave an everlasting impact on humanity and the upcoming time of the future.
How Elearning Is Changing The Landscape Of
Education System: Is It Good Or Bad?