Reading Time:
12
minutes
Today, the healthcare Software industry is one happening and challenging industry. Healthcare IT solutions and services used for streaming processes. The healthcare systems focus on what patients, clinicians, and the administration's needs. Various IT solutions are rising due to it's reduced cost and integrating systems. The increased use of technology has created security problems.
According to the 2019 survey, there are 510 healthcare data breaches. With over 41.11 million exposed and stolen records, which equates to 42.5 data breaches per month. Vast improvements recorded from January 2020 with over 1.03 defilement per day. The primary causes are data theft, unauthorized access, and other hacking incidents.
There are many ways for data breaches, and some instances could be life-threatening. Consequently, how one can deal with these breaches. Your answer to this is HIPAA (Health Insurance Portability and Accounting Act). Presently, HIPAA comes into the picture. The Healthcare industries provide Healthcare solutions to follow regulations proposed by HIPAA. It forms an integral part of the entire fraternity.
Let's understand HIPAA in a better way
HIPAA primarily modernizes the flow of healthcare information. Note how healthcare insurance industries maintain identified data. HIPAA protects you from fraud and theft from healthcare coverage which aims for simplification of administration. The security of electronic records and insurance portability.
Healthcare software should be HIPAA compliant. It should offer a framework to ensure process completion as per HIPAA rules. If you don't obey the HIPAA norms, you can get fined heavily from $100 to $50,000 per user violation. The highest penalty is $1.5 million per year. Check compliance group list to see all HIPAA fines.
What are the significant aspects of software development in the healthcare industry?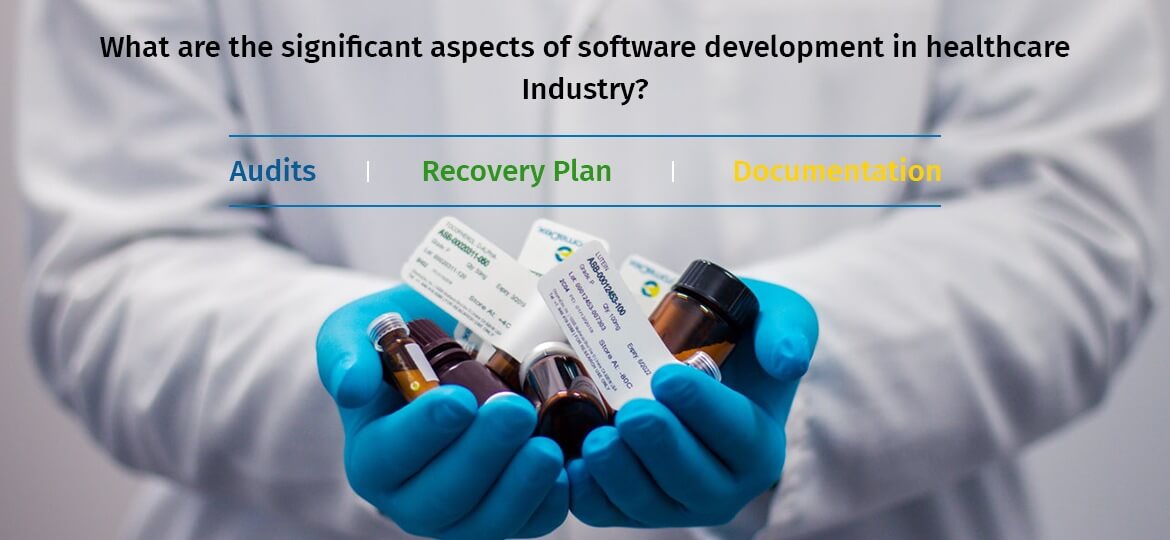 Any healthcare app development company should install the below elements. In healthcare software, it should ensure HIPAA IT compliance. Check below recommendations
Audits
Hire healthcare developer to perform a regular audit. And identify the risk for data breaches. A HIPAA compliant healthcare software analyzes the compliance level of the medical organization. It provides detailed information about current errors, risks, and other recommendations. The audits are done in the form of quizzes to make easy use of medical staff.
Recovery Plan
The above audit will help to forecast the errors. Which relates to HIPAA compliance. The recommendation plan will help to correct mistakes and prevent them. Every medical institution has a recovery plan and uses various healthcare technologies. The tool should start a particular program for a specific situation.
Documentation
It's the main task for any institution to work with documents. The software will ease documentation processing. Where the healthcare providers install such a system in their organization. For medical software in documentation processing, it adds:
Simplicity
Strict Structure
Secure Data Storage
Comprehensibility
What are the rules for HIPAA?
The rule talks about PHI protection and states. Which advanced in healthcare technologies to protect patient data.
Here the mandatory entities will run regular data breach. To ensure reliable PHI protection to describes PHI security. It prevents future threats for health information security and for correcting.
The rule covers investigation provision and details specific to financial penalties. The breaches can range from $100 to $50,000 for the first occurrence.
The organization should inform if there are less than 500 data breaches involved. The healthcare team has to inform all departments of health and services within the next 60 days.
The rule came in the year 2013, and the rules change all past supplements and regulations. The changes will expand the obligations of physicians for PHI protection.
Why is HIPAA important in medical software?
HIPAA covers all disclosing patient's history, payment records, mental condition, and more. This rule laid down for the privacy of the organization and other health-related data. The data safeguarded with encryption. There are various security HIPAA measures taken for auditing capabilities. For disaster recovery and other data back-up procedures.
HIPAA will need companies to create and put in place the data back-up option. To secure data, the organization will imperil plan in case of any crises. There is a HITECH act that requires institutes to notify affected individuals.
How can one become HIPAA Compliant?
Analyze the current HIPAA Security Compliance
Fill the Gaps through Remediation Measures
Take Control of Data Breaches with Employee Training
Preparing Audits through Secure Documentation
Agreement Management with HIPAA complaint healthcare app development company
Recover the system efficiency via incident management
How HIPAA compliance work for health applications means for Developers?
Not all applications are HIPAA compliant. If you're dealing with mHealth app development then you can collect, store and send PHI. Several criteria of HIPAA are listed below:
User type
The app information type
The app software type
Comply your app with HIPAA, if your app intended to use the covered entity. The data includes a patient's medical record are for healthcare services. Such as treatment, operation, and payment.
What are the challenges of implementing HIPAA?
Any organization needs simple antivirus software and a firewall to keep data safe. The workers and employees of a healthcare organization spread widely. They need access to view data from laptops, mobile phones, and other tools. One can enable data access outside the network and hence get safety on used devices.
There are a lot of expensive tools available in the market. One needs to protect the network from malware and various other attacks. As data is growing continually, managing might become more onerous for healthcare companies.
HIPAA quick questionnaires
What are the penalties for HIPAA violations?
The penalty will issue by the department of health and human services. It's for OCR (Civil Rights) and state attorney general.
Is texting a violation of HIPAA?
It's not true, it depends on the content and the message sent. The mechanism works to ensure integrity. It's for protected health information (PHI) in certain circumstances.
What are the HIPAA Encryption Requirements?
The requirements for transmission cover entities and implementation mechanisms to encrypt PHI.
Is Google drive HIPAA complaint?
HIPAA technology is less about technology and more about how it used. Even a software solution billed as a HIPAA compliant and can use in any manner.
How mobile data security and HIPAA compliance work?
Various healthcare providers and other HIPAA covered entities that embrace mobile technology revolution. It allows the best use of tablets, smartphones, and other portable devices to work on. The mobile data security measures are insufficient. It covers entity at risk of violating HIPAA regulations.
On a Parting Note
HIPAA standards influence the healthcare industry. It offers a better version and a more secure environment. Impose HIPAA to boost healthcare units. Make it easy to implement its practical use whenever needed.