Reading Time:
15
minutes
2019 was the remarkable year where the rumors of foldable smartphones reached a pinnacle stage.
In the early years, Samsung announced the launching of its first-ever innovative foldable offering, which has been around the corners for several years. But in 2019, Google officially proclaimed its alliance with Samsung on this discovery, turning the rumors into reality. Soon after, numerous device manufacturers began doing their homework to enter the space.
This craze of device manufacturers took very little time to break down the app development market. Companies started looking for designs and technical expertise to deliver a minimal learning curve.
Before we move ahead on the components and intricacies of app development for foldable phones and what one can do to prepare the mobile app for foldable smartphones, let us first understand its current state.
Here's an image of the current mobile foldable market:
The ratio showed in the statistics discussed above highlights that once the foldable phones begin overflowing in the market, they will not become a hit. It will take time for them to establish a position in the smartphone sector. But, like every technological emergence, while the wave may be slow, it will grow consistently in no time.
This is the reason even device manufacturers and iPhone App Development Company need to improve their strategies.
How will the foldable phones impact the mobile app development process?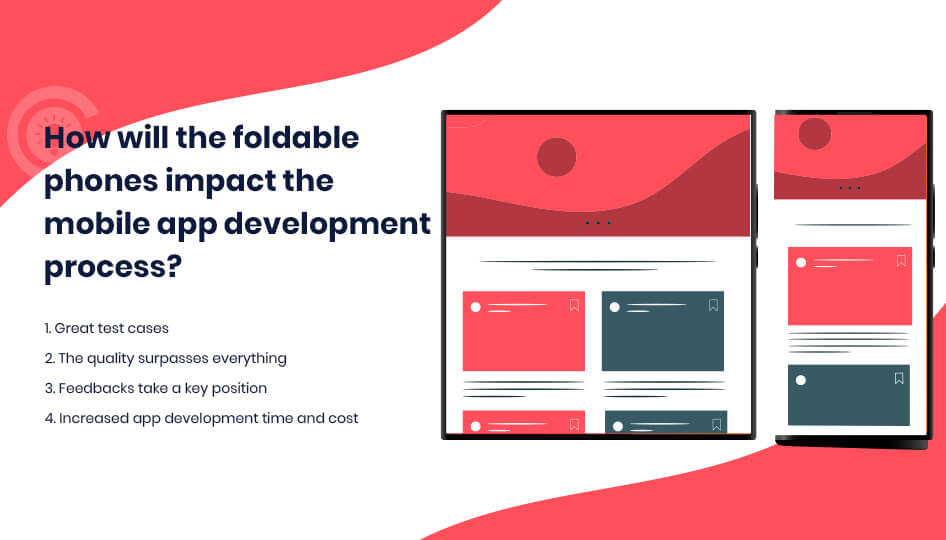 Well, it may seem that having a foldable screen is only about flexible UX in mobile apps, but the impact is massive.
Foldable phones are all about adding more space to create engaging and comprehensive experiences for all the various types of multi-window.
It would be great for running video streaming apps on the increased screen size. One can witness the videos on a larger screen along with extra controls or features in the app.
One can access multiple account information in their banking apps in the multi-window app screen.
Calendar apps will be able to open an entire month in place of the week.
You can access business apps with more efficiency, like reading emails while studying a document, etc.
Let us look into the diverse ways foldable smartphones can leave an impact on the application development process.
1. Great test cases-
With a large number of foldable phones that will shortly hit the smartphone market, the development teams will have to perform a high number of test cases. It is vital to overcome all the dilemmas that come along with the multi-window app configuration.
2. The quality surpasses everything-
Foldable phones will come with numerous adjustments, aspect ratios, but what will remain constant are the quality expectations. The users will expect you to deliver the apps with the same impeccable and glitch-free quality and app flow that they are addicted to.
Acknowledging this, the burden of providing high-quality digital products will increase when you will hire iOS developers for the app development of foldable phone space.
3. Feedbacks take a key position-
An impact of building apps for foldable phones is an expansive feedback collection process. Because you will be taking a traditional application to a new level, you will come across a lot of feedback, especially on the development front.
Heeding this, it would be imperative that you add room for revisiting the changes in your Agile scrum process.
4. Increased app development time and cost-
Another significant impact that the mobile app development market will face will be in terms of elongated app development time and cost evaluation.
Optimizing apps for foldable phones and assuring that it works glitch-free in all the modes will need a lot of design, testing efforts, and development that will increase the overall time and cost.
How can developers develop an app on foldable phones seamlessly?
Let us divide the development process into three sections to give a better overview:
1. Designing for foldable phones-
There are primarily four things that you need to consider when designing apps for foldable screens:
There are two elements in every foldable smartphone, which are unfolded and folded screens. To simply put across, it's the primary display and the cover display.
Unfolded state: It is the center point where the device converts into a tablet, providing space to the companies for an enriching experience. This extra space can be optimized for giving more significant meaning and adding subsequent actions to the apps.
Folded state: In this foldable app design, the device looks like your regular smartphone, which is mostly operating using one hand.
One or Two-Handed App Design-
The state's change in foldable smartphones is meant to change the whole experience – even the one of how the device is used. Presently, people operate smartphones with one hand, but in the unfolded state, they will have to use both hands. This will improve the design dynamics in a way that the vital UI and UX elements will have to be maintained within the thumb and other fingers' area.
Because the state of foldable smartphones is much higher, multitasking should always be considered as an integral part. This means, being a designer, you will have to serve the time where another application with its unique set of design and functionality will be sharing the screen with your app.
The user experience must move from the folded to the unfolded state and then back to the folded state without any hassle. There should be minimum to no change occurring in the layout, which would increase the app flow uncertainty.
2. Technical preparations for foldable phones
Even this aspect is segregated into four parts for better understanding:
As mentioned in the above point, app screen continuity means that when an app runs on a foldable smartphone, it should have a seamless transition from one screen state to another automatically. The app must always continue in the same position and state. All you have to do is make a resizable app through effective resizing.
Higher versions of operating systems would support a wide range of aspect ratios. In foldable smartphones, the form factors may differ from a super high long and thin screen to a 1:1 ratio. So making your app compatible, you must test the apps for as many screen ratios as possible.
Running two apps in one-go has become standard by Google for a long time now. But the foldable technology allows three or even more apps to run at the same time. Moreover, the technology gives the capability to share content without any hassle.
The tenth OS version and higher supports multi-screen. For instance, an app is running on a smartphone with multiple screens; the users can quickly move them from one display to another. This multi-resume refers to multi-screen situations also.
Besides this, there are some crucial things that a developer must take care of –
Display cutouts
Use of a secondary screen
Activity vs. app context
3. Testing of App for Foldables-
While testing the application, the development team will have to make sure that the app reacts seamlessly to Resizing & new screen ratios, Multi-window, and multi-resume functionality, and Configuration changes efficiently.
Bottom line
Foldable smartphones will prove to be revolutionary for businesses across the globe. So get ready for the new adventure in the app development world and create groundbreaking apps for your business.
If you're looking to hire iOS programmers that can help you with the app development process, then get in touch with the team of experts at Concetto Labs. All you need to do is just drop us an email with your business requirements and we will get back to you within 24 business hours. Contact us now to know more.
FAQs
1. What would be the estimation cost of developing an app for foldable smartphones?
It is expected to be higher than the traditional mobile app development as it requires immense dedication with regards to designing and functionalities.
2. Does the popularity of foldable phones will grow?
Well, the entrance of the foldable phones will be quite slow, but it will hit the market in no time.
3. Will the iPhone take the foldable trend to a new level?
It seems to be a mystery for the timing. But we can witness many Android brands have taken the initiative, so it is expected that even Apple will be the part of the race.