Reading Time:
9
minutes
The majority of businesses understand the significance of having a website, but they simply develop a site, launch it, and never look back, overlooking the website maintenance completely. If your site isn't adequately maintained, possibilities are you're missing valuable clients or customers, which will eventually affect your business' bottom line.
Websites need routine maintenance to make sure that all of the elements, such as inquiry or contact forms, links, images, payments, shopping carts, etc., are working safely and efficiently. Designing a visually appealing, platform-responsive, and user-friendly website is the initial step, letting the world know about your business existence. Still, routine maintenance is required if you want your business' visibility to increase and flourish.
Here are the top reasons explaining why website maintenance is important for your business:
1. It boosts the website security:
Security is the top reason why website maintenance is crucial – and the major issue that often makes headlines. No matter if your business' website is on WordPress or Drupal or some other platform, if it is stuffed with plug-ins, hackers across the globe are in search for vulnerability and safeguarding from security breaches before they happen is essential.
For instance, if your online business uses WordPress or any other similar content management system (CMS), it's essential to ensure that you're ahead of the up-to-date version of your website. Therefore, you need to make sure that WordPress's latest bug fixes and security patches are installed on your site in a timely manner.
2. It provides a better customer experience:
In case your website's templates and theme files are outdated, they will take time to appear correctly on the new versions of mobile devices and web browsers. However, when you practice regularly programmed maintenance, you stay rest assured that the current version has been installed and is working appropriately.
Besides making sure your website appears correctly, you also need to maintain your website to ensure the user experience is fresh, seamless, and exciting. The final aspect a customer, potential client, or business partner wants to see while exploring your website are updates, photos, and specials that are months old.
3. Drives website traffic and SEO rankings:
When your website has the ability to drive traffic, it will improve your search rankings every time you add new content. WordPress Website maintenance also includes keeping your content up-to-date as per the trends. The more updated your website is, the more SERPs will boost your rankings. On the contrary, search engines will also reduce your rankings if your site is rarely updated, and they may even remove your website from its search results if they suspect it has been affected with malware.
4. Keeps your existing customer base happy:
It is crucial that your existing customers are happy and excited about your products and services all the time. And this can happen by regularly updating your website and offering them interesting, relevant, shareable, and content that gives them an idea to take action. You should offer these actionable items to your customers that include things such as coming to the store for a sale or special product, signing up for an event, making a donation, etc.
An easy and simple way to update your website and drive better traffic to it is to frequently add content to your blog, or become active on social media platforms. Let your customers know you value them and their engagement with your business or brand.
5. Keeping a backup of essential files:
One of the significant tasks of website maintenance is backing up all of your website's files. This task can be accomplished either manually or through automated services offered by a web hosting provider. Backing up your data is essential because the last thing you will never want to happen is to lose all of your website's data. If this is what happens due to a malware attack or natural disaster, you would need to rebuild your entire website from point A.
This would cost significant time and money. If your business' website is informational and simple, then backing up on a monthly basis is probably more than enough. However, if your website has more dynamic elements such as content and images that are constantly changing in your online store, then backing up more often is critical.
Conclusion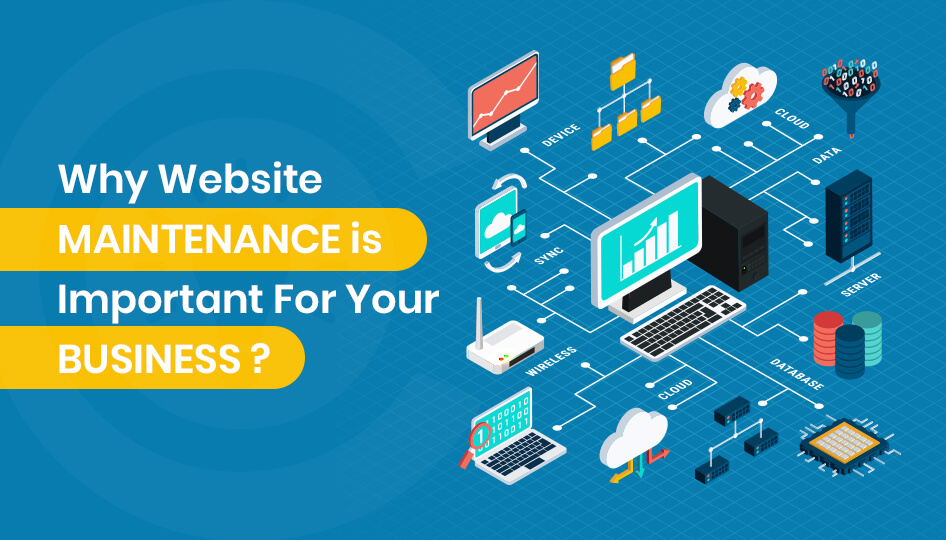 Maintaining and updating your website regularly is one of the significant ways to drive online success. Website maintenance mostly fuels the ROI of your business and boosts the overall performance efficiently.
FAQs
1. How much it cost for website maintenance?
Website maintenance cost varies from business to business, and to give an estimation, it will cost each year around $400 to $60,000.
2. Why it is vital to maintain a website?
Maintaining your website efficiently helps one to promote its brand seamlessly and boost overall traffic.
3. What do you mean by website maintenance?
It is a process of frequently checking your website for errors and problems to your website up-to-date.