Reading Time:
10
minutes
The days are here when it seems we can do anything from our phones or tablets. Our device can perform it all by setting a thermostat to ordering groceries to complete detailed work tasks. Some companies are developing advanced online gambling app to use for product use.
The online gambling app is becoming popular nowadays and is used as an alternative to traditional gambling. In conventional gambling, people need to go to the casino and gamble around with other people. But now there are different function which satisfies each customer with giving a great time to know how to make a betting app. As there are several betting apps for other platforms, we'll find people gambling all around the World.
Betting App Features
Betting app features can be divided into two groups: A user and an owner of the app. Honestly speaking, there are lot more features for end-user. Also, the owner gets to profit in the form of a percent from every win or bet along with a database of clients. A few of the benefits for the customers of betting apps are:
1. Payment System
It's possible to make a financial transaction with just a few taps on your device. With this app, a user can enter several credit cards without wasting time on tedious tasks and confirm the payment via phone call.
2. Public Betting Trends
It's no surprise when you research how to make a betting app. Also, it helps to promote some events or bet using the app. For users, it's necessary to know the popular trends for a particular chance.
3. Odds from numerous sources
Now, give your Fans possible information from several sources. For example, odds and reviews are calculated based on professional, established gambling resources. Also, by using the new data, users can make their own decision.
4. Watch live games
The same goes with the main event where customers waste their time browsing and finding a suitable app to watch live games and make few taps on the betting app. Also, watch the live match without breaking a sweat.
5. Sport News
While placing a bet, we know that users keep their ears on the ground, which needs a lot of sports news. For that, they don't need a separate app that provides sports news. Also, a developer can make a separate app for sports news or else add in one app. Keep users updated about how to do betting.
6. Community
Your app user can share photos, comment, review, and match with the bet. Customers can use your app more often if they're betting. Also, do not underestimate the option of figuring out how to make a betting app. Some users need to spend more time developing the betting app as it argues with each other social network app.
7. Pop-ups
We find a sensation here and there where users can gratefully get app notifications about important events and occasions. Moreover, in some breaking news, we find it interesting when any player's information pops up.
There are several best gambling apps available in the market that companies are developing. The time is here where we can win real money with gambling apps. So, What's the best gambling app available in the market?
DraftKings
PointsBet
FOX Bet
William Hill
BetRivers
Bet MGM
888sport
Unibet
What things to look at in the sports betting app?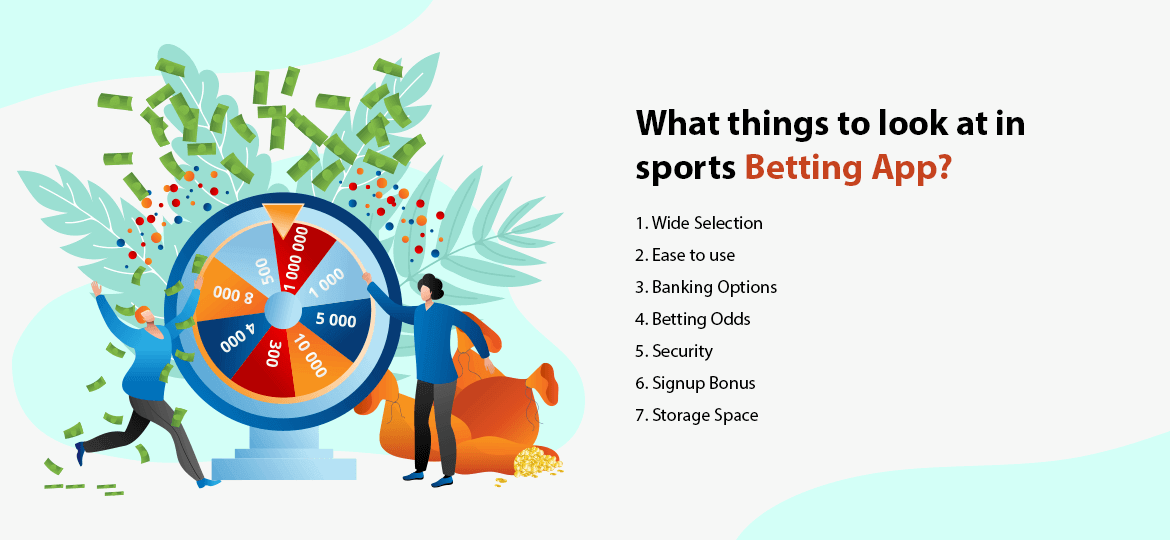 With a lot of the best app for sports gambling app available in the market, there are few things we need to consider. They are:
1. Wide Selection
If you're planning to bet on NBA or NFL, then every mobile sport offers the game in those leagues. Same works with game and player futures.
2. Ease of Use
It works similar to online sportsbooks where it navigates than others. The same goes for on damnd apps provided by these companies. Sports betting needs to have the ability to place any sport that one needs without complex site navigation.
3. Banking Options
The site match-up with betting and using easy banking options like accepting credit cards, play+, or PayPal. It makes it a challenge on your end with getting funds to your account and get them out.
4. Betting Odds
When it comes to actual gambling, some sportsbooks offer odds over others. Shopping for the best odds-on multiple apps can boost winning and diminish losses. It comes with top multiple app usage and is used for shops for lines.
5. Security
Safety and security are critical factors used for choosing which sports are betting apps and worth for your bankroll. It's the most popular app that takes multiple precautions with ensuring products are safe from hackers.
6. Signup Bonus
One of the critical factors is the signup bonus that brings a new customer to your online sports betting application. Hire Android developer if you're looking to build an app on the Android platform. Every reputable online sportsbook offers bonuses by helping them stand out from the crowd and entice new users.
7. Storage Space
Some sports betting apps take up considering space on your phone than others. It makes sense to be mindful of your storage availability before downloading apps if you plan to download multiple apps to find the best odds.
Closing Thoughts
The World of gambling apps is really in its infancy with rising real gambling apps. If you wish to start your own online gambling business, then you need to consider the following things:
Gambling License
Dedicated Server
Merchant account
It's only the start. If you already know the direction of how to make a gambling application, then go ahead and make it yourself. Also, you can hire developer and add great visual design. Keep in mind that your gambling app is easy to use.
Things You Need To Know About Gambling App