Reading Time:
11
minutes
Are you thinking to build a business app with Flutter app development? Yes, then it's high time to be more comfortable for startups and businesses to roll out with the feature-rich mobile application without putting a burning hole in the pocket.
Want to know how?
Let's dive deep in this post to determine everything related to Flutter and why it's best for businesses. Frankly speaking, Flutter is the best choice for business app development. The study proves that nearly a 2.7million apps in Google Play Store and 1.80 million apps are found on Apple's App Store. It shows that mobile app development is a necessity for all sizes of business owners and domains.
What is Flutter?
Well, Flutter is the best open-source development kit and a Google's mobile app SDK that comes with the complete framework, widget, and tools. It helps the developer to deploy and build fast mobile apps on both the Android and iOS platforms. It enables smooth and easy cross-platform mobile app development. All that we need is one codebase for both platforms.
Benefits of Flutter for Businesses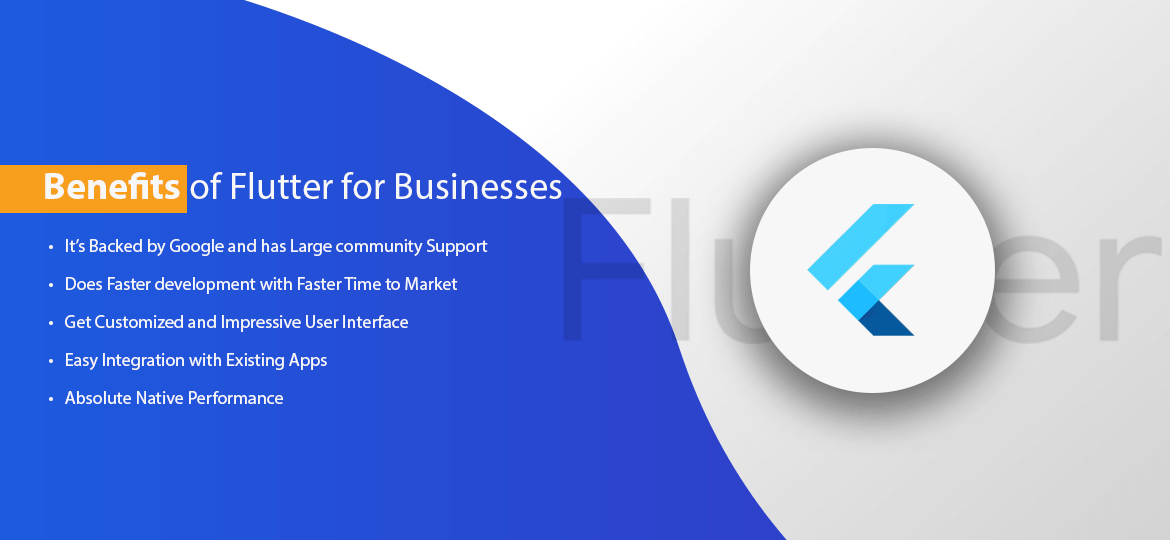 1. It's Backed by Google and has Large community Support.
Flutter is a Google technology and comes free. With Flutter development, Google ensures to offer unwavering support to the upcoming Flutter developers. Flutter app development for business works excellent as it helps them catch up and discuss with other Flutter bugs.
2. Does Faster development with Faster Time to Market
95% of the flutter code can be reused. It means write it once and run it anywhere. Flutter comes with its widget library where the code is reused, which becomes efficient and convenient. Build an app development for business by hiring a flutter app developer.
3. Get Customized and Impressive User Interface
Now create beautiful applications with a core focus on end-user experience. Google starts a layered architecture by making more expressive and flexible UI. The layered architecture provider faster UI, which results in personalized designs. When you run Flutter on an older version of Android and iOS, it appears the same with no additional effort and cost investments.
4. Easy Integration with Existing Apps
If you have an existing mobile app that runs on a native code, try out Flutter app development. It's so beneficial that you do not need to get a team to rewrite the entire code. Here, hire flutter app developer to help you with a comfortable integration facility with an existing business app. It merely looks and the onboarding process; its submodules and libraries are easiest.
5. Absolute Native Performance
Flutter doesn't guarantee a native-like experience, but it gives the complete native experience indistinguishable from native apps. It uses Dart language, which offers an endless list of benefits. It functions with faster performance and using AOT (ahead of time) and JIT (just in time) compilers.
Reasons to build App using Flutter App development
1. Low Development and Maintenance cost
Developing a native app can be costly for developers and startups. In this case, cross-platform is highly recommended as it uses a single code base to create an application and operates on several platforms.
2. Shorter Time to Market
Flutter app development company uses cross-platform application as it needs very coding. Also, the code is repeatedly used to make your App run on a different operating system. It leads to faster app development which helps to fulfill a shorter time to market.
3. Wide Variety of Plug-ins
Flutter developer uses an extensive collection of plugins that facilitate easy designing. It makes the business app development process easier and efficient.
4. Easy and Quick Testing
Want to develop a cross-platform application? You do not need to hire a developer to check the app performance for two different platforms. Hire flutter developer to check one version, which saves your testing time.
5. Code is Reusable
Developers can resume the application code by converting them into various programming languages for each platform. Here the outcome is saving time and money with an efficient mobile app development process.
Applications built on Flutter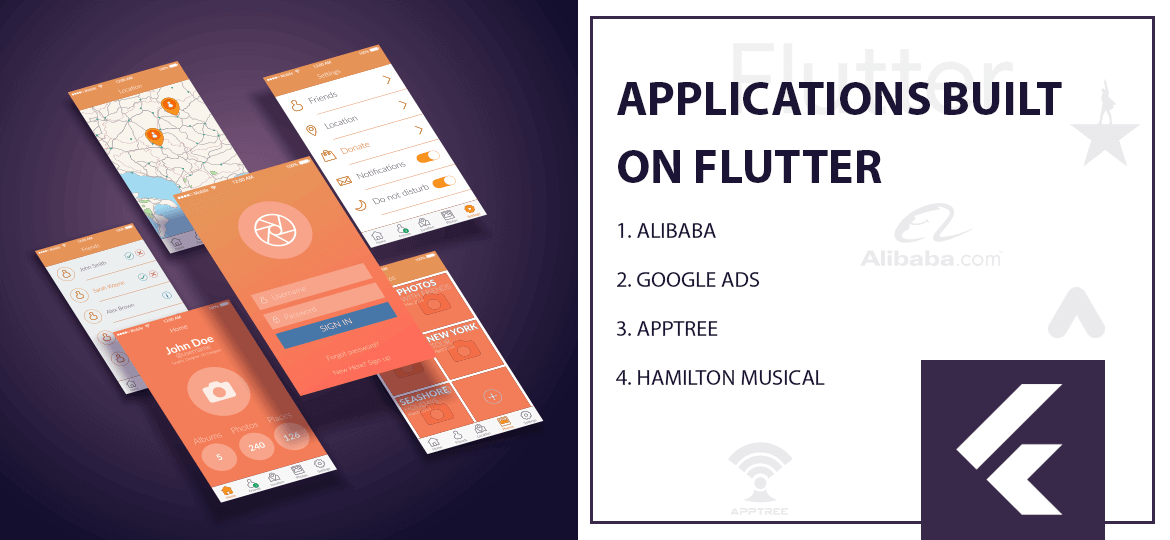 1. Alibaba
One of the best and famous examples which shows why Flutter is good for doing business is Alibaba. Its largest online retailer company praised by Flutter for its fluidity, consistency, and ease to code.
2. Google Ads
Google is using Flutter because of its easy usage. Ads are famous due to their popular online advertising and most advantageous platform. The team of Google said Flutter is a significant productivity booster for them.
3. AppTree
It's an enterprise app platform for doing businesses like Stanford, McDonald, Wayfair & Fermilab. It's a platform that aims to solve critical enterprise software challenges.
4. Hamilton Musical
Flutter addresses the issue of Hamilton, which another platform couldn't notice. It gave a native-like feel with excellent performance. Today the application has more than 1M downloads with a vast audience.
Bottom Line
Wrapping up, Flutter is a baby of Google based on Dart language, and we can't overlook its potential. The mobile app development in Flutter continuous to evolve as a framework. With considering building a startup app for Flutter, one can assume that Flutter comes with setbacks too. Don't worry, Flutter is going to expand business app development by using its best advantages. Several startups and upcoming companies have already started to shift with Flutter. Use an impressive cross-platform architecture for mobile app needs by identifying your budget.
We have been working on Flutter for many years and are delivering the highest quality mobile applications. In case you find it difficult at any point for Flutter app development, we highly recommend hiring a flutter app development company. We have a team to assist you throughout the process and develop an app within your budget. Get in touch with our excellent development team, and let's discuss your project requirements.
Why Is Flutter Suitable For Your Business App Development?