Reading Time:
10
minutes
Why Food Delivery App Development Had Been So Popular Till Now, Have A Look before Investing Money into it: Technologies made people so keen that nowadays people anywhere, anytime can eat healthily from their favorite restaurants. As we all know today's generation is so busy that they didn't have enough time to cook or to wait in restaurants and this is how to make online food delivery apps came into the market.
best food delivery app to work for has increased on rapid-fire speed as people became too busy with their works and they found these as an easy way to fulfill the hungriness hence people like these types of applications due to multiple options and features with instant delivery services.
Let's Talk about Food Delivery App Development Process:
Mobile applications with the latest technologies are playing the most important roles as people are using it all the time. The most common concept which is created by people and also uses by people is On-Demand Food Delivery App.
The on-demand food delivery app has given a solution to most of the people who don't like to waste time in queue for their food orders or who are too busy at work. If we talk about the development process than we need to consider two types one is Restaurant Mobile app – Which mean apps that are dedicated to restaurant owner allowing users to book their seats in advance online, and the other one is Food Aggregator app – Which allow users to search for the nearby restaurants and order food online and among these, another one is in demand as that includes the quick delivery feature.
These Food Delivery apps took less time and provide promotional benefits so all the people order their favorite food online at any time, anywhere and due to this obsession for food delivery apps has been increasing day by day.
Due to these reasons, many people think to develop their food delivery apps and if you are also one of them then get in touch with us today we will help you with all types of food delivery apps development.
The best food delivery app development company process is divided into four different phases that include User Panel, Admin Panel, Restaurant Panel, and Driver Panel. As people easily get attracted to food and this is the current trending business in the world so it becomes easy to earn money by developing Food Delivery App Like Just Eat or Food Delivery App Swiggy
Benefits of Top Food Delivery App Development:
Better ROI – Return On Investment:
Food Delivery Apps offer quick and reliable food services with some loyalty points towards the customer which leads to a strong online presence and a good impact on customers to make them use the service most and promote them among the other people. These things contribute to better ROI on startups.
Improved Customer Experience with Customer base:
The concept of the Food Delivery app which simply means favorite food at home within minutes attracts and loved by all and leads to great customer satisfaction and in between extra features like additional discounts, festive offers and loyalty enhance customer experience and motivate them to order food on a regular base.
There are about 3 billion or maybe more than that smartphone user which means we have an audience in billions for food delivery app and this could be very beneficial in terms of a restaurant business.
Online Presence:
In the digital era, almost all businesses getting converted into digital solutions. If you have your restaurant or thinking about startups with that then having an online individuality is an equally important aspect to be considered. Almost 85% of the generation spend their time with smartphones and internet on-demand food ordering apps support you to build an online presence and helps to reach out to all segments of the world.
Top Reasons Why You Should Invest Money in On-Demand Food Delivery App with the US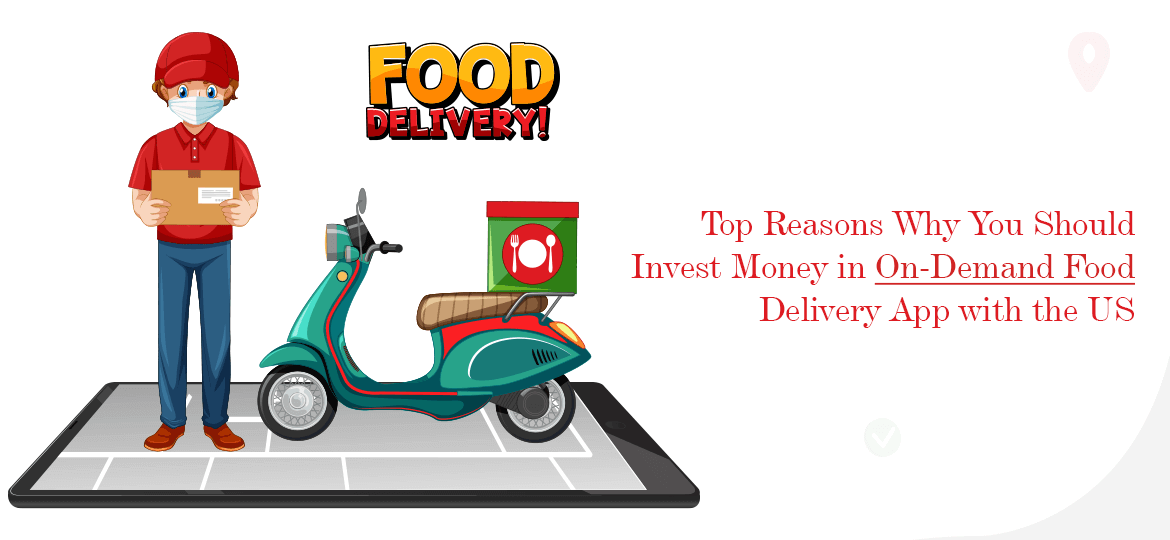 We can help you with three categorized applications Restaurant App, Food aggregation System, and Online Food Delivery mobile app which is highly innovative and includes standard and advanced features.
We also provide customized on-demand ordering app solutions with a Powerful portal that manages all activities such as Menus, Orders, Payments, Delivery, and much more. Another important aspect we focus on is our target audience. All the audience wants our word to be delivered right in the manner either it could be through a web portal or food delivery mobile apps.
We also make sure that the food delivery app payment should link up with famous payment apps like in-built app wallets, Phone Pe, PayTM, Debit or Credit cards, etc so that users can also view their past order history and other wallets offer.
Each Company has its terminologies in which some of them are the same and some of them can be different, If you want to build a unique, best, and attractive on-demand food ordering app to start your business, At Concetto labs we will fulfill all your requirements under affordable cost.
Why Food Delivery App Development Had Been So Popular Till Now, Have A Look before Investing Money into it:
We are a leading Cross-Platform app Development Company and possess a dedicated
and experienced team of experts involved in satisfying the diverse needs of the clients.