Reading Time:
11
minutes
Laravel, an open-source and free PHP web application framework, is mainly used for web applications. The framework follow by Laravel is MVC as it equipped with striking and dignified syntax. Laravel primarily focuses on app functionality and helps web app development to make the task easier. It offers high-level design web development patterns, which allows us to solve the issue using simple shortcuts for iterative coding jobs.
With thousands to millions of websites available on the web and most of the sites use the same functionalities. Additionally, it helps to re-write the code to build a new website. Using unique tools, developers build large and robust applications that come with outstanding features and use PHP frameworks across the globe. With the Laravel framework, it's easy to develop an application that works precisely based on needs. One can craft code that's expressive using the elegant and syntax-based framework.
Why choose the Laravel framework for business application?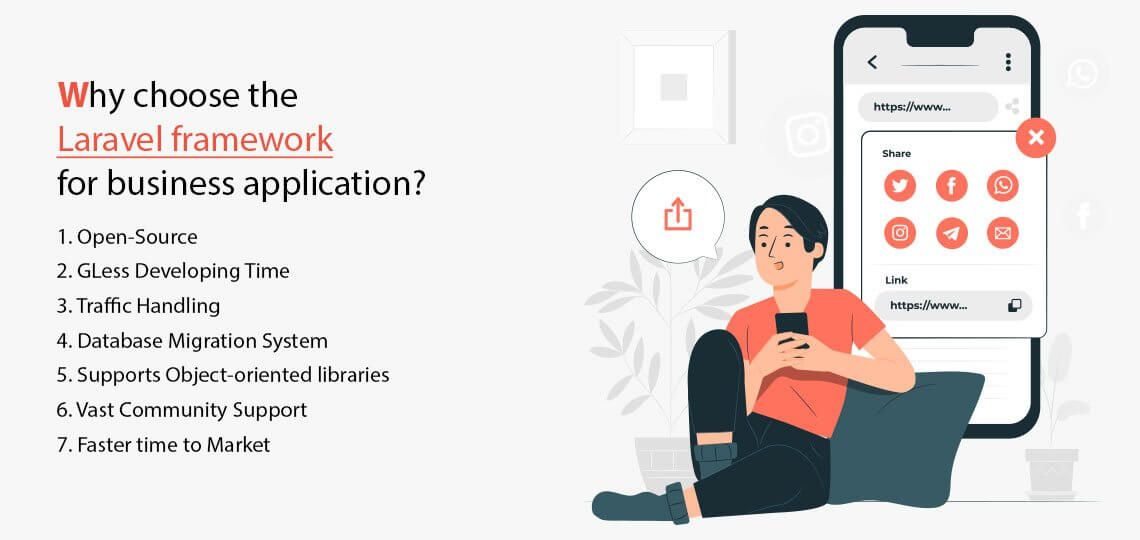 There are times when people ask how Laravel is popular, how it helps to improve web development? The answer is that while developing web development, it gives peace of mind to the developer. Laravel, no doubt, is an accessible framework but has also gained popularity along with offering paves of benefits.
Some of the other PHP framework issues today have been sorted in case of integrated testing to ensure that the web application is bug-free. Here we have a list of tremendous advantages that Laravel offers with making web development an efficient experience.
1. Open-Source
One of the best advantages of using Laravel is its open-source feature that helps to easy swift changes whenever needed. Laravel is highly flexible and assists enterprise software development as per change in business needs. Choose the best Laravel development company and use effective Laravel services.
2. Less Developing Time
It offers a large set of libraries that marked separately as singular modules. It allows app developers to build a user-friendly application with responsive, modular, and inflexible forms.
As it's MVC based architecture, developers find it easier to build your web app. The architecture provides better documentation, improved performance, and build-in functionality compared to other PHP frameworks.
3. Traffic Handling
Handle traffic is a challenge for any application with growing popularity. In current times, when a web app fetches more traffic, you need to deal with a greater number of requests. With time the web app development hosted under an expensive tag stops functioning with data loss. But Laravel framework supports a message queue system for load balancing. It helps to maintain a web server with effective traffic management.
4. Database Migration System
In case you're planning to build a large business, then migrating data is an essential task. It allows developers to share the database with other team members that help to work quickly and smoothly. Using this feature, it becomes easy to make changes to a specific DB. Hire a Laravel expert and migrate your data with ease.
5. Supports Object-oriented libraries
It offers several features to developers and supports all object-oriented libraries. It helps developers to create object-oriented libraries. To develop a software application, developers do not need a separate function or code with pre-installed libraries.
 6. Vast Community Support
If you have chosen a Laravel developer, you get vast community support from experienced and professional developers. Solve your queries with facing development issues. Big Laravel community helps to get updates regarding new modules and plugins. Hire Laravel developer India to get a vast support team.
7. Faster time to Market
To make the task easier, Laravel uses a modular basis. It offers a lot of functional features for developers where developer reduces the time of developing a project. It delivers the project to the Market in less time when compared to several other traditional frameworks. Since its birth in 2011, the developer has found it easier to use this open-source framework with improved features.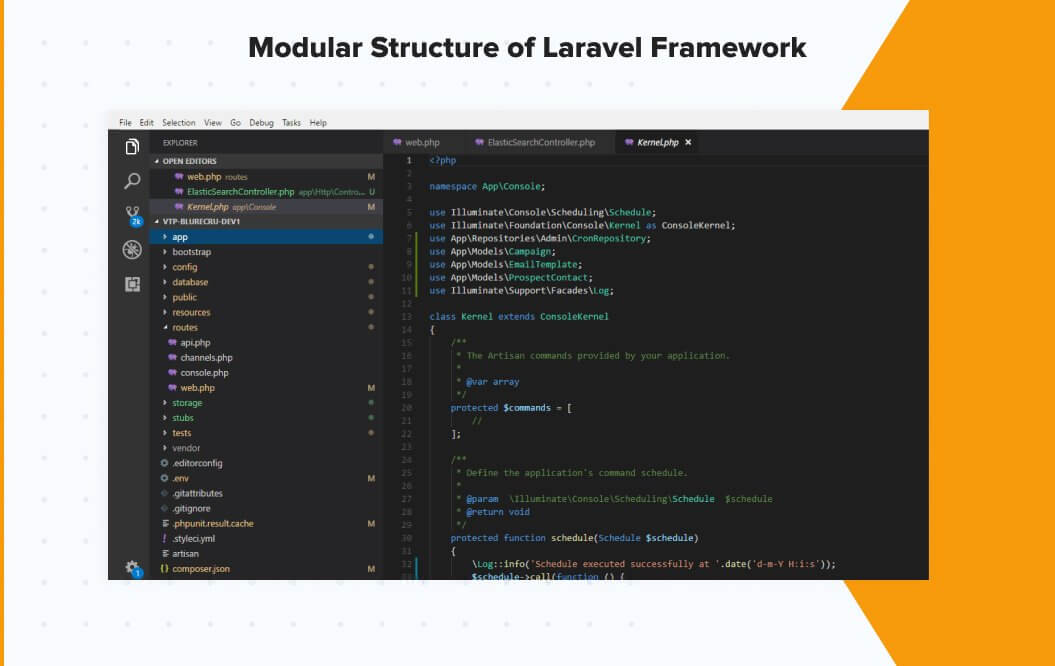 Source: Net solutions
What makes the Laravel framework most popular?
1. Blade Template Engine
Use the Blade template engine to add zero overhead to your web app development. It does not restrict you from using any PHP code. It comes with convenient shortcuts for general PHP functions where displaying data and template inheritance adds resilience to the web development process.
2. Eloquent ORM
Using this Eloquent ORM feature, Laravel offers web developers a simple ActiveRecord implementation to interact with the database. Write database queries using PHP syntax and get to know SQL for updating and modifying the database.
3. MVC Architecture
MVC is based on a PHP framework that ensures tight separation between presentation business logic and presentation layer. It's based on MVC; therefore, the framework provides features like security, performance, and scalability.
4. Broad Community and Open Source
PHP framework comes with a price tag, but the Laravel framework is open-source for web developers. It's a robust community that supports a framework with more flexibility.
5. Object-Oriented Libraries
It comes with built-in object-oriented libraries that helps organization to develop Laravel development services with ease.
Is Laravel a good choice for businesses?
Well, choosing the best PHP framework for developing web applications is one of the most critical decisions. The proper framework satisfies your needs and aligns your business needs with ease. Few factors to consider while choosing a framework include:
Check the popularity of the framework
Third-party integration
Database Access
Modularity
Performance support
Development cost
Built-in modules
Security
Testing Features
Community Support
Wrap up
There's no doubt that Laravel is the robust pillar for your web app. Its demand has risen its features like quickness, building a scalable web app, cost-effectiveness, and intuitiveness. Suppose you have an idea and want to leverage these excellent Laravel framework features. In that case, we are the best Laravel development company to provide users with the best functionality web development app.
Want to hire a Laravel developer? We have the best plan for you! Get in touch with us.
How The Laravel Framework Improves Web App Development?