Reading Time:
7
minutes
In a dynamic world of mobile and web technologies that are growing at a rapid-fire speed at where we are residing. The origin of cross-platform app development has established the market of mobile for all users, developers, and other stakeholders as well.
After the launch of Android Pie, Google came with Flutter as its latest SDK that known as Google Flutter and grabbed the stage.
Let's Focus On The Definition Of Flutter And How It Is Better Than Others: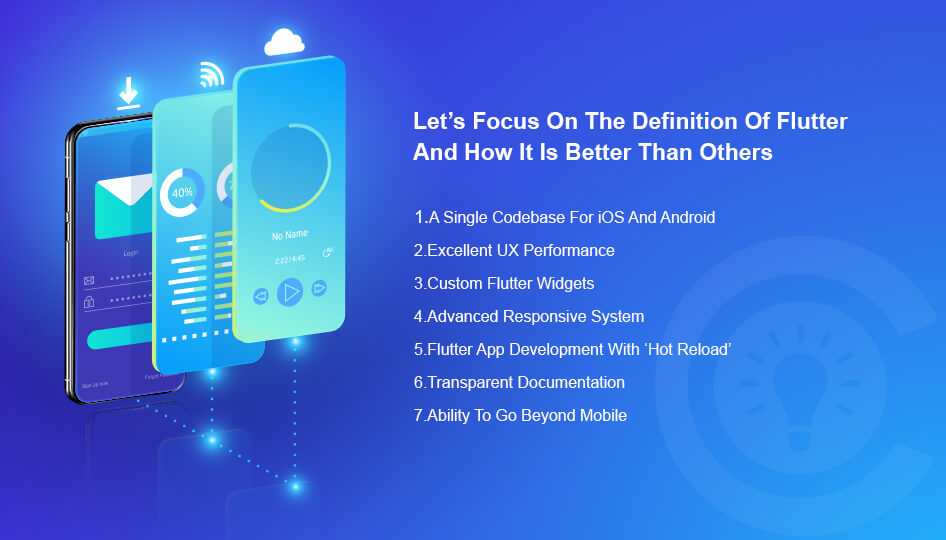 We can say a much-awaited project of Google known as Flutter – An open-source gadget that operates on the dart programming language for cross-platform and hybrid development.
Flutter carries the combination of native-like performance, visual consistency on all the required platforms like iOS, Android, macOS, Linux and Windows and ease of development.
To fasten and simplify the process of app creation Flutter's alpha version announced in May 2017 and it started its mark in the industry
The dart offers the syntax to experience like native Java without even negotiating in the speed of the development process.
As the developers get an endless number of benefits under the development process hence Flutter counted as the most preferred cross-platform app development framework.
A Single Codebase For iOS And Android:
For iOS and Android, both Flutter allows the use of the same code with no limitations while working on flutter.
Flutter developers pleased with the special widgets and unique design.
The best thing is that can use common code only once and cater the same at many platforms.
Excellent UX Performance:
Google's Flutter provides great user experience as it is quite closer to native and a full measure cross-platform tool that provides tight security.
Custom Flutter Widgets:
Huge variety of real gazing widgets that are not only protected and responsive but also customization as per the specific requirements of the customer.
Widgets can be organized into versatile platforms, layouts, and devices for developing active mobile applications.
Advanced Responsive System:
For making complex APIs of UI flutter is well known in an accessible manner owing to its exceptional receptive framework.
Flutter assembled to deliver high-end tailored mobile apps that suit particular business obligations on iOS and Android.
'Hot Reload' Feature Of Flutter App Development:
In providing a dynamic working interface along with an easy and instant check to the outcome, Flutter excels.
Hot Reload feature of Flutter assists the flutter developer to get access to a comprehensive range of widgets.
Transparent Documentation:
With smart and elegant in nature Flutter does not demand extra efforts.
Form learning dart language by the flutter developers and to make it a preferred choice among the wide community of cross-platform developers.
Ability To Go Beyond Mobile:
Flutter holds the potential to go beyond mobile app development and is now accessible for desktop and web embedding.
An ordinary cross-platform framework app development package is a new update in a flutter.
Without altering the source code user can operate pure flutter applications in a web browser.
Wrap Up:
Google's flutter is an inclusive released boon for cross-platform app development for those who are looking for a and efficient development.
Flutter is the reliable and quickest cross-platform mobile application development framework to go with so if you are looking or searching for developing something great then you should connect with Flutter app development company like us who provide the best flutter app development services.
As soon, flutter is about to see some major updates that can serve tech-based firms, e-commerce enterprises, and start-ups. Still, you might have some doubts then you can rely on top companies like concetto labs who have a hiring facility using which you can hire iOS developers and hire android app developers as per your project's needs and get the best outcome that grows your business in well mannered.