Reading Time:
10
minutes
Telehealth has always worked as a pillar of technology-enabled delivery. It helps the health system and various hospitals to deliver care at a distance. The year 2020 unfolds with COVID-19 Pandemic which needy testing health-system capacity. Remote monitoring has never been in the spotlight before. But today, telehealth technology is helping in taking care of coronavirus treatment. Telemedicine and software Testing is making a positive contribution to healthcare industries.
Telehealth technologies have a specific limitation that treats patients efficiently. Various hospitals are adapting telehealth and emerging as a sustainable solution. Proper precaution and treatment were taken to stem the spread of COVID-19.
With this, a handful of countries and regions are adopting the concept. Study shows 82% of the consumers are still not using the Telemedicine and Software Testing services. Yet, the technology will expand its usability soon. The demand from a new generation of tech-savvy will push rapidly. Due to this intelligent feature, telemedicine is increasing rapidly.
What is Telemedicine Healthcare?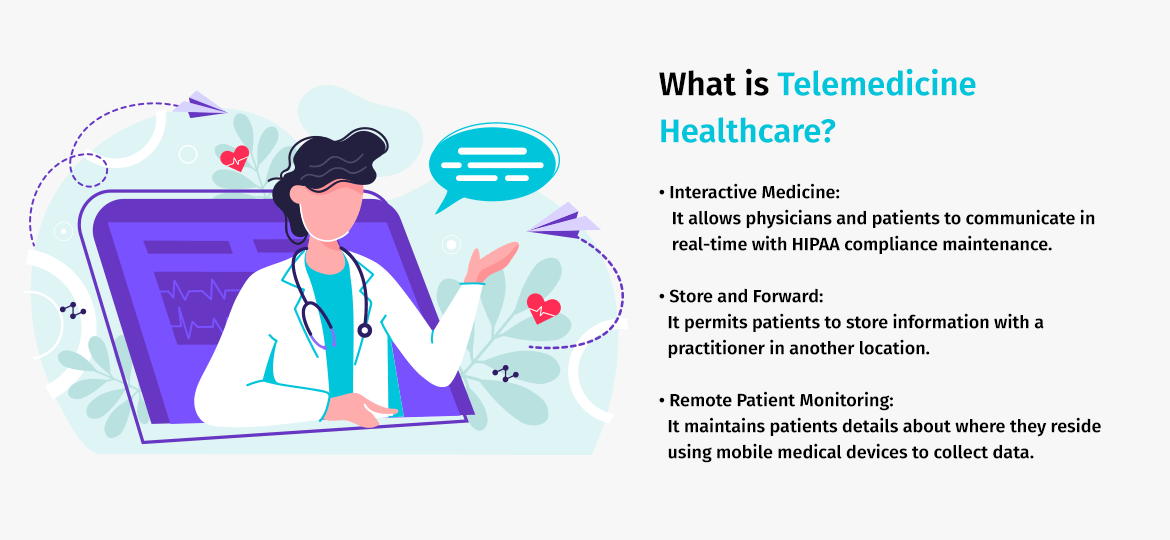 There are mainly three common types of telemedicine which cover:
Interactive Medicine:
It allows physicians and patients to communicate in real-time with HIPAA compliance maintenance.
Store and Forward:
Telemedicine permits patients to store information with a practitioner in another location.
Remote Patient Monitoring:
It maintains patient's details about where they live. By using mobile medical devices to collect data.
Why healthcare apps are crucial in this COVID-19 Pandemic?
The healthcare application forms a channel to interact between patients and the healthcare team:
Face to Face Interacting and Consultations
Hospitals Visits
Telemedicine App Development Benefits
Today it is the best time for telehealth app development. The demand for telemedicine services will continue to grow at a pace. Maslow's hierarchy says the rise in healthcare is due to human priorities. The telemedicine and software testing support healthcare system. Across doctors, patients, and various medical establishments. The significant benefits outlined below:
Availability of Medical Services
Convenient and Time-Efficient Medical Care
Medical Record Keeping
Unified Patient Management and Monitoring System
Efficient Time Management of healthcare Specialists
Facilitation of administrative operations
What is the applicability of healthcare apps in telemedicine?
Healthcare apps cater to all aspects of telemedicine. We need to understand its usage and functionality. Few of the popular once listed below:
Follow-up Visits:
Patients do not need to come back to the doctor for follow-up visits. It can do remotely in this Pandemic. Using this patient can save their energy, time, and money with managing their health in a better way.
Chronic Condition Management:
Check the patient's health remotely and access to their heart rate. Also check blood pressure glucose levels using tools. The Healthcare app adds value to remote monitoring. It enables data transmission between devices quickly.
Specialist Consultations:
Opt for specialist consultations that deal with few hassles. Such as waiting, traveling, taking extra time out. Use technology to enable people. Opt for expert meetings right from the comfort of their homes.
Managing Medication:
It is an essential part to maintain the daily routine. Today, seniors forget to take regular medicine on time. Healthcare medical apps will monitor their situation. It ensures they intake medicine from time to time.
Hospital Info updated:
In this COVID-19, the hospital needs to add updated information in this situation. It keeps people informed if the hospital closed or the rooms do not have the capacity.
Evident Reasons for comprehensive healthcare App Testing
There is a high demand for rising trends, the healthcare sector is changing its way of functions. The healthcare apps work as a backbone for telemedicine. It ensures high performance and a fully-functional interface. Various Healthcare Testing Services available in here. Check a few of the reasons why you need healthcare app testing:
Interoperability of Devices
Healthcare application testing adds technology expertise with utilizing first time and resources. It requires rigorous testing through a quality assurance plan. The test automation team create a robust QA environment. It ensures every aspect to test and assure interoperability.
Functional Validation of the Software
Ensure that the software is fit and elegant to use. Deliver the required performance and service. Consider that the application generates reports when you login successfully. Software testing will take proper measures and ensure desired results. It monitors the strategy, execution, and other desired effects.
Security of the Application
The application maintains the sensitive data with your permission. It would lead to a significant breach if the data hacked from the app. Thus, security testing helps to make application hack-proof. And challenging to stand against the digital scenario. HIPAA ensures the protection of patient health info across all channels. Keeping the data safe and secure.
Big Data Testing in Healthcare
Healthcare comes with a significant data-intensive sector. The data is sensitive to any healthcare institution. It devises the right strategy and builds relevant products. Big data solutions derive correct inference and data points. The applications help in private health check-ups. Decide drug inventions, disease cure, and various development for the healthcare sector.
Usability Testing in Healthcare
There are various features and user scenarios that pharmacists face during working hours. Task automation adds features to simplify the tedious process. The healthcare-related apps for the user interface can enhance needed usability testing methods. Hire Quality Assurance developer to test your application flawlessly.
Effective Implementation and Productivity
Various healthcare system increases productivity to serve the patient in better ways. The different application comes in a complex form. It ensures functions work well without any interruptions. Hire QA Analysts team to gain holistic experience. Ensure productivity growth to the players of healthcare sectors.
Wrap up
Connect with us to build user-friendly healthcare products. Hire QA Analysts to bring profitability for your organization. Extend your better healthcare testing services. Make an application with enhanced features to lure your customers.