Reading Time:
8
minutes
In today's world generation wants all the required things on fingerprint like all the news. Nowadays newspapers and magazines are not the only sources of news. You can read posts on different mediums where anyone can share their stories, read articles from different sites and can find digital news among other posts. Every organization wants to maintain its online presence that includes a mobile app that improves its businesses. This is where the development of news apps intensifies the prospect of online magazines.
If you are into a magazine or news business and want a lot of users to read it, all you need is to develop a new application that increases the prospects of online magazines. In this article, we will discover the challenges that news apps face and how to overcome them with technology.
Reasons Why News App Development – A Significant Investment For Your Business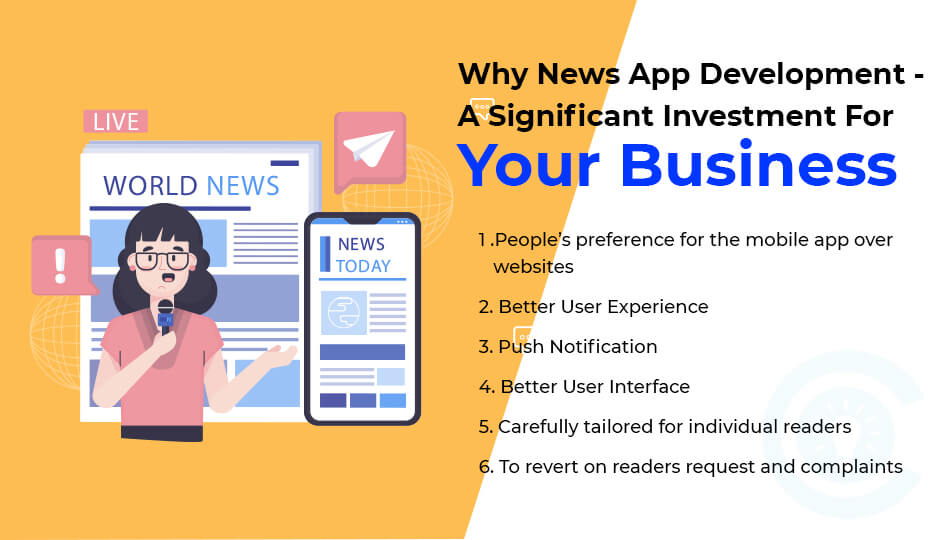 1. People's preference for the mobile app over websites
If we talk about online shopping more than 85% of people like mobile apps compared to mobile browsers and the same thing applies to online magazines and news apps both. According to a survey, the reason users select mobile applications is that they are simple to browse, flexible, quick and provide the best UI.
2. Better User Experience
At times the news sites overload users with a number of content pieces like videos, ads, images, pop-up stories, etc that annoys the visitors of the website.
if you talk about a news app then it makes you savvier with a small navigation space that you have which helps to concentrate on user experience by separating an overload newsfeed into seamless feeds and headlines and chunks of stories.
3. Push Notification
It depends on the selection of users' physical and online magazines. If the online magazine is accessible as a news app the user can enable push notification for receiving alerts about any vital or update or current news.
These features can be managed by the user. At any time users can enable or disable the feature.
The purpose of the feature is to improve the reader base.
4. Better User Interface
UI should be always attractive, easy to use and quite interesting. This kind of interface allows users to make their search options more highlighted and well organized. A news app should content more relevant audios, videos, and image data that indicate users easy to read and use.
UI should be built as the recent news always be displayed on top and get updated by time. To get an amazing reading experience news apps always have good UI and rich content.
5. Carefully tailored for individual readers
Some of the tools help marketers to customize ads for all the site visitors. A news app allows you to gather information about a user's behavior and interests and improve it to organize content depending on different requirements.
All the news apps are just mobile-friendly versions of their sites. Hence it's important to get the app that performs differently so that to beat the competitors would be easier.
Not just machine learning but to use the user's feedback is also helpful for the news app's content.
6. To revert on readers request and complaints
If we look into the market than based on the budget some of the news firms appoint a person for responding to the user's comments and complaints but not every news business can afford an employee to deal with their visitors.
The best possible solution to this is to get a form that can be filled to register or report the issues, using which users can leave complaints and send feedback.
Conclusion
The only thing required for a news app to work is trustworthy and reliable news. Any mobile development should be easy to use and this attracts the users most. Concetto Labs has curated a number of top Hybrid App Development Company who are multi-talented and have skills for news mobile app development.
For a long time, we are also known as an android app development company that provides different hiring features. Using these features you can develop your dream app and customized app. By keeping in mind the latest trend you can hire iOS developers and hire android app developer.
These app developers have relied on the market insights so that they can deliver a great piece of information in the form of news, articles, videos, blogs, and more.