Reading Time:
10
minutes
B2C (Business-to-customer) is far more variable in sales volume than B2B. It is shifting towards new technologies to make it easy, fast, and more effective to buyers. B2C is extending its methods. Along with traditional lines to help customer access and understand buyer behavior. Moreover, B2C is changing its buying habits of the modern customer. Where technology is helping to keep pace.
Talking about B2C tech, it becomes necessary to deliver quality to their customers. A customer expects the best user experiences. Where a glitchy eCommerce site offers a productivity platform that isn't going to cut it.
Quality is essential for any Business.
Managing quality is crucial for small businesses and to maintain customer satisfaction. Companies build a reputation for quality and later recognized for quality standards. Thus, the QA strategy is of utmost essential to beat the competition. Deliver quality every single time. You cannot achieve quality if you aren't using the right tools.
For any B2C companies,' app development is a big undertaking. There are many small processes (ideation, design, coding) and projects needed. With increasing competition in the market, companies go for QA testing services. So, to prevent malfunctioning.
Let's understand how On-Demand QA works.
A lot of software development companies face a problem of insufficient QA on demand. Several companies have in-house QA resources to tackle QA spikes before each cycle. On-Demand QA brings solutions during peak times. The tester brings excellent value to the table. which includes limited cost and maintaining resources. In short, on-demand QA serves the growing market needs. For flexibility, yet enough to meet the project needs with guaranteed quality.
Few of the testing solutions for varying project needs are
Functional: One can hire a quality assurance developer to get excellent testing service. And without any long-term commitment.
Automation: QA learns on demand to do automation services. That adds Sanity, smoke and regression.
Performance: Hire QA analysts to outsource entire performance testing efforts. And also, to meets your near-term testing.
Benefits of on-demand QA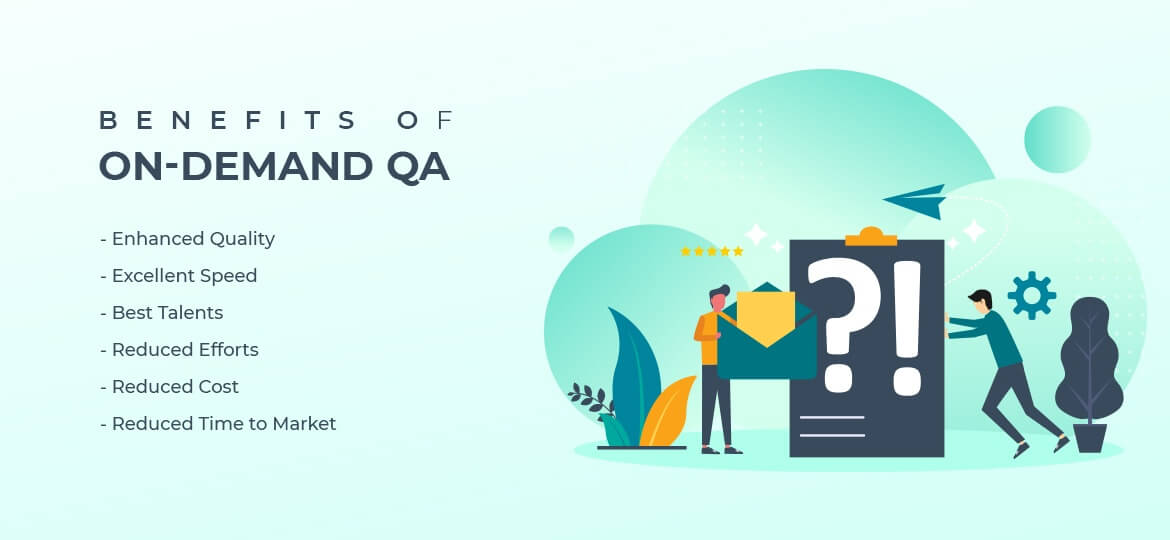 For a long time, in-house QA services have been the best choice by most tech companies. But few companies are struggling hard to maintain the required skill set of the QA team. So, the next alternate option available here is on-demand QA. Let's dive in to see few advantages of choosing on-demand QA services:
• Enhanced Quality
Get a fair and unbiased software view tested. Meet your customer expectation and lead to more efficient and realistic testing. Regardless of any application type, it's clear that quality remains as crucial as ever. Today end-users have zero tolerance for slow performance. Where poor quality results in severe damage to your brand.
• Excellent Speed
One of the excellent advantages of on-demand QA speed. According to the global App testing, they have over 40k tester over 105 countries. Which can do manual testing at high speed? QA intends to break down the barrier, use the platform, and give the best test results within a short time. Do for on-demand QA if you need fast testing and explore new features.
• Best Talents
It's a time when it's difficult to up-to-date with ever-changing technology. Thus, you can make use of best practices and enhanced skills. By working with independent testing firms. In today's time, most companies have a separate testing team. The on-demand QA developer adds value to the business. As they bring in-depth knowledge and cross-industry testing experience.
• Reduced Efforts
With outsourcing a testing project to an independent testing firm. One can cut the need for hiring QA resources. One can save time and effort in training resources and switching them from one project to another.
• Reduced Cost
Any independent QA services can reduce the ownership cost of a product. By eliminating the need to set up extra resources.
• Reduced Time to Market
Deploy the right person from the start of the project. People with excellent skills will bring benefits of testing. And also, reducing turnaround time.
Some of the critical benefits of on-demand QA for B2C companies
Mainly, it helps in reducing the unnecessary expenses to low rates. Certain cases quoted by the best QA companies for clients of a software testing company got 50% of saving.
On-demand is extremely useful in cases of load and performance. They follow the stated practice. Where software companies maximize test coverage. By using impressive results within a short time.
The QA testing service comes with a standardized infrastructure and framework. It ensures that the process is error-free and without any operational issues.
One of the great things about this on-demand QA service is you can have as many resources to meet the deadlines.
Any well-trained test design team can glean the necessary information. It creates an appropriate and successful plan.
Immediate On-demand test services
A scalable and rotating team of professional
Get test plan created within hours
Created hundreds of test cases within a week
Get a domain expert on the team
Can work with or without the requirement
Use when you need it
Ending Thoughts
Many software companies are aware of the QA strategy. So, they create high-growth QA strategies based on the QAOps framework. With this fast pacing world, software development won't let behind. They use the best QA solutions that keep pace with development teams. It provides the best and quick QA testing.
If you're looking to discover more on-demand QA. Then, hire quality assurance developer or contact us for a free consultation.