Reading Time:
11
minutes
The global pandemic has caused massive lockdowns. Now, there are instances where authorities are gradually lifting some restrictions. But, the threat still looms over and risking physical in-house testing of your apps and web-apps is not a viable option. So, you need to choose remote testing. But, what are the challenges in choosing remote testing?
What are the challenges in choosing remote testing?
Here, we are going to explore some vital factors affecting your remote testing decision.
But, before we do that, let's understand some important details on remote testing and its market.
The global testing market is set to cross $60 billion marks by 2026. It has grown to unimaginative heights with automation and remote testing at its core. Lack of workforce, testing units, and other metrics in the current global scenario make it difficult fo testing companies to cope up with the rising demand.
It is the sole reason that remote testing companies are gaining traction. There has been quite a success in choosing remote testing for many businesses. So, they are rightfully in demand.
But, before you dive into a decision of going for remote testing, let's understand some factors that can determine the success of your remote testing projects.
Factors to determine the success of remote testing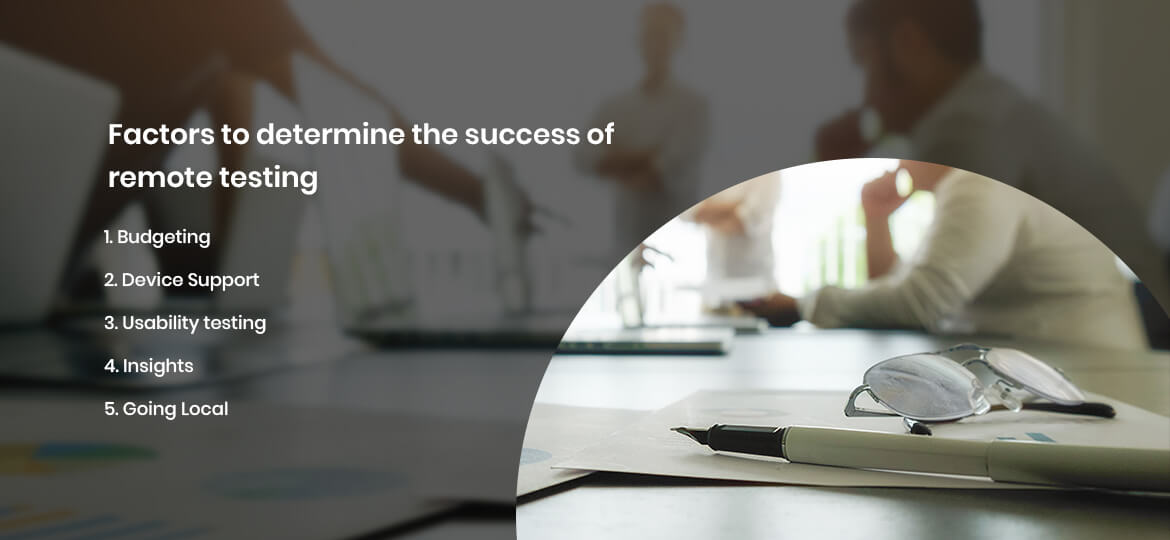 1. Budgeting
Who does not like a new pair of clothes? The same goes for remote testing. Every other CTO or QA might look for a fancier remote testing team with all the latest technology and automation. But, does it fit into your budget?
In the current economic crisis due to pandemic, companies are cutting costs, laying off the workforce to stay competitive. In such a scenario, budgeting becomes of the prime importance for your company.
Let's take an example of QA if you are looking to hire quality assurance developers or QA specialists, then an entry-level candidate may cost you $3882.40 including rips, hours, and overtime pay as total average compensation. If you want a QA specialist with 1-4 years of experience than you may end up paying $5200.
So, if you consider to hire individuals and create your team of remote testers, then that can prove quite hefty in your pocket. Considering your budget, choose remote testing services that can provide tailor-made testing capabilities to your business. These services are budget-friendly and do not need extensive costs.
Firms can also choose crowdsourcing tournaments for better access to remote testers and QAs. Some companies even provide crowd testing facilities, which are quite budget-friendly and keep your expenditure under check.
2. Device Support
When you develop any app whether cross-platform or native? You want to know whether it will be compatible with a specific platform or not. If it is a cross-platform it should be usable across platforms.
One way to do this is by getting different devices for your team and test them one by one. But, there are several different devices in the world. So, you can't miss different devices and their version over the years for your apps.
So, you can choose remote testing services for you to do it. Some companies have a large number of devices to offer for testing in one place without the need to physically buying them.
Then there is the Robotic Process Automation testing method. Where such remote testing services provide a simulated environment for your apps for testing.
3. Usability testing
A usability test is a real-user test that determines how an app will interact with consumers. Remote usability testing can help you curb your cost on scaling the testing of apps. Usability tests are specifically for scaling up the testing of apps.
As the number of app testers is higher, you will have broader feedback on your features, functionalities, and usage of apps. It is essential that you gauge the capabilities of a remote usability testing service. How many numbers of users does it offer for testing matters the most?
Remote usability testing services that can help you with your beta versions of the app. So, you can test your app with an MVP or minimum viable product approach. It will help you with the efficacy of the prototyping of the apps.
4. Insights
You need to analyze your testing results for better version updates and app improvements. For this, you can higher QA analysts. But, hiring a quality assurance analyst with experience can cost you high as we already discussed earlier.
So, choosing a remote quality analyst can help you achieve greater results. They can help you analyze better at a low cost. In these circumstances, choosing a remotes service that can offer effective insights into your testing feedbacks can help you gauge more effective improvements.
5. Going Local
As you scale up you will need testers across the globe. But, during this pandemic, it is of prime importance for you to understand the need for local testing. For effective local testing, remote services can be helpful.
Remotes local testing can help you workout diversity in cultures, languages, and other aspects. It also helps a business gauge the demographic needs for app testing. It can help you scale your apps in a specific location.
This can help you enter new markets. You can explore more outreach to several consumers across the globe. You can even make changes in your app according to the locality. Take an example of an Amazon app that offers products based on the location of a user. Such changes can help grow your business.
So, when you opt for localized remotes testing, you get to know what are the features that need to have a local touch.
Conclusion
Why do you test your apps? The simple answer is to know whether it will be a unicorn or a product that failed. But, to create a business unicorn you need the right testing tools, scale, and QAs.
When you are on a limited budget and want your app with broader resources, then remote testing is the best option for you. Choose the best remotes testing service and rest assured for better scalability and quality assurance of apps.
Do you want to know more about choosing the remotes testing service?
Then feel free to share with us in the below comments section.