Reading Time:
7
minutes
4th December 2018 – A big day for Google I/O. Who knew that the "Flutter" – A framework announced in March 2017 which was once a "talk of the town" among the developers' community will turn out to be a future of mobile app development.
Yes! You heard it right. On 4th Dec- 2018, Google celebrated its new mobile app SDK Flutter 1.0 live at its event in London. Though few said that Flutter is just Google's small experimental product that the company is not serious about but the latest event in London shows how serious the company is with Flutter, proving all the critics wrong!
In fact, a considerable amount of mobile app developers have considered Flutter as their ideal platform for mobile app development.
But, Why Flutter?
Why Flutter App Development Has Caught the Developer's Attention?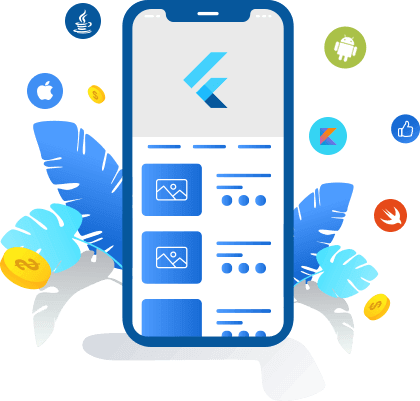 Flutter framework is beyond dual; it means it allows developers to write a single codebase for Android and iOS platforms.
Incorporating React Native style architecture eliminates performance issues.
Flutter's hot reload ensures quick and easy development; build better UI, fix bugs, and a lot more.
Its layered architecture results in exceptionally fast rendering along with the best material design.
It does not demand any JavaScript libraries. It means it helps to build record-time exceptional native apps with rich widgets.
@ Concetto Labs, We Combine Two Power-Packed Google Products to Build Apps That Are Stunning yet Sensible
We empower your Flutter Apps Aesthetically with the Material design theme.
At Concetto Labs, we understand the importance of having a visually unique brand that stands strong as a reflection of your business, something that's difficult especially when the entire mobile app development industry is working on the same. But, a look into our flutter app development will show how to build uniqueness in the app effortlessly.
Every application that we create, whether web or mobile using Flutter is a mirror image of a brand that it represents. We ensure that all material designs that we implement are highly customizable for the clients to choose and play around with.
What Helps Us Establish Ourselves As The Leading And Innovative Flutter Application Development Company?
Our Expert In-house Flutter App Development Team
We, at Concetto labs, have an in-house team of best material experts, flutter app developers,s and testing teams to ensure that we deliver the best end product. Being an early adopter in the flutter app development industry, we serve the business with exceptionally well, delightful and expressive solutions.
In-Depth Experience Of Working On Flutter
At the time in 2017 when the flutter beta version was launched and now, we assisted our clients to convert their react-native cross-platform app into a flutter application. The process is followed by delivering more expressive applications than ever empowered by 60fps.
In Spite Of Being In A Budding Stage, The Transformation Capabilities Of Flutter Have Been Realized By The Top-Class Brands And Companies.
Alibaba.com, Google Ad Words, Hookle, AppTree, Birch

So, now it's time to add your brand to the list.
Do You Want To Hire Flutter App Developer For Your Next Project?
If yes, we have the team of the best flutter app development to serve the next-gen modern tech-savvy clients like you by bidding on your bespoke challenges and requirements. Being a leading flutter app development company, we know what it takes to deliver excellence.
In order to serve your requirements just the way you want, the pricing model is quite flexible. You can choose from a myriad of options like hire flutter developer or full-time or part-time, go on an hourly basis, hire a dedicated developer or either go with hiring a dedicated flutter app development team, whatever suits you.
All you need to do is just drop us over your project requirements and we will get back to you within 24 hours. So, what are you waiting for?