Reading Time:
10
minutes
Laravel is a popular open-source framework available for website development. It's one of the powerful tools used to meet specific needs. It used to construct an exceptional web app or CMS. Laravel Development company use Laravel to create websites with MVC patterns. It helps to simplify major project tasks, time, and efforts. Concetto Labs is the best Laravel web development company to offer dedicated Laravel developers to satisfy your business needs.
What experts Laravel solutions you get from us?
Concetto provides a wide-range of flawless custom Laravel solutions to clients. Hire Laravel expert from us and get top-quality website structures. We work very closely with our clients and build scalable web applications using Laravel frameworks. Hire our Laravel development services team,
Elevate your business and get high-quality web applications.
Our Laravel programmers help to move your existing projects to the Laravel framework. With years of experience, we can quickly help you migrate to Laravel from other frameworks or PHP. Our superior foundation code, resilient features can easily maintain and proves best among the best available PHP frameworks. Hire PHP developer to structure a detailed approach for developing Laravel powered websites.
What are the reasons to choose Laravel Frameworks?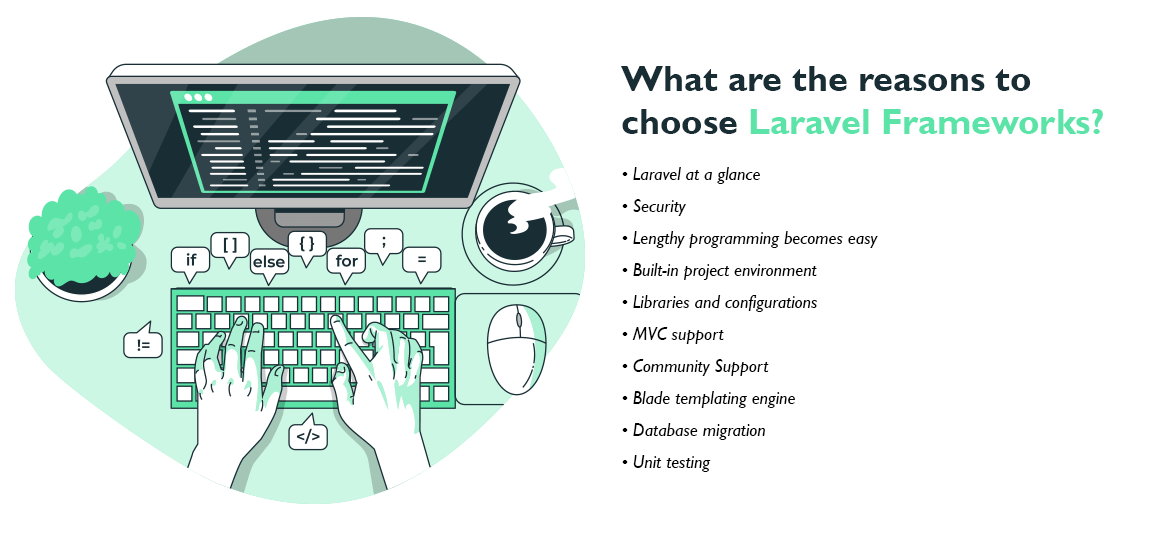 We know web development is a vital process for doing any business. Choosing the right platform can make a massive difference to the quality and functionality of the application. If you're looking for the best development platform, the Laravel PHP framework is a suitable option to carry out businesses. Several reasons show why Laravel development services are considered the best part of doing business. Have a closer look at its framework.
1. Laravel at a glance
The framework tailors the support of web development by using web resources and web APIs for various purposes. Based on MVC, the Laravel framework deliver a result quickly. The impressive and elegant syntax has the potential to speed up the development process. Moreover, it comes with powerful features and vibrant developers to support the community.
2. Security
Security is the main reason why we should prefer using Laravel for web development. Laravel extends security parameter that's not available in other frameworks. It protects someone who changes POST to GET the request. It renders additional security for the framework. Hire Laravel developer who determines how secure the application is.
3. Lengthy programming becomes easy.
One of the best reasons to use Laravel is that developers can access Laracast and practice tools using specialized learning. It provides a free tutorial and paid experts to help developers resolve complex issues with ease. The platform developed by experts enables the development of optimized solutions based on business requirements.
4. Built-in project environment
The framework provides an integrated project environment for developers to manage efficiently. As it gets simplified, the complex and lengthy programming tasks get involved. The framework offers a more structured and transparent way for web development requirements. Get simple, easy, and speedy development and invest in Laravel development instead of another platform.
5. Libraries and configurations
To get a build-in project environment, Laravel supports a multitude of development, environment and aligns itself based on the platform where the app runs. The authorized library integrates into the platform with empowering auto-complete feature.
6. MVC support
It's the best features that make an ideal option for the PHP framework to develop web applications. Many platforms lack the content to provide support to MVC but over here, Laravel is the winner. Improve the overall performance, get better documentation, and offer multiple functionalities for the applications.
7. Community Support
One can avail extensive community support using Laravel for your business. Laravel is open source and has a vast community, and it never fails to take a backup of your files. Whenever any team is stuck during the development process, the community offers assistance to resolve your concern.
8. Blade templating engine
It's one of the best and distinct features of the Laravel platform. The engine works well with typical PHP/HTML code. It creates an impressive layout with a comfortable and lightweight template. Developers Leverage the widgets of CSS with giving an appealing look and less loading time.
9. Database migration
The most challenging task is to synchronize the database with various development machines. The feature allows developers to share the database with other developers in the team. This way, we can save time in the development process.
10. Unit testing
Using this feature one can increase the deployment chances of an excellent product. Tests performed to avoid an unexpected breakdown of a developer working on the project.
What benefits do you get by hiring Laravel developers from us?
Fast and Efficient Laravel Development
Custom Laravel Frameworks
Mobile Application Development
Laravel Integration and Upgrades
Scalable and Managed to host solutions
Laravel Consulting and Strategy
What makes Concetto Labs unique from others?
use attractive and user-friendly features.
We have inbuilt ORM support.
We do use the MVC structure for coding purposes.
Our team is dedicated and committed to working closely with clients.
100% Client Satisfaction with excellent services.
Concetto Labs is the best Laravel development company to gain a high level of expertise and create impressive web applications. Hire dedicated PHP programmers and develop apps with complex CMS for your business needs. We build websites at a rapid pace without any additional cost. Our expert team does focus on security feature and offer effective authentication process. Get in touch with our Laravel expert team and digitize your idea.
What makes Concetto Labs best for Laravel Web Development?