Reading Time:
9
minutes
Hybrid app development has become a common phenomenon across the globe. Businesses are moving towards hybrid mobile apps rather than targeting a single operating system or investing thousands of dollars. Hybrid mobile app development is the best way to target Android and iOS audience without any hassle. It is the most cost-effective way!
Today, enterprises prefer to hire Hybrid App Development Company, instead of hiring a team of in-house developers. This strategy eventually saves a lot of time of entrepreneurs and empowers them to proliferate by allowing them to generate better ROI.
What is hybrid mobile application development?
It is a software application that combines elements of both native apps and web applications. It allows developers to write a single code for both the mobile platforms and deploy the mobile app seamlessly. This is the primary reason for the popularity of the hybrid framework. Here are some of the top hybrid frameworks ruling the market presently:
React Native
Xamarin
Onsen UI
PhoneGap
Ionic
Mobile Angular UI
jQuery Mobile
Mobincube
Native Script
And the list goes on…
Now let us dive into the benefits that have forced businesses to choose a hybrid framework to develop mobile apps: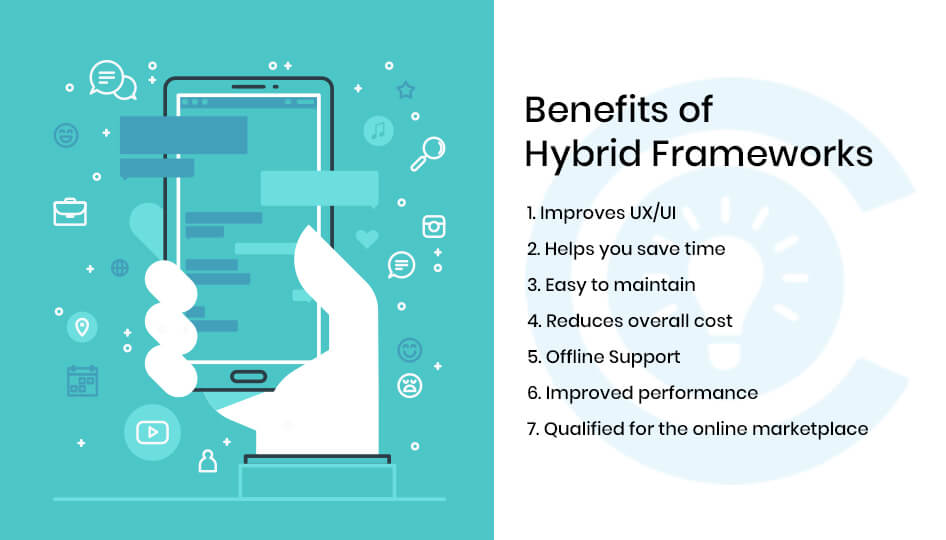 1. Improves UX/UI-
Hybrid app development provides consistency and seamless user experience on both the operating systems. When you hire hybrid app developer, they make the app work on mobile by embracing the web. More so, due to the single code base, the apps developed using hybrid frameworks are often lightweight, which enhances the loading speed of the app. These apps acclimatize every display screen for faster data display and speedier data streaming. The excellent UI increases the chances of the application's approval on the app store.
2. Helps you save time-
One of the best advantages of using hybrid mobile apps is they're easy to develop and deploy as compared to native apps. It allows companies to leverage their existing web development expert team to lead the market. This is because the development team should have knowledge of JavaScript and HTML, which is quite common. Once the code is finalized, you can run the application on both platforms Android and iOS.
3. Easy to maintain-
Another primary benefit of hybrid app development is its easy maintenance. In native app scenarios, the development teams need to roll out new versions with each update. Further, even the users need to update their apps with every version. Hybrid apps circumvent the versioning process and make the update process of the mobile apps as simple as web page.
4. Reduces overall cost-
The most significant advantage of opting for hybrid app development is reduced development costs. The hybrid mobile development approach allows the aiming of multiple platforms without maintaining several code bases. Therefore, it will enable the development teams to speed up the development process, which reduces the time to market notably. It also enable companies to reach higher of numbers at one go.
5. Offline Support-
Mobile applications often suffer from restrictions due to the lack of offline support. It is the biggest challenge for companies to connect with customers residing in rural areas with no internet connectivity. According to researchers, 70% of the customers uninstall an app as it takes a long time to load. One of the top hybrid advantages is offline accessibility features, which helps to overcome this issue. That's the reason the end users can enjoy a seamless app experience without any data glitches.
6. Improved performance-
Undoubtedly, hybrid apps offer smooth performance and high speed, just like native apps. In fact, in many cases, they even run faster than progressive and responsive apps. The reason being no dependency on network communication is the most powerful feature of hybrid apps that attracts businesses.
More so, even apps with an increased number of users demonstrate better speed on all devices. Hybrid apps have proven their high speed and performance standards with giants like Facebook, Twitter, etc.
7. Qualified for the online marketplace-
Google Play and Apple store adhere to strict guidelines for the kind of app that can be deployed there. App developers must value these two dominants in the app market as it has an enormous amount of global users. Google and Apple are very particular in their app, and they choose that are either hybrid or native. Companies can enjoy a high number of downloads by opting for these two popular stores for app deployment.
Conclusion
In a nutshell, choosing a hybrid app for your enterprise is an ideal choice, as it provides immense benefits. Businesses with limited budgets can optimize a hybrid framework for their company and excel in a dynamic market.
If you're looking for the best hybrid app development services, hire app developers from Concetto Labs and leave the rest on us. We make sure to deliver an application that brags you millions of hits on App and Play Store. Drop us your app details and we will get back to you within 24 business hours. Contact us now to know more.