Reading Time:
10
minutes
Since the release of Flutter's first stable version in December 2018, it has taken the digital world by storm. Flutter is a cross-platform app development that comes with a major advantage and contributes towards ever-growing popularity. But the questions remain the same, does flutter only benefit enterprises or startups as well.
The answer is a big Yes. Get your startup function with Flutter. Before moving ahead, let's get some information about startups.
Startups are defined as small companies that scale up quickly with no maximum employee count. On the other hand, it can drive by the urge to solve the problem without guaranteed success. If you don't have any startup and planning to begin your dream startup, then Google's Flutter is the answer to all your questions.
Flutter is an open-source mobile SDK platform developed by Google for creating Android and iOS mobile apps from a single codebase. It's considered a solution for building cross-platform apps with beautiful UI. Flutter makes it more comfortable for startups to roll out by adding rich feature mobile apps without putting a burning hole in their pocket.
Why should a startup hire a flutter app developer?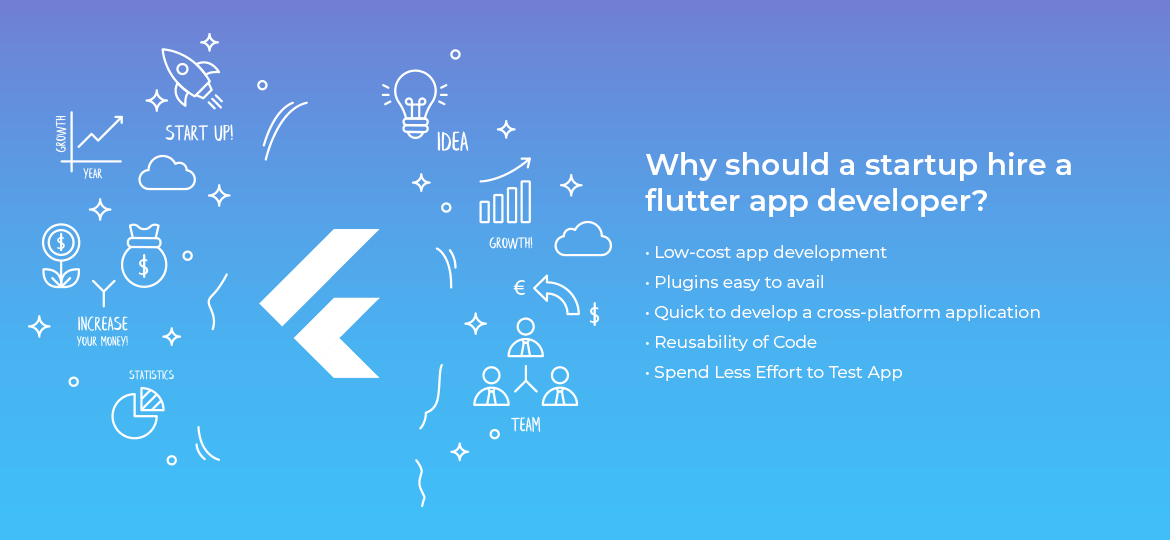 Nearly 3.1 billion smartphones are available worldwide, and all need to launch an app under a limited budget. With millions of startups rolling out in the market, one needs to set a strong foothold to stand out in the crowd. Below we have reasons why to choose cross-platform app development.
Low-cost app development
For startups, developing a native app may cost more as one need to write different codes for developing applications for the various operating system. On the other hand, a single codebase helps create applications that work flawlessly on multiple platforms. It efficiently reduces app maintenance costs.
Plugins easy to avail
If you have decided to develop a cross-platform application, hire flutter developer who has to use plugins. It will make the entire development process more comfortable and flawless.
Quick to develop a cross-platform application
As we know, the cross-platform app developed for a single codebase. So, we needn't write codes repeatedly and make your app runs on a different operating system. Less code frees up more developer time. Therefore, they can work on their next development project.
Reusability of Code
The usability code is one of the top advantages that comes with cross-platform app development. A developer can use a single code for multiple platforms. Therefore, one can save half of their coding time and cost.
Spend Less Effort to Test App
With developing a cross-platform app, one needs to hire a flutter developer to check different platform performance. Hire QA programmer has to check one version of the app, which leads to less time on testing.
Quick Questionaries
Why is Flutter an excellent deal for startups?
Today, more and more developers use Flutter for their mobile application needs. As the demand for Flutter is increasing exponentially, it's becoming more popular among startups. Let's know what are its attractive features:
Unique Widgets: Probably it's the first thing that makes a developer fall for it. The widget of Flutter is genuinely unique and creates an aesthetically pleasing app UI. User experience is achieved when Flutter is used, which static UI never reach.
Fast Development: It's one of the significant features of Flutter that work as a Hot Reload feature. Suppose you aren't aware of what Hot Reload, we have explained that as well.
Hot Reload: The change made in the application code instantly visible to the developers on their screen without having to recompile the code. It will, in turn, saves time for both the app owner and the developers.
Single Codebase: It's the only framework that provides reactive views without requiring a JavaScript bridge. Other fails to the reactive programming part. It helps develop cross-platform apps that are competitive to native apps and comes with features, functionalities, and required UI/UX.
Why does your app need to stand out in the Mobile App industry?
As the mobile industry is growing rapidly, nearly 300 million startups are rolling out every year. One's app needs to achieve; know-how does your Flutter helps out.
Robust Backend: We can call firebase Flutter's heart. It provides a bunch of services from cloud storage to the real-time database and more hosting. It's an absolute startup key to success and comes with a strong backend.
Strikingly Interactive Designs: It's one of the crucial things for any business to attract investors. It comes with interactive design, animations, motion graphics, and more to draw customer attention.
Pocket Friendly: If you're running a startup, then the biggest challenge comes with its budget. The owners always want to look for options that won't make a hole in their pocket. Therefore, developing a flutter app plays a major.
What are some applications built on Flutter?
Flutter being rich-features help to build several modern apps by assisting companies in developing an app. Developers who haven't tried Flutter yet, go ahead and you'll be surprised to see what others have accomplished with it. Here are a few popular apps that entirely made using Flutter or have switched to flutter.
Google Ads (Utility)
Alibaba (eCommerce)
Reflect (Lifestyle)
Hamilton Musical (Entertainment)
Birch Finance (Finance)
Coach Yourself (Health and Fitness)
Watermaniac (Health and Fitness)
Hookle (Social)
Ending Note
With this, we can call flutter baby of Google which based on dart language. In case you're a startup and need assistant, hire a flutter app development company. Develop an app under a limited budget develop apps for both iOS and Android using a single codebase. Further, hire a flutter app developer if you want to discuss the project with the team directly.
Why choose Flutter for your Startups?