Reading Time:
12
minutes
Many entrepreneurs across the globe have a ubiquitous question in mind, "How to make money from free mobile apps." Well, free apps have always exceeded the paid ones in the Play store of different operating systems. Before we clear all your doubts, do you know Techcrunch has mentioned that the demand for the app is showing signs of slowing down anytime soon? Although the revenue of paid applications has witnessed a downfall to 37.8% from 75.9%, still the mobile app market worth billions of dollars.
Here's an image showing some exciting fact of the mobile app market:
Therefore, if you think that free apps are not worth it, then you have a wrong perception because 98% of the companies earn revenue from free apps.
To understand how free apps make money, we have shared 11 effective tips for the businesses, which are as follows: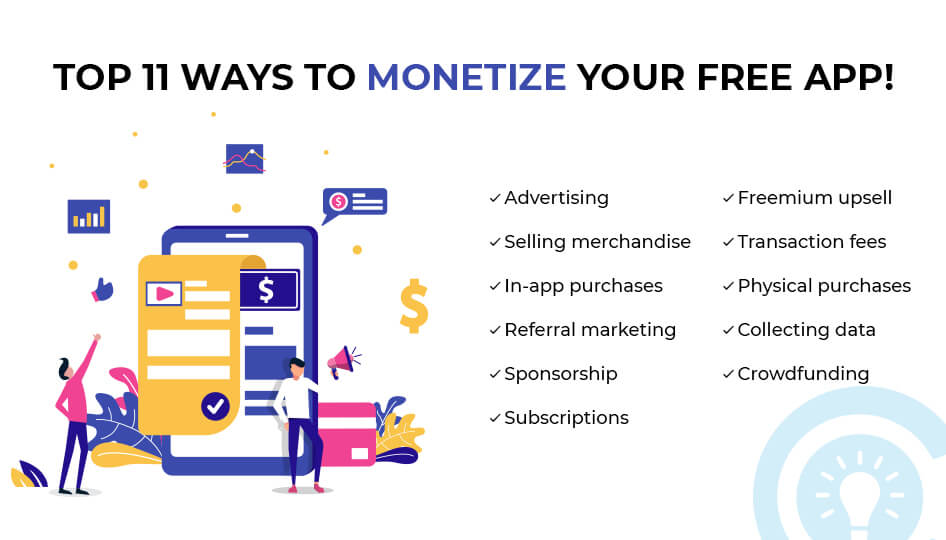 1. Advertising
Advertising is the most typical factor that can help you make money with apps, which is accomplished through a third-party ad network. As per 2016 statistics, 7 out of 10 companies used advertisements for earning better ROI from free apps. Using ads to monetize from free apps is very easy; all you need to do is display commercials inside the mobile app and get paid through the third-party network.
You can quickly get paid by per click, impression, or every time the user installs the app through the ads. There are majorly four types of ads that are displayed by the app providers for monetization:
Interstitial ads
In-app video ads
Banner ads
Native ads
2. Selling merchandise
Another unique and innovative approach to monetize your app is selling merchandise in your free app. Many eCommerce businesses build free apps to sell physical goods such as apparel, toys, shoes, etc., which can be sold by app or email marketing. To encourage merchandisers to optimize this strategy, Amazon has taken the initiative and introduced Merch by Amazon that permits publishers to create their artwork, upload it to their platform, and promote their products.
3. In-app purchases
As the term defines, in-app purchases are the purchases made within the app and are usually seamless to implement. To simply put across, in-app purchases offer an ability to sell a variety of virtual items from the app. According to Forbes, in-app purchases convert the app into money-making apps by generating higher revenues for businesses. Typically, this model is used by game publishers, mostly because of the digital money. Thus, it makes an interesting fact for converting non-paying app users into paying users.
4. Referral marketing
Referral marketing is all about promoting a third-party product or service as a way to optimize revenue opportunities. App publishers can encourage or sell affiliates products or services, depending on the number of clicks and installs. For this, you can use pop-up ads to promote third-party apps or advertise products.
There are different types of referral marketing models that publishers can optimize:
A Cost per acquisition (CPA)
A Cost per click (CPC)
Cost per install (CPI)
Cost per view (CPV)
5. Sponsorship
Sponsorship is not that popular among businesses when it comes to monetization of apps, but it can still be an exciting strategy. To simply put across, sponsorship in your application can be a powerful app monetization strategy, if the app builder builds the right niche app for a targeted audience and initiate it on behalf of the other company. Similarly, app publishers need to take into consideration sponsors whose target audience is the same as the one being matching to the app.
6. Subscriptions
It is a useful monetization strategy that allows app publishers to offer free content in their apps for a set timeframe and then charge users a subscription fee that enables them to view full content without any hassle. The famous and common technique used by the majority of the app publishers is offering a free trial and then charging subscription fees.
7. Freemium upsell
When it comes to freemium upsell, these apps are available free of cost to download but contain paid or premium features. These paid and premium features are accessible through in-app purchases. In this type of apps, users are allowed to download the apps without paying any charge, and if they like the content, they opt for full access to functionality by making a purchase.
8. Transaction fees
The best way to monetize your free app is by charging a transaction fee, especially in those apps that provide a platform where digital transactions occur regularly. For instance, if your mobile app has an option for third parties that allow them to sell products and those purchases can be carried out online, then you can charge transaction fees.
9. Physical purchases
There are innumerable eCommerce startups and businesses that have begun using free applications for selling their products or physical goods like mobile cases, toys, t-shirts, etc., via developed. And one such example of this app is angry birds that have to raise the profits by listing branded products.
10. Collecting and selling data
As you know, apps gather a lot of user data with regards to the user's behavior or other app usages. All these user behavioral data is the most desired factor among various industries. This means app publishers can sell these data to researchers and make a good amount of money.
11. Crowdfunding
Another app monetization way from free apps is crowdfunding, which is new in the industry. In this technique, companies and startups share their ideas on platforms like Kickstarter, Crowd Supply, Fundable, Patreon, and Chuffed in search of donations to fund the development and promotion of the application entirely.
Bottom line
In a nutshell, the growth of the mobile app market is unstoppable. So, businesses that are planning to invest in a mobile app can be assured that they're making the right choice as it can generate higher ROI. However, you need to be smart enough to choose the right strategy for app monetization for your free app to excel in the dynamic market!
FAQs
1. How do free apps make money?
There are innumerable ways for companies to monetize their free app and advertising is the most profitable app revenue.
2. How much an app makes with millions of downloads?
An app with 1million downloads approximately earns $10000 to $15000 per month. I would not say on per day basis eCMP and impressions play an important role.
3. What is mobile app monetization?
App monetization means making money from mobile without charging for it. Introducing free apps in the play store and earning from it.