Reading Time:
3
minutes
Once Marc Andreessen said, the software is eating the world, and most of the company needs to become a software company. In this competitive market, there shouldn't be room for error. Therefore, software testing is an integral part of the software development process.
In a few things, these testing activities do not follow much. That's why the testing process should go hand in hand and focus on building new and innovative features. At this time, it isn't hard to find and hire QA analysts. One can also choose to hire a full-time in-house quality assurance team and help in growing the organization.
There are a few challenges that are faced by QA and engineering team. Where a tester delivers the best test results at rapid speed, the developer might disagree with the bug provided. The combination issue might have quality or waste time arguing. But in the end, both need to corporate and offer the best results with customer satisfaction. If in case any customer finds a bug in your application, they are going to delete it soon.
There are an endless budget and endless resources with a dream fix going on between the engineering team and the software testing services team. With time the issues are going to melt away soon so we can focus more on building strategies and implementing best practices. But if you want a solution at this moment, then we would recommend the QA solution. It leverages the current QA capabilities with many software testing possibilities. Dive in to understand better.
Table of contents
What is QA Solution?
QA solution brings peace of mind to your QA team. It acts as a helper to get out of a tight spot. There are several QA solutions available in the market. It supplies automation tools and crowd capabilities with self-serve testing platforms. One can make a decision based on demand.
For example: If a team wants an app at a different location, then it requires localization testing to ensure product quality. It's a way to gain local insights where your app delivers a stellar user experience in a market.
How partnering with QA solution is best for your Team?
Sometimes QA teams think that they replaced by tool or any external organization. But the idea behind the QA solution is different, and QA teams got misconceptions. QA solution has to work with your team rather than against it. QA process helps in move the extra mile with testing without focusing on time and budget. We can get a whole new Team without associated headaches. QA solutions can work as a vital extra hand that your Team needs without having to pay much on multiple teammates.
How do QA Solutions work?
It's a trusted solution that solves the key challenges which impact QA teams. The goal is to enable and deliver quality at great speed with ensuring the smooth running of SDLC. Few of the biggest brand that uses functional testing are Google, Microsoft, Verizon, Depop, and more. The professional tester helps to explore and find critical bugs that impact your users. Moreover, it comes with hundreds of OS combinations to test on, so we do not need to worry about critical bugs.
How to choose the right QA partner?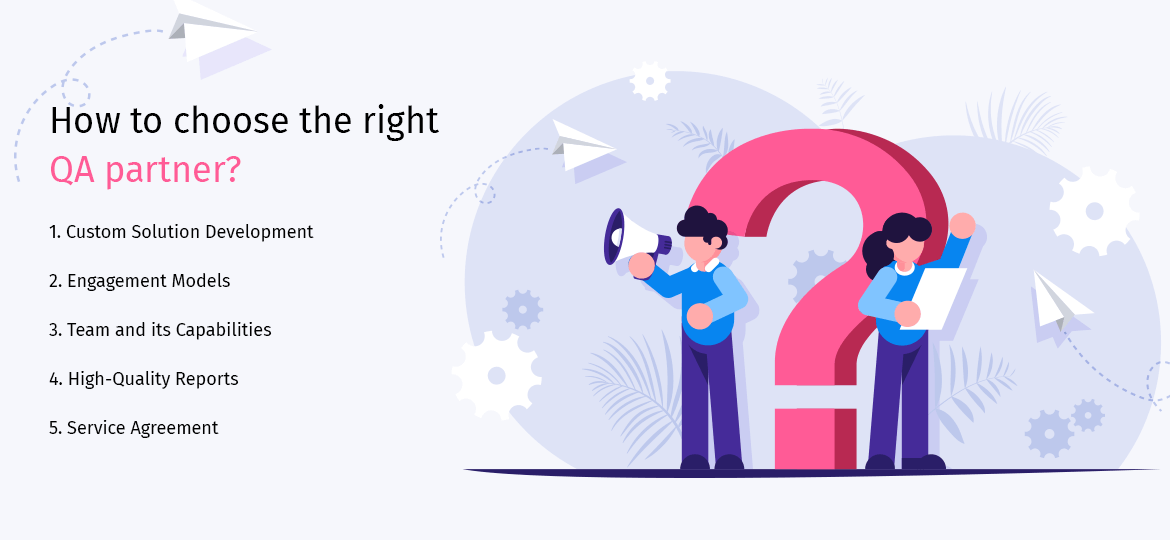 Understand the needs
Understand what kind of service provider you are looking for. If you are looking for software testing or development, then you need to look for a full-cycle service provider. But if you're looking for only testing services, then you need to choose experts in the field.
Custom Solution Development
All testing projects are different, and engineers are most likely to use available industry tools that need custom development. The candidate you hire should be experienced and can create a custom testing framework. If you got your best testing provider, then they'll come up with a solution software development capability.
Engagement Models
Look for the flexible service vendor that helps in providing services suitable for your needs. Now depending on your size, complexity, duration, and technology, one needs to use the engagement model with its specifics. Note one thing that the ultimate goal is not decreasing cost but to improve product quality and engage professionals.
Team and its Capabilities
QA engineers, managers, and leads are responsible for product quality and future success. Make sure your product is in good hands before you sign any agreement. Ask your partners if they are certified and follow the best practices of using technologies. One can benefit if their partner has extensive experience in using testing tools.
High-Quality Reports
One can get a high-quality project with the pilot, but they paid once. If you can't afford them then, don't worry, there's plan B. Get QA services and ask them to provide a bunch of different test reports. So, you can share with potential clients and reflects the real outcome with provided services.
Service Agreement
After the interview, now it's time to sign the contract and start to work. The signed agreement between the service provider and client defines the expected output from cooperation. Now, align goals between parties which should include at least product KPI, reporting, and project management approach with the core business.
Also Read: What's Driving Growth in Telemedicine and Software Testing Trends?
Wrap up
Find the right QA solution partner who knows what to do more passionately and bring perfect products to the market. Some developers are more likely to pair up with testers and want to choose an agile QA team structure for a career and not to earn extra bucks.
In the end, keeping testers and developers happy should be our primary goal. For any software testing company, their partner must view as an extension to bring in value to your customers.
How Partnering With A QA Solution Benefits Your Team?