Reading Time:
11
minutes
Mobile app development is evolving rapidly and 5G can certainly help its skyrocket. It is not just a mobile network upgrade. Many think that 5G is just another advancement in network intensity. They are not entirely wrong. But, the matter of the fact that this technology may make the app loading faster can change how we see UX.
5G is different from your 4G network. It helps to transform the bytes into data units and over the air. It uses a new 5G radio interface. It leverages radio frequencies higher than already existing. It can help transfer the data at faster speeds. There will be a reduction in congestion and lower latency.
But, why are we discussing 5G? Because it is going to revolutionize World's App Development Companies. The impact of 5G on mobile apps will be huge. Mobile apps have seen the integration of technologies such as Artificial Intelligence and the Internet of Things. 5G will help apps leverage these technologies better.
Let's first understand 5G as a technology.
5G Technology:
It is the 5th generation of telecommunication technology. We are already aware of the previous generations of networks like 1G, 2G, 3G, and 4G. If we think about the evolution of 5G network, then
First-generation – 1G-1980s- analog voice.
Second-generation – 2G- The early 1990s: CDMA- Code Division Multiple Access
Third generation – 3G- Early 2000s: CDMA2000- Advanced digital network
Fourth-generation – 4G LTE- The 2010s: 4G LTE ushered in the era of mobile broadband.
5G is a more capable air interface. It has extensive capacity for the next generation of user experience. It can empower new models for the deployment of digitally-enabled services.
It will provide higher speeds, better reliability, and negligible latency of networks.
It will expand the digital ecosystem into new paradigms. It will impact different business verticals like agriculture, healthcare, energy, IoT, and others. Here, you can see the difference between the speeds of networks from different generations.
Now, let's see How 5G can impact the whole digital paradigm of mobile apps!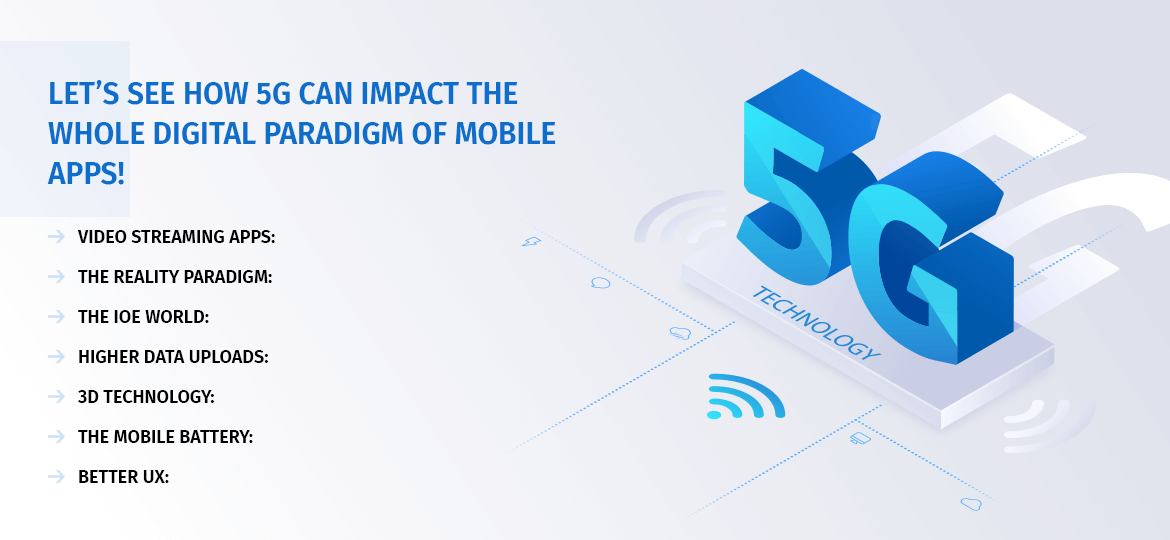 Video Streaming Apps:
During this pandemic, most of the OTT platforms aced the market. The time spent on such video streaming apps increased by more than 58%. Whether its Youtube, Netflix, Disney+ or the Amazon Prime Video, every platform saw huge traffic.
But, one thing that can revolutionalize the whole streaming market is 5G. The lower latency and buffering of videos can make the user experiences more exquisite. Companies can leverage the market with 5G. They can even hire Flutter developers to create amazing video apps across platforms with 5G capabilities.
The Reality Paradigm:
Whether it is augmented reality or virtual reality, the reality paradigm can benefit from 5G. AR/VR is already a part of our life. You can experience them in your Instagram or Snapchat apps. A similar kind of technology can be integrated into apps. You can even hire hybrid mobile app developers to integrate such advanced features for your web tools.
The AR/VR market will end up earning more than $18.8 billion in 2020. It is expected to expand exponentially with 5G.
The IOE World:
Internet of Everything has been around since the inception of technologies like the Internet of things. It is a mixture of three different aspects of communications.
P2P– People to People
M2M-Machine to Machine
M2P-Machine to People
If we want to understand how vast the IOE is, let's take an example. Every year many cyclists die of accidents. But, what if you can create a helmet based on beacons or proximity sensors that are connected to the nearest hospital, emergency services, or police for that matter.
Companies can create native apps for these helmets. It means that for iPhones, you can hire iPhone developer to build an app. While a different developer for Android phone apps. 5G can help create a strong and reliable network for the data exchange.
Higher Data Uploads:
Most of the business today rely on cloud solutions. It is the same with mobile app development too. There are companies that depend on cloud solutions for development purposes. So, higher data upload speeds can help them achieve the inexplicable.
Even for the end-users, higher data upload speed means everything. From uploading a video on social media to saving your precious pictures on some cloud drive, everything needs a high-intensity network like 5G.
3D Technology:
3D printers are already here. They can build homes, parts, and even the palace if you want. But, the fact remains that they too need good network capabilities for remote usage. As the construction or manufacturing sites get remote, a strong network can help them achieve better accuracy.
The Mobile Battery:
The biggest advantage of 5G can be low battery usage. It is an observation by many experts that as the network intensity increases, battery power goes on a toss. But, with 5G things can be different.
We already saw that 4G LTE used more power than 3G. But, experts are saying that 5G will have battery usage in accordance with the Wifi.
Better UX:
User Experience of any app depends on the way its UI reacts to the user requests. 5G can help with faster loading apps and UI elements. So, users can have better responses to their requests. Even for the developers, building highly animated UIs will not be a barrier. Because 5G will help apps to load such UI animations swiftly without much of a latency.
Some Final Words:
The world is going through a transitional phase. But, it is paramount to move ahead in our digital conquest. Technologies like 5G can really make more inroads with integrations of AI and IoT. As the companies astart building infrastructure capabilities for 5G, we will see more resounding applications.
But, most importantly for mobile app development companies, 5G will be a game-changer. It will break the interloop of UX and UI to create a better version of app success. So, if you have not yet considered developing an app for 5G mobile devices then rethink your strategy!
you can always feel free to share your doubts with us!
How will 5G Change The Way We See Mobile App Development?
---