Reading Time:
14
minutes
Mobile apps have become an inevitable part of the human life. Today, we have mobile apps for almost everything. Right from booking cabs, reserving dinner table to ordering groceries, we have apps for everything.
Similarly, in order to run an online business, mobile app development is mandatory. Besides, talking about platform differences, Google Play store has 2.8 million apps while the App store consists of 2.2 million apps. These numbers are expected to hit 4 million by the end of 2020.
Let's Have an Eye Over Some Interesting On-Demand Mobile Apps Statistics
Mobile apps are expected to generate 189 billion U.S, dollars revenue through app stores and in-app advertising by the end of the year 2020. These figures clearly show the huge opportunity stack for investors, startups, and entrepreneurs.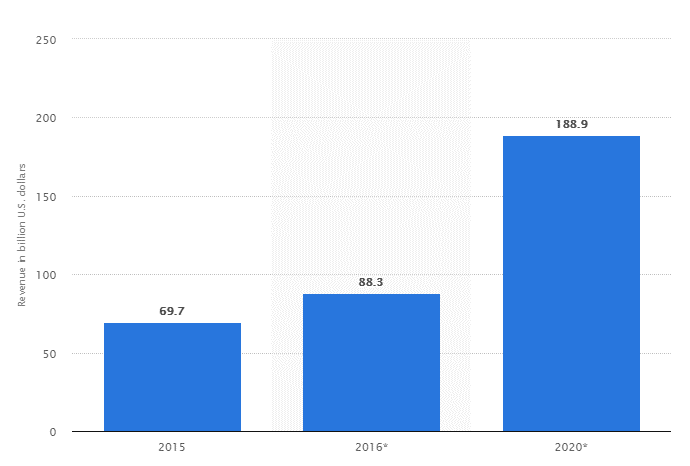 From 2015, the on-demand mobile app industry has witnessed tremendous growth and has reached $22 billion. By the end of 2017, the numbers increased to $34 billion. And, as of 2018, the total on-demand app economy was marked over to $57 billion.
The above stats are enough to showcase the continuous rise of the on-demand sector.
The pie chart represents the on-demand app usage and spending's done by the mass. Almost 86.5 Americans have used on-demand services. 45 million US people have offered services in the on-demand sector. 22.4 million users spend around $57 billion on on-demand service.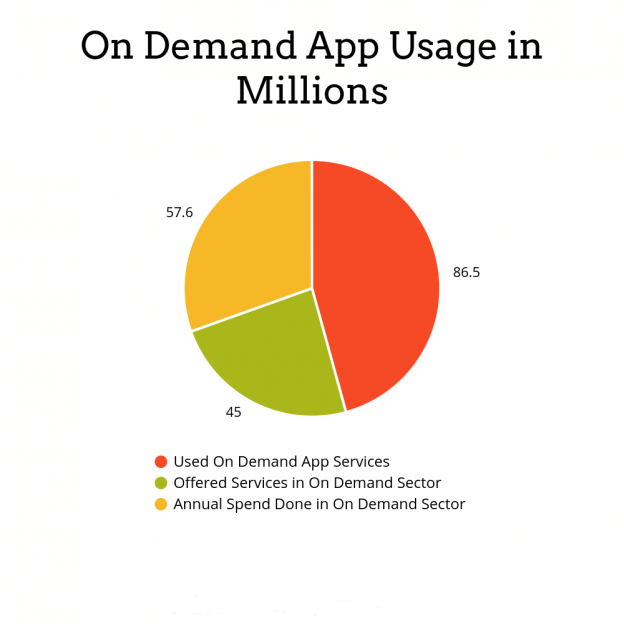 The above app statistics clearly show how on-demand applications are ruling over people's life. Even though there are thousands of apps based on the similar app idea but not every app is successful. This hints at how the uniqueness of the mobile app plays an important part in the success of any business. And, that's why we brought you the list of 8 app ideas to thrive your startup business with huge success.
On Demand App Ideas To Thrive your Business At New Heights
In this hectic routine, the food ordering and delivery app act as a boon. It saves hours of our kitchen chores just for that 15-20 minutes of the dinner scene. Be it a big franchisee or a small restaurant, everyone is adopting on-demand solutions. This will help them to reach the masses and to promote their business.
Big-labeled brands like Swiggy, Zomato, GrubHub are already ruling the food delivery industry. These apps have solved many people's problems by delivering food from their favorite restaurants in just a few clicks. Customers can get daily discounts and great festive deals on their favorite food through these apps. Moreover, big giants like Pizza Hut, Subway, and McDonald's and more have their on-demand food delivery app. Such apps are making huge money with such convenient services as per the market needs.
In reality, people are becoming more health-conscious than one can ever think of. They have started working on their physics, health, diet, and maintains a log on monthly or periodic ways. And, this has made the healthcare care and fitness industry one of the most dominant ones to upscale at a new level. The evolution of on-demand health and fitness app has made people fit and active. It has motivated people in a way that they don't feel the need to go gyms. These apps allow users to track their most essential and daily activities. Such as diet, calorie consumption, sleep time, walk time, female body cycle, etc. further, such app also helps users elevate their fitness level by providing live sessions of exercise and yoga at regular intervals. Some of the popular health apps earning good bucks are MyFitnessPal, GoogleFit, FitPlan, and SleepCycle.
With the rise of the ed-tech industry, the growth of learning apps has been observed at an increased pace. Moreover, such learning apps are not just limited to pre-school or school-going children. But, it's for everyone who wants to learn and enhance their knowledge in their free time. Eventually, such apps not only just prove to be time-savvy but also a great tutor. Be it music, cooking, to learning language, there's an app for everything. On-demand apps have made their way towards a wide range of the spectrum. Applications like Udemy, Skill Pill, Byju's, BizMobile are some of the best on-demand learning apps in the market.
4. On-demand Mechanic App
Such type of apps helps in bridging gaps between vehicle owners and mechanics to a greater extent. People travel with multiple transport modes. And, if vehicle breakdown on a highway or somewhere outskirt place, chances are rare to find a garage at that particular place. In such a case, on-demand mechanics apps act as a savior and help you repair your vehicle in a hassle-free way.
Fashion is something that keeps changing. Sooner or later, people especially teenagers and young adults tend to change their wardrobe as per the latest fashion trends. To suffice the latest fashion trends at doorsteps as per the user convenience, an on-demand fashion app is a perfect solution. Excellent deals on the latest trends and updates on new fashion are something that makes such apps a must-have in users' smartphones. There are certain apps too that updates user with daily lifestyle needs like gadgets and mobile devices. Some of the leading fashion applications that are popular among users are Amazon, Zara, Etsy, and many more.
The on-demand taxi-booking app has gained popularity in no time. It offers convenience to customers to reach their destination on a private or shared based in just a few clicks. It is the USP that let such taxi-hailing service one of the coolest on demand app ideas to approach by budding startups. OLA and Uber are the leading examples of how such an untapped app idea can turn into a million-dollar company. These on-demand taxi apps have unique features and functionalities that comforts users. So, make sure to have a unique app USP to be successful with taxi-booking app development.
7. On-demand Plumbing App
Unlike never before, on-demand plumber, electrician, and gardener are just one tap away. All you need to do is just a book him using an on-demand app like UrbanClap and it's there. Now finding plumber has never been so easy before. You can even estimate the information about pipes and plumbing chores within the app.
8. On-demand Grocery App
With such a busy going life, people tend to buy everything online, including groceries too. And the on-demand grocery apps make it easier to stock and get everything right from pluses, oil to spices at the doorsteps. Applications like Grofers, BigBasket, and Nature's basket deliver everything at the doorstep within a day or two from the ordered date.
Want To Untap The Competitive Market With A Unique On-Demand App Ideas?
So now you have a couple of ideas for simple apps that you can make a most downloaded one. All you need to do is just add unique features that solve user pain points. So, do you have any android app ideas to build? If yes, share your simple app ideas with us. Our experts will help you to build the best on-demand app that lures more sales. Hire app developers from Concetto Labs now.
Conclusion
With the growing and fiercely competitive world, the need for an on-demand app is constantly growing. Such apps not only save time and money for their users but also deliver services as per their convenience. The above-listed on demand app ideas are the most emerging and trending ones running in the industry. If you're looking forward to building such apps, contact on-demand app developers of Concetto Labs. And, you can ensure the best on-demand app development at an affordable price.