Reading Time:
28
minutes
Mobile apps have become an inevitable part of human life. Today, we have mobile apps for almost everything. Right from booking cabs, reserving dinner tables to ordering groceries, we have apps for everything.
Similarly, in order to run an online business, mobile app development is mandatory. Besides, talking about platform differences, Google Play store has 2.8 million apps while the App store consists of 2.2 million apps. These numbers are expected to hit 4 million by the end of 2020.
Let's Have an Eye Over Some Interesting On-Demand Mobile Apps Statistics
Mobile apps are expected to generate 189 billion U.S, dollars in revenue through app stores and in-app advertising by the end of the year 2020. These figures clearly show the huge opportunity stack for investors, startups, and entrepreneurs.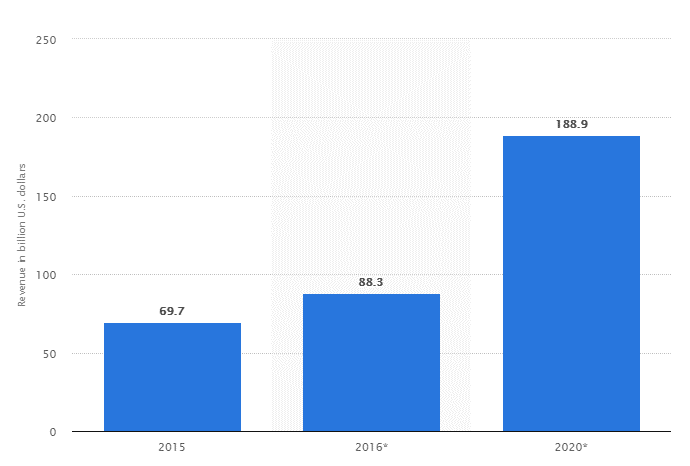 Since 2015, the on-demand mobile app industry has witnessed tremendous growth and has reached $22 billion. By the end of 2017, the numbers increased to $34 billion. And, as of 2018, the total on-demand app economy was marked over to $57 billion.
The above stats are enough to showcase the continuous rise of the on-demand sector.
The pie chart represents the on-demand app usage and spending's done by the mass. Almost 86.5 Americans have used on-demand services. 45 million US people have offered services in the on-demand sector. 22.4 million users spend around $57 billion on on-demand service.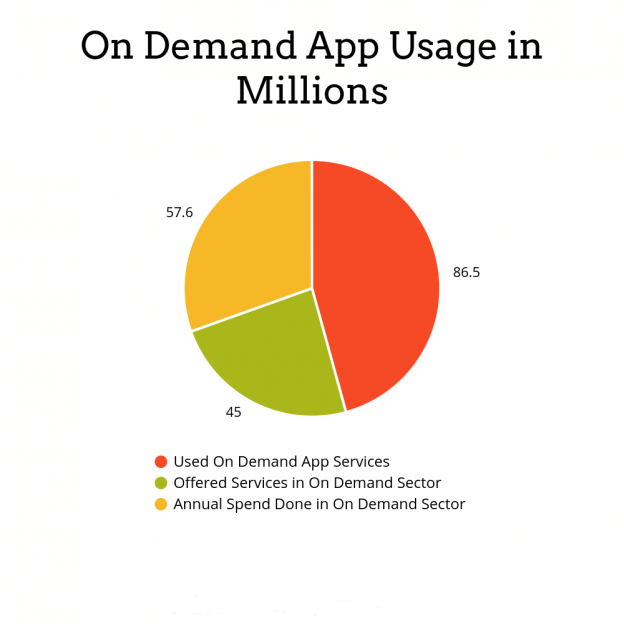 The above app statistics clearly show how on-demand applications are ruling over people's life. Even though there are thousands of apps based on the similar app idea but not every app is successful. This hints at how the uniqueness of the mobile app plays an important part in the success of any business. And, that's why we brought you the list of 8 app ideas to thrive your startup business with huge success.
On-Demand App Ideas To Thrive your Business At New Heights
In this hectic routine, the food ordering and delivery app act as a boon. It saves hours of our kitchen chores just for that 15-20 minutes of the dinner scene. Be it a big franchisee or a small restaurant, everyone is adopting on-demand solutions. This will help them to reach the masses and to promote their business.
Big-labeled brands like Swiggy, Zomato, GrubHub are already ruling the food delivery industry. These apps have solved many people's problems by delivering food from their favorite restaurants in just a few clicks. Customers can get daily discounts and great festive deals on their favorite food through these apps. Moreover, big giants like Pizza Hut, Subway, and McDonald's and more have their on-demand food delivery app. Such apps are making huge money with such convenient services as per the market needs.
In reality, people are becoming more health-conscious than one can ever think of. They have started working on their physics, health, diet, and maintains a log in monthly or periodic ways. And, this has made the healthcare care and fitness industry one of the most dominant ones to upscale at a new level. The evolution of on-demand health and fitness app has made people fit and active. It has motivated people in a way that they don't feel the need to go to gyms. These apps allow users to track their most essential and daily activities. Such as diet, calorie consumption, sleep time, walk time, female body cycle, etc. further, such app also helps users elevate their fitness level by providing live sessions of exercise and yoga at regular intervals. Some of the popular health apps earning good bucks are MyFitnessPal, GoogleFit, FitPlan, and SleepCycle.
With the rise of the ed-tech industry, the growth of learning apps has been observed at an increased pace. Moreover, such learning apps are not just limited to pre-school or school-going children. But, it's for everyone who wants to learn and enhance their knowledge in their free time. Eventually, such apps not only just prove to be time-savvy but also a great tutor. Be it music, cooking, to learning a language, there's an app for everything. On-demand apps have made their way towards a wide range of the spectrum. Applications like Udemy, Skill Pill, Byju's, BizMobile are some of the best on-demand learning apps in the market.
4. On-demand Mechanic App
Such type of apps helps in bridging gaps between vehicle owners and mechanics to a greater extent. People travel with multiple transport modes. And, if a vehicle breakdown on a highway or somewhere outskirt place, chances are rare to find a garage at that particular place. In such a case, on-demand mechanics apps act as a savior and help you repair your vehicle in a hassle-free way.
Fashion is something that keeps changing. Sooner or later, people especially teenagers and young adults tend to change their wardrobe as per the latest fashion trends. To suffice the latest fashion trends at doorsteps as per the user convenience, an on-demand fashion app is a perfect solution. Excellent deals on the latest trends and updates on new fashion are something that makes such apps a must-have in users' smartphones. There are certain apps too that updates user with daily lifestyle needs like gadgets and mobile devices. Some of the leading fashion applications that are popular among users are Amazon, Zara, Etsy, and many more.
The on-demand taxi-booking app has gained popularity in no time. It offers convenience to customers to reach their destination on a private or shared based in just a few clicks. It is the USP that let such taxi-hailing service one of the coolest on demand app ideas to approach by budding startups. OLA and Uber are the leading examples of how such an untapped app idea can turn into a million-dollar company. These on-demand taxi apps have unique features and functionalities that comforts users. So, make sure to have a unique app USP to be successful with taxi-booking app development.
7. On-demand Plumbing App
Unlike never before, on-demand plumber, electrician, and gardener are just one tap away. All you need to do is just book him using an on-demand app like UrbanClap and it's there. Now finding a plumber has never been so easy before. You can even estimate the information about pipes and plumbing chores within the app.
8. On-demand Grocery App
With such a busy going life, people tend to buy everything online, including groceries too. And the on-demand grocery apps make it easier to stock and get everything right from pluses, oil to spices at the doorsteps. Applications like Grofers, BigBasket, and Nature's basket deliver everything at the doorstep within a day or two from the ordered date.
9. BLOCKCHAIN TAX/INVOICING APP BEST SIMPLE APP IDEAS
Do you remember those April months when your office lights dim late night just to settle a yearly account? Well, your wait is over! Blockchain tax app is one of the best android apps that lets you manage your expenses on the go.
What's more? The app can even calculate the taxable amount to be paid as per the user's income and make sure that the apt tax amount is paid on time. The app is developed using blockchain frameworks such as Ethereum and Hyperledger. The cherry on the top – You can even generate invoices and your business hassles become easier. Try Invoicera and automate your business flow.
10. RESTAURANT TABLE RESERVATION APP WITH AI
Looking to book a private gazebo for a special date or need a central table for making a great announcement? Nowadays it's difficult to get the exact seat arrangements in restaurants for your plans. And that's where the graphical restaurant reservation app comes to your rescue! Now choose your desired seats and book a table of your choice for a specific time period on the go. You can check out some of the amazing restaurant table booking apps here.
Want to build a custom AI-powered restaurant app? Hire mobile app developers from Concetto labs and get the best app developed in a set timeframe.
11. LOCAL FOOD DELIVERY BEST APP IDEAS
You can use such apps to find the best food outlets near you with the cheapest delivery charges. Such food delivery service app needs details like delivery location, food choice, contact details and that's it. Users will be able to see if the delivery service is available for the item or not.
12. HEALTH INSPECTOR BEST APP IDEAS
Health inspector can be one of the best apps to let people remind to schedule regular health checkups with their doctors and make appointments for themselves. It also notifies users when there's a need for a health checkup and sends them an auto-text message for the approval or cancellation of the appointment.
13. TRUCK LOADER (WITH GEO TRACKING) BEST APP IDEAS
Those are the tough times when you're shifting your home to your dream place and you need to deal with lots of luggage and goods. This is where the truck loader comes in-game. Truck loader is the app that lets you provide information about the vehicles and its availability to carry goods. It also notifies about their location at times when they're shifting your goods. It is one of the best android app ideas for moving goods.
14. GIFT FOR SPECIAL ONE'S SIMPLE APP IDEAS
What if you need to buy someone special a gift but running out of time? In such a case, blockchain app development can help you, retailers, with gift cards, loyalty programs, and other digital assets that can make the entire gifting process seamless, convenient, and cheaper. So, if a user wishes to send someone a bunch of flowers, he can simply place an order from the app followed by the receiver's address and name. It can get the flower delivered in a hassle freeway. The app can also suggest gift ideas based on your accumulated social media details and activities.
15. DATING 2 MATRIMONY STARTUP IDEAS STARTUP IDEAS
An android and iOS app that automatically imports user's friends from multiple social networking sites and allow each other to rank, comment, like, date or be just friends. When two persons rank each other with similar comments, they'll be notified.
Once you decide to stay together for years, the matrimonial service will help you to tie knots forever. This app offers end-to-end service right from dating till marriage.
16. POLICE SCANNER APP MOBILE BUSINESS IDEAS
The police scanner app allows users to see the list of those "wanted criminals" when they come to the near proximity area. The app will hold the list of the criminal database along with the updated criminal activities and photos. On coming across, they'll be able to inform the police and share the GPS location by pressing an alert button.
17. INTERIOR DESIGNER STARTUP IDEAS STARTUP IDEAS
Decorating your dream home with the right and best items is not an easy nut to crack. This app allows users to click the room picture and visualize it with multiple interior designing options like carpet, wall paint, hangings, curtains, wall watch, furniture etc. It also displays the list of the nearby dealers of the chosen products that eases the interior process on the go.
18. CAR PARKING STARTUP APPS
Once in a while, we all have been stuck up with finding the perfect parking space to safeguard your car in those peak hours. Building a car parking app will allow users to spot nearby parking slots as per the GPS and thus users can save time and park the car to the nearest spot.
19. CHATBOTS SIMPLE APP IDEAS
Machine learning technology has made life simpler and easier. If you want your online business to excel in the digital world, these AI-powered chatbots can be a lifesaver. These smart, efficient, and 24*7 available chatbots are more efficient than humans to conduct user queries. Hire chatbot developers from Concetto labs and customize your own chatbot to serve your business purpose.
20. MUSICIAN HUB STARTUP IDEAS STARTUP IDEAS
Musician Hub will be able to provide a helping hand to the musicians and bands who are in search of their band members. The app features finding gigs for bands that will be beneficial especially for the startups in this field.
21. ALL IN ONE SOCIAL APP STARTUP APPS
It feels really tedious to make a switch between your tabs to use multiple social media accounts. How about accessing all the content at a single place? This android app will combine all the major social media account contents like Twitter, Instagram, Facebook and acts as an ultimate platform to access at one place.
22. SELFIE COMPETITION IPHONE APP IDEAS
Selfies enhanced with filters is drooling people all over the world. This selfie app let people compete against their friends by clicking selfie and winning certain points to unlock new features that undoubtedly add more filter and AI beauty options to enhance their selfies.
23. HELP YOU (THE AI APP) IPHONE APP IDEAS
This app lets you bring your everyday help right at the doorstep. BE it mechanic, plumber or electrician, all you need to do is just tap on the app and call the desired help. Technologies like AI, Machine learning and Tensorflow framework act as a backbone for building such a customer-centric app.
24. DISASTER ALERT GOOD APP IDEAS
What if you visit a place and face an unprecedent storm that mess up your meeting completely? Don't panic! This app will automatically alert you if there's any natural disaster surrounding you and will suggest you better options to safeguard yourself.
25. IMMEDIATE INVITES  IPHONE APP IDEAS
Want to arrange a quick get-to-gather of friends to celebrate your promotion? This app will help you create quick invites and send across all friends in a single go. It will notify as a text message to the invitee.
26. YOUR VIRTUAL COOK SIMPLE APP IDEAS
What if you wanna cook something yummy but running out of ingredients? This app will act as your savior. It advises the recipes as per your available ingredient and will come up with a dish that's quick, easy, and yummy!
27. PUBLIC TRANSPORT APP IDEAS
When you're traveling to other cities, this app act as your roadmap to reaching destinations. This app lets the user suggest the most convenient and cheaper transport option that helps the user to reach the destination on time. You can hire mobile app development company like Concetto labs to make an offline version of the app for easy accessibility.
28. SYNC CAMERA SIMPLE APP IDEAS
This app will sync both the front and the back cameras to identify how your picture will exactly look like. One of the best apps for photoholic people.
29. ONLINE COACHING SERVICES APPS
Why pay dollars when you can learn the right skills at your comfort online? This app lets people teach online with multiple courses and subjects available. Coursera, Byju's are some of the leading platforms leveraging such benefits.
Want To Untap The Competitive Market With Unique On-Demand App Ideas?
So now you have a couple of ideas for simple apps that you can make the most downloaded one. All you need to do is just add unique features that solve user pain points. So, do you have any android app ideas to build? If yes, share your simple app ideas with us. Our experts will help you to build the best on-demand app that lures more sales. Hire app developers from Concetto Labs now.
Conclusion
With the growing and fiercely competitive world, the need for an on-demand app is constantly growing. Such apps not only save time and money for their users but also deliver services as per their convenience. The above-listed on demand app ideas are the most emerging and trending ones running in the industry. If you're looking forward to building such apps, contact the on-demand app developers of Concetto Labs. And, you can ensure the best on-demand app development at an affordable price.