Reading Time:
7
minutes
PowerApps are a great way to build custom business apps. It allows users to connect to your data and work across web and mobile without much expense. It is a great way to develop low-code apps for multiple platforms. Cherishing huge success of New PowerApps Portal and Flow, the primary request of innumerable customers was:
How can people outside of the company make use of PowerApps?
Well, there soon be a way to use apps with PowerApps portals. Yes, you heard it correctly.
So far, using PowerApps requires a login in the organization accounts. In the real scenario, there are use cases where the provisions of PowerApps application make sense for suppliers, customers, partners. This leads to arise the demand for sharing PowerApps with the external users.
Charles Lamanna, the General Manager of PowerApps, decided to introduce a new way to distribute an app with the PowerApps portal.
He exclaimed in bold letters:
"Today we're excited to announce PowerApps Portals, the ability to build low-code, responsive websites which allow external users to interact with the data stored in the Common Data Service."
Since then, "PowerApps- Portals" is the buzz word in the community. Now all the PowerApps makers can create powerful low-code and responsive portals. It further allows external users of their organizations to interact with CDS data.
They are now eligible to create a powerful experience with external-facing websites. It allows users outside their organizations to sign in using multiple options and identities and browse the data.
Previously, Dynamics 365 Portal's full capabilities were only offered as an add-on for Customer Engagement applications. But now it is available completely standalone inside of PowerApps. Just like Dynamics 365 Portals, PowerApps Portals also provides to its user's liquid templates to begin your Portal Customizations.
Below are some of the key capabilities of the PowerApps portals: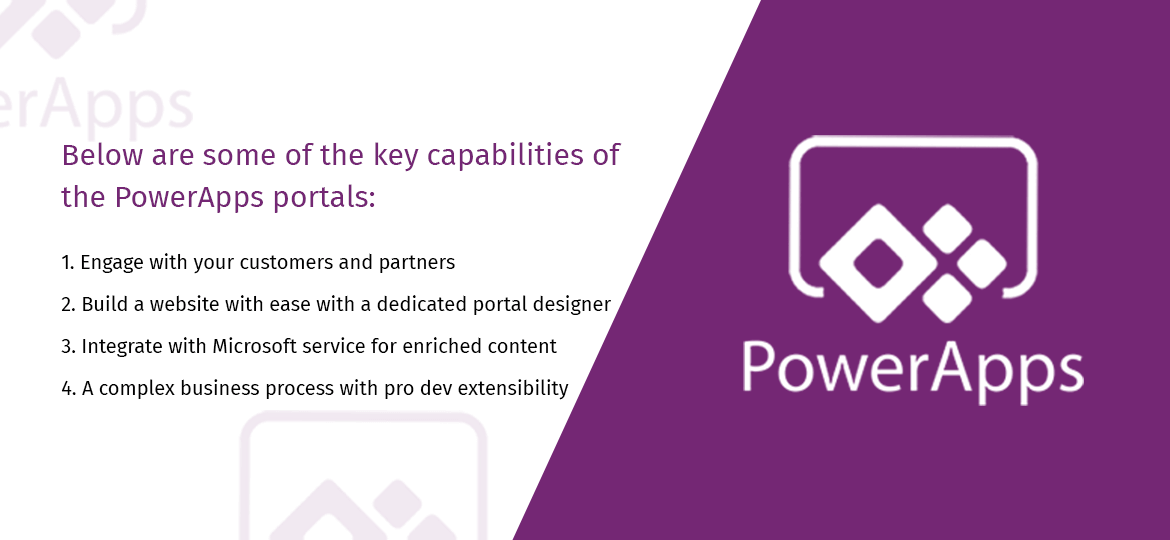 1. Engage with your customers and partners
Now organizations can engage with their partners and customers. By allowing them to create websites that can be further shared with users external to their organization. anonymously or through the login provider of their choice, like Google, LinkedIn, Microsoft account providers, etc. You can even integrate enterprise login providers with multiple standard protocols such as SAML2, WS-Fed, and OpenId Connect. You can even create websites for employees suing their corporate user id.
2. Build a website with ease with a dedicated portal designer
Now use a powerful no-code portal designer and create and manage multiple website contents, webpages, templates, sitemaps, etc. With the help of bootstrap themes, you can even brand your website and make them responsive.
You can even use familiar CDS components like views, model-driven forms, and dashboards. to surface data stored in CDS in just a few clicks.
3. Integrate with Microsoft service for enriched content
Now enhance your portal with rich content and leverage personalized user experience to your customers. By integrating it with Microsoft services like Azure Blob Storage, Azure AD B2C, Power BI embed Microsoft Flow and Microsoft SharePoint.
4. A complex business process with pro dev extensibility
Now extend your website and cater to the sophisticated use cases by using the same professional developer capabilities. The CDS platforms and Dynamic 365 customer engagement portal that includes components such as code plugins, templates, and workflows, etc.
Want to build your PowerApps portal?
If you're looking forward to building an external low-code website to let your partners and suppliers connect with your business at ease. You can hire PowerApps developers from Concetto labs. Our developers are highly proficient and experienced in building dynamic 365 powered low-code websites. It can help clients connect with key decision-makers.
All you need to do is drop us your project details, and we will get back to you with detailed project estimation. Contact us now to know more.
Want to build your PowerApps portal?
That's exactly what we do