Reading Time:
4
minutes
Today, everyone is affected by this on-going pandemic. The virus tends to spread with human-to-human contacts. So, the nation is following social distancing. Due to the current situation, the organization has changed the way they operate. Various businesses and shops shut down, and companies are working from home. A massive number of audiences are moving their market online. As popularity is increasing, the demand is expanding it's essential and utilities.
Majorities of people are using their mobile apps and offer different services. Mobile Applications are the perfect choice for doing business. The best way is to drive growth and expansion at the same time. Make the customer delighted with choice and convenience. Deliver WOW experience on on-demand industries. Build an on-demand taxi app development to meet the needs of your customers.
What does it take to build an on-demand Taxi App?
Are you looking to build an Uber-like Taxi App solution? Then make sure your business performs regular day-to-day activities. Uber and other Taxi App Development Company offer on-demand services with the best utility. Just a click of a button on your smartphone and swoosh, you have a taxi at your doorstep.
On-demand taxi app developers and Taxi booking app development have a bright future ahead. If you're opportunistic, or forward thinker or want to create an app like Uber then here's a prompt question for you:
How to build an app like Uber?
How much does the Uber App cost?
What technology is needed to build an app like Uber?
Who can build an app like Uber?
And so on…
Regardless to say, to build an app, you need to follow a chain of line process and get the final app. Get involved in market research, product analysis and architecture, development, and testing. If it works well for you, go ahead and create an Uber-like Taxi App solution.
Table of contents
How On-demand taxi app development works?
There are various taxi app development solutions available in the market. But a digital marketer needs to connect passengers with drivers. Establish and completes this connection in a few easy steps as listed below:
Request: The customer sends a request along with destination and relay to the driver's nearest location.
Allocation: The driver needs to accept or reject the request. If the driver rejects the fare, it passes on to next nearest driver.
Ride: The driver arrives at the pick point and ferries the customer to his/her required destination.
Payment: After fare completion, the customer pays the requisite fare. Before the trip, the customer estimated with the fare of the journey.
Feedback: The customer needs to rate the driver based on experience.
How can taxi app development services benefit your business?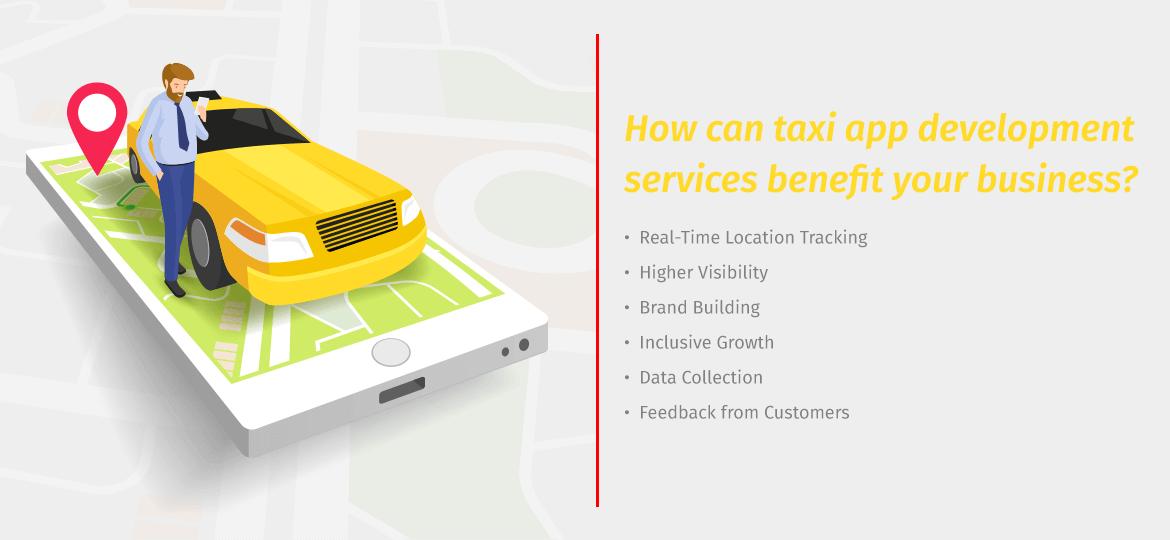 Today, Uber and Ola have set the new milestones in the domain of private transport. In this competitive market, one may find it impossible to thrive along with established players. Let's quickly dive into discussing how taxi mobile app development services can help to ensure the success of your taxi business.
Mobile App makes the real difference.
The reason is simple; today 80% of the participants prefer booking Uber or Ola as their traditional taxi booking application. Customer book from reliable mobile app development company as they find the right business strategy with a seamless performing application.
Real-Time Location Tracking
Unlike Uber and Ola, develop an app that offers real-time monitoring and tracking features. Track the location of the driver and estimate the precise time and fare. Whereas the driver can also know the exact place, they are supposed to pick their passenger using the mapping feature.
Higher Visibility
The customer today finds it more convenient to book cabs using mobile applications. Therefore, developing Taxi App Solutions 2020 will give more visibility to users. The best way to attract an audience is by developing a taxi booking app development rather than having a traditional physical booking office.
Enhanced Productivity
Now, track the driver's location, route the finishing trip, check the driver's efficiency through an app. The customer would give feedback which helps to increase the app productivity. With this, we can monitor the driver's work efficiency and resolve the issues quickly. Boost your business with increased efficiency and enhanced productivity
Brand Building
You can build your brand gradually by following the big brand's footprints. The main factors to note here for increasing brand awareness is offering better customer services, credibility, and a trustworthy factor. The company can come up with the updated versions which enhance the reputation among existing customers.
Inclusive Growth
The taxi booking app will save you from the tiresome process of finding customers, negotiating prices, and showing your vehicle to grow your taxi business. With taxi app solutions, you can process the business with automated mobile app development and improve services.
Data Collection
Investing in taxi booking development will save your customer's time. You can send personalized notifications to the user and provide them with attractive offers on specific rides. Build a loyal customer based on collecting data and utilize it for better growth.
Feedback from Customers
Brands are based on customer's feedback and reviews. Just like any other apps, a taxi application also needs customer's responses which allows understanding the areas of your businesses. Any taxi app development solution should offer satisfying customer services.
What are the features you need to include in your Taxi Application?
The cost of the taxi app booking depends on the features and duration. Few of the basic features are listed below:
App for Passengers: It covers three features like Order, Payment Methods, and offers.
App for Drivers: The driver should have a feature like accept and cancel the ride, trip request, and reason for cancellation.
Wrapping up
If you have decided to build an on-demand taxi booking app during this pandemic, then it's a good idea. Taxi business might seem risky at times. It's a perfect blend of technology advancement and strategy to deal with ever-changing market dynamics. With us, you'll get high-quality taxi mobile app development services. Connect with us by sharing your idea and app requirements.
How has On-Demand Taxi App Development risen during COVID-19?