Reading Time:
11
minutes
Education has got innovative. Over the years there have been many innovations in learning systems. Technologies like Augmented Reality and Virtual Reality have created a new wave of learning. The old ways brick and mortar classrooms are now transformed into digitally-enabled learning.
As the e-learning paradigm has emerged lucrative. There are so many corporates investing money in educational mobile app development. Even software giants like Adobe have their e-learning platform. Huge investments and traction toward digital learning have created a huge market for educational apps.
According to a report by Technavio.com, the educational app market will grow to revenues of $46.88 billion by 2024. The market will grow at a compound annual growth rate of 26% and a yearly growth of 23.13%.
There are several educational apps already in the market. Some of them are even integrating Artificial Intelligence. Such integrations can certainly boost digital education and make smarter educational apps.
While you can create several different educational apps, let's discover some best educational app ideas.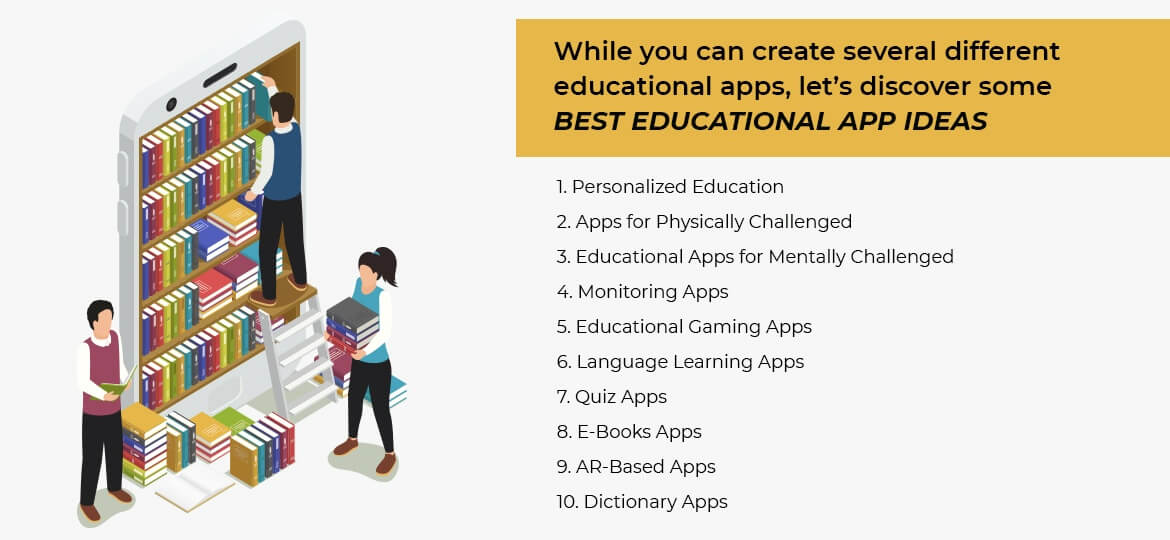 1. Personalized Education
Every student is different. This is the basic idea behind such an educational app. A class full of students in a conventional setup may hamper the progress of certain students. But, personalized education apps can make a huge difference.
Students can access personalized content, teachers, and classes through digital platforms. Here, students can grasp the knowledge of their capabilities. They can improve on their weakness through personalized learning.
2. Apps for Physically Challenged
An educational app for physically-challenged students is not a new idea. But, with modern technologies, it can get better. Think of an educational app for students suffering from Prosopagnosia. It is also called face blindness. Where students have difficulty differentiating gender or sometimes reading faces.
Learn with Rufus is one such app that helps students with face blindness. It helps the students detect faces through an interactive interface. Companies can leverage such educational app ideas to create platforms for other disabilities too.
3. Educational Apps for Mentally Challenged
Mentally challenged students can have a better chance at education with such an app. An app called Proloqou2GO is already in the market for such students. It uses augmentation and alternative communication methods to make learning easier. It helps students suffering from Autism, Cerebral Palsy, Down Syndrome, and even brain injury.
Firms can create such educational apps for many such mentally challenged students. There are several other conditions like apraxia, aphasia, and others that need such interactive apps.
4. Monitoring Apps
It is not precisely educational apps. But, it can help parents track activities of their underage children. These are location-based apps that use advanced technologies. App development firms can hire educational app developers. These developers can help to integrate technologies like BLE(Bluetooth Low Energy).
Innovations like BLE, beacons, and others can help proximity-based monitoring apps for parents, teachers, and physical schools.
5. Educational Gaming Apps
It is actual science. Gamification is a method to induce engagements. Marketing firms and businesses around the world use this method for user engagement. Educational institutes can create the best educational gaming apps for students.
It can help organizations increase inclusive learning. Education through gaming apps can allow students to learn while playing. It has powerful effects on the learning capabilities of students. Gaming apps are already lucrative markets. So, creating educational gaming apps can help targe two markets at a time.
6. Language Learning Apps
English may be the primary language of the internet. But, it is not the only language that has learners. A 92% median of second language learners across Europe suggests the same. So, creating an educational app for second language learning is a great idea.
There are apps like Duolingo that are already offering multi-lingual learning on mobile apps. It offers different languages like Spanish, Mandarin, French, and many others. One can choose an educational app development company to create such a multi-language learning app.
7. Quiz Apps
Quiz apps can be developed like games or standard Q & A. Question and Answer apps can help students to clear their doubts. You can add a test series to help students prepare and evaluate their knowledge.
But, standard quiz gaming apps can be better. It can help students learn better. It can offers courses as rewards for students taking quizzes and completing specific tasks. Such educational apps can encourage students to take different courses for learning.
8. E-Books Apps
One can either develop educational apps that offer e-books on specific topics or areas of learning. There are many apps already offering e-books on a myriad of subjects. E-books apps can have large digital resources for students.
You can add some other features to make it more engaging. You can add a highlighting feature to help students mark specific snippets in books. Features like reading modes, book scanners can even help students add some rare physical books to the resource.
9. AR-Based Apps
Augmented Reality educational apps can revolutionize the whole educational paradigm. Technology giants like Google have already made efforts to promote AR-based education. Google expeditions offer AR/VR devices and educational apps.
You can create such advanced mobile apps for educational institutions and even universities. All you need is a great technological partner.
10. Dictionary Apps
Dictionary apps are already common among us. But, they are never out of fashion. So, developing an educational app for a multi-lingual dictionary can prove great for business. As it can help your local business promotion, you can even generate revenues from local language advertisements on your app.
While you can develop such educational apps for a tourism point of view and help the local tourism industry to flourish through efficacy in translations.
Conclusion
Education is the gateway to knowledge. And knowledge can bridge the gap between ignorance and bliss. But, apart from the fact that it can help students and teachers, it means business.
Getting a professional educational app development company can help your business grow. Many startups created the best educational apps and are among fortune 500 companies.
So, what do you think about these educational app ideas for your startup? Are there any other ideas from your head that can change the world?
Feel free to share with us in the below comment section.
10 Top Educational Apps That Startups can Build In 2020.