Reading Time:
16
minutes
Jump Down:
Getting a tattoo on your body is a tough decision as it's difficult to remove the traces from your skin once it's inked. Today tattoos are everywhere, and it's an expression of art, and anyone can have it with their own choice. We live in a world where we can easily find never fading and permanent tattoos through tattoo design apps. Several tattoo design applications for tattoo lovers let you familiarize yourself with various tattoo designs and tattoo artists.
The Android and iPhone apps offer an inspired discovering tattoo in your smartphone. It helps to connect with the most efficient tattoo designer. Since the trend of tattoo generators on the body is growing, look for the best tattoo design apps and get perfect new tattoo designs based on your requirements. Let's get into the blog post with understanding the best tattoo design applications.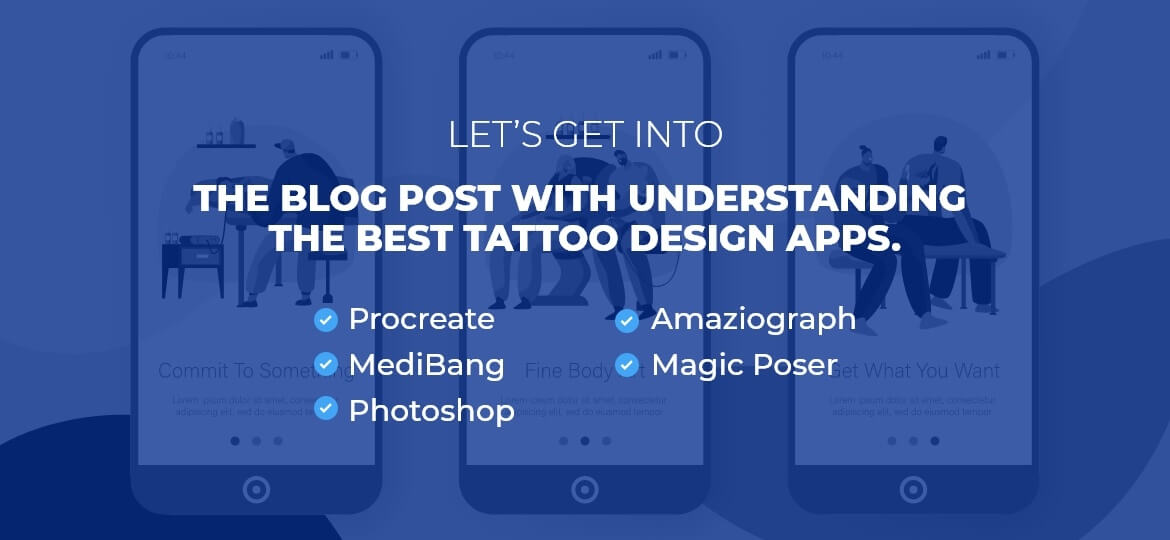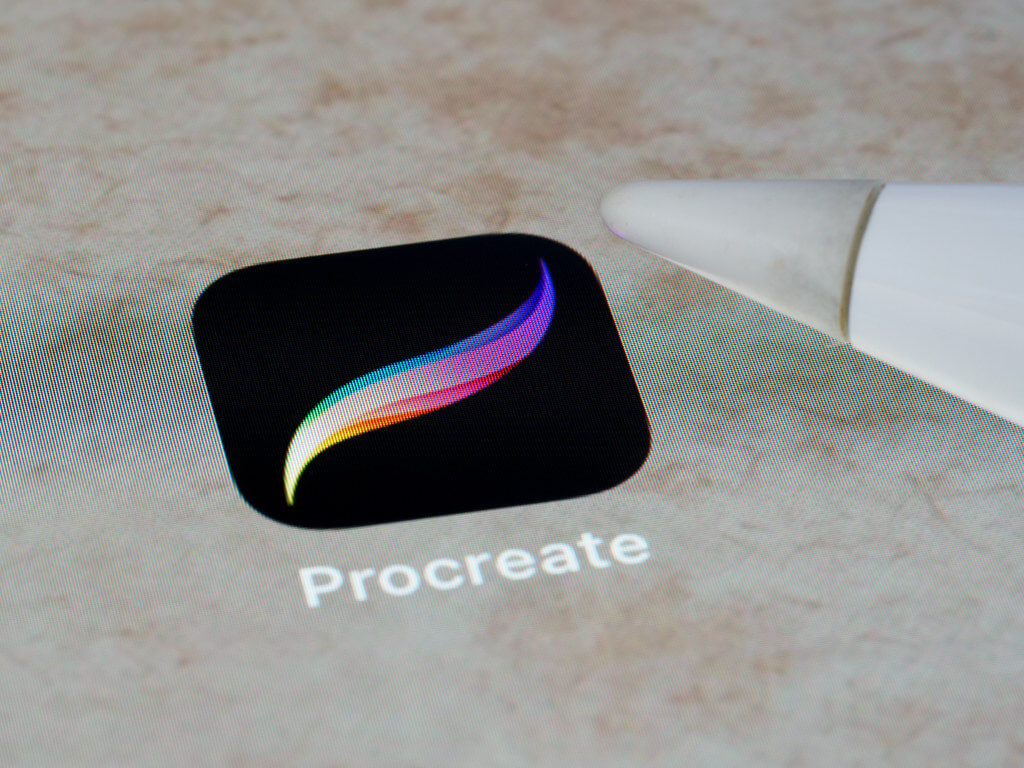 When we talk about tattoo drawing apps, there's no better app than procreate. The interface used with this is elegant and has varied pressure-sensitive brushes. It comes with an advanced layering system with stunning filters. It offers PSD support with the exceptional performance of the procreating tool. It's one of the best tattoo design app tools. Users can review the online consistency of the app, and it's one of the most fantastic tattoo design apps.
MediBang Paint – Drawing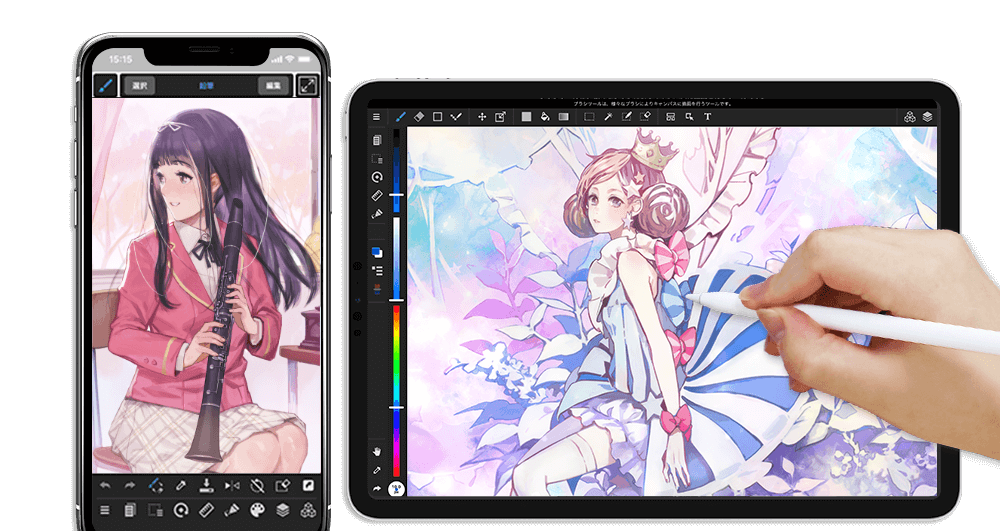 If you're seeking a simpler sketching app, then go for MediBang, which helps you on the go. It's designed for a comic creation app. It's compatible with Windows, iPhone, Mac, and Android. Additionally, the interface is simple and easy to pick. It helps create a stencil for a portrait that you map and then print the drawing straight from your iPad. The work is easier to share within your network and is a cloud-based software.
Photoshop Tattoo Design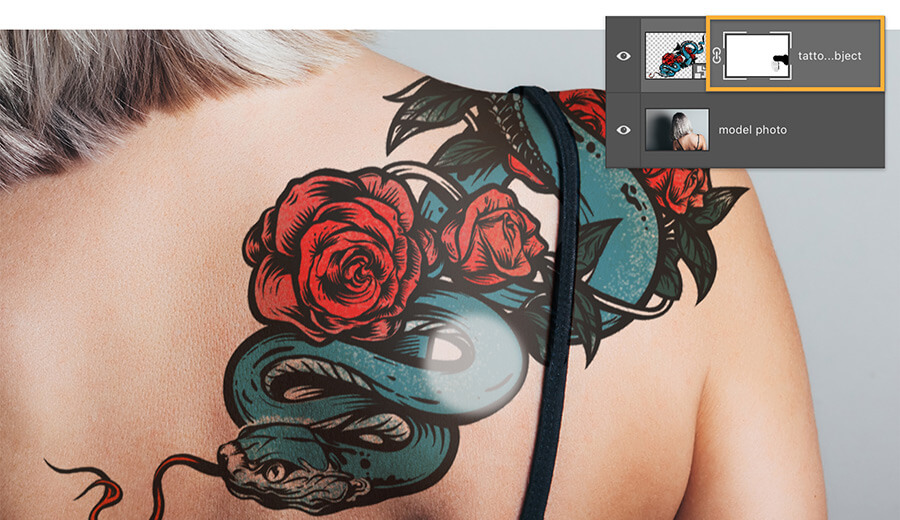 It's one of the best go-to design industries with a standard photograph, designing websites, and even packaging. If we talk about procreating and photographing that comes with your weakness and strength, you might look for. A few essential features include brushes, layers, functionality, keyboard shortcuts, interface, and monitor size.
Amaziograph App
If you have worked with any repeated pattern, then Amaziograph is for you. The days are gone when you try to repeat patterns and try to reproduce precisely the same. Whereas, Amaziograph helps you do it in 30 sec. The tool comes with multiple points across the canvas. It comes with fancy features like a brush, eraser tool, softness and opacity, and other adjustment strokes.
Magic Poser App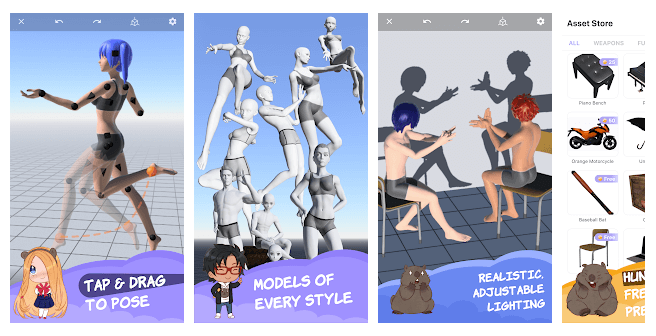 It's a tool that allows you to position 3D human forms online by tapping control points and dragging them. The finish position export as JPG or PNG is used for drawing. One can pose an unlimited number of models that come in varieties of sizes and genders. It adds features like differing hair and clothing options with different kinds of props. It comes with a realistic adjustable studio which allows you to highlight focus and shadows.
INKHUNTER- try tattoo designs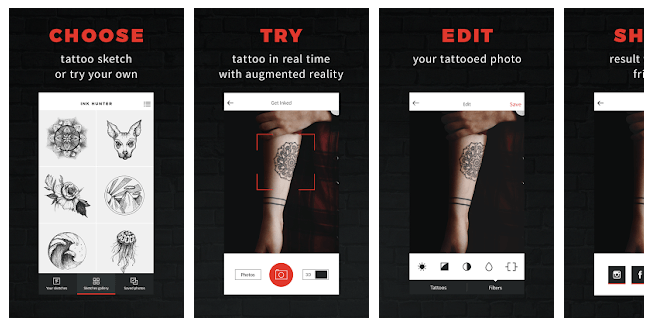 Inkhunter is one of the top tattoo design apps one could use on smartphones due to its skill of augmenting reality. This technology has made designing tattoos an exciting experience because you can see how it appears on your skin before getting permanently inked. Artist will highly benefit from using this app on their android or iOS smartphones due to the amazing interface and reassurance they can provide to their customers.
Inkhunter has a wide variety of free tattoo designs that can be easily accessed by the user. One can also get creative and can design your own tattoo virtually on any portion of the body to check how it looks before visiting a tattooist. Another awesome AR feature is that you'll be able to view the tattoo exactly how it should appear on human skin, and from all the angles. This can save you from a bad tattoo decision while showing you the best possible placement for your ink. This makes it very easy for you to edit a photo with a tattoo of your choice to show to the tattooist before you get started. Rather than becoming the victim of unfortunate tattoo ideas, the app can inspire you to get creative and use their tattoo ideas for free. We found Inkhunter to be the best for the same reasons, except that their pop-up ads are a bit of an inconvenience. However, given the free app, that's something we can easily overlook.
Tattoodo- Your Next Tattoo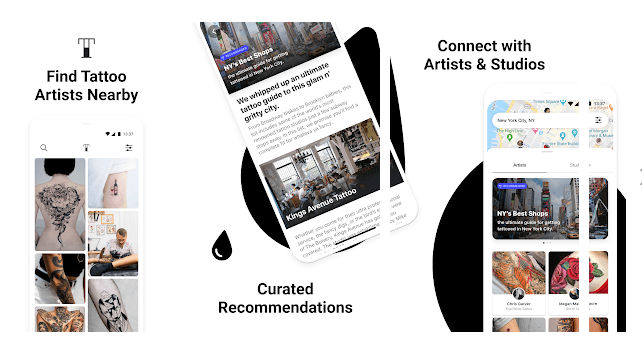 Getting your first tattoo or the hundredth tattoo are all similar experiences when it comes to brainstorming designs you could use. Have you ever wished you could save up on consultancy charges and have a tattoo community help you put with designs you'd love to get inked? Well, Tattoodo is exactly that and more than a normal tattoo design app. It sports a growing community of training and pro tattooists in your location. They share their design collections, concepts, and videos about tattoo know-how Tattoodo has one of the biggest tattoo collections that will make you fall in love with the art. With over 600,000 designs to choose from, this easily is one of our favorites.
There's LinkedIn for blue-collared jobs, and there's Tattoodo for tattoo artists to showcase their concepts, experience, work, and art. A few of the features included are the largest tattoo design database worldwide, inspiration boards like Pinterest, tattoo information videos, industry buzz, and more! You can create new designs or try out other designs on your pictures as well as find a local tattoo artist in proximity easily. This app is found easily on both Android and iOS.
Inksquad
InkSquad is a tattoo design app that doubles as a community space for die-hard tattoo enthusiasts who do not want to get inked, yet. Many people who are fond of tattoos wait for years before getting their first ink because they are not sure about the design or have a skilled tattooist to work with. Inksquad pairs you up with some of the biggest names in the tattoo industry, based on your location. You can select a tattoo design from the thousands of free ideas on their database and try it out in your pictures. There are several talented and professional tattoo artists on this portal who share their skills, collection, and ideas regularly. When you think you're ready, you can either create a design or use a preset design to book a tattoo artist on the app. All the process of your first tattoo, at the touch of a button. We love Inksquad for its simple interface and usability.
SoundWaves Tattoo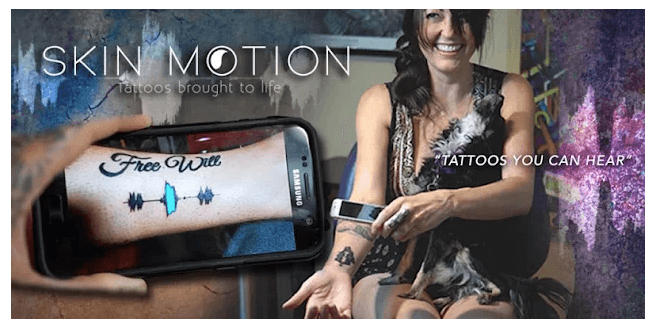 We all have favorite song lyrics that we'd get inked on our bodies for a lifetime. Many people love to tattoo the words, and others love to get creative. If you've heard about the SoundCloud tattoo trend, you'll be familiar with how one can get the tattoo of their favorite song in a code tattoo that can be scanned to play from any mobile device. Similarly, the SoundWaves app uses Skin Motion tech to the best capacity and gives you up to 30 seconds of music when the code is scanned. They come with a $39.99 fee for registration and a $9.99 for an annual subscription, which is a good choice if you're a tattoo artist.
The beauty of this app is that you can enhance the look of the tattoo by adding design elements and colors. This way you can carry a piece of your memory with every sound tattoo and share it with others too!
Why use a tattoo design app?
Choose a tattooing app that displays the best art design for a tattoo generator on the body. Some people are always in a hurry about choosing the design and spending a lot on unwanted tattoos. Therefore, the app helps you try new tattoo designs so you don't regret them later. The application also comes with sharing feature that allows you to communicate design strategies among your friends and ask them for their feedback. If you're looking to develop a tattoo app or are confused about finding the right features for your application, we are happy to serve you best.
Looking For Tattoo Design Apps?
---
We are a top tattoo design application development company that provides custom tattoo design and app development.