Reading Time:
13
minutes
Planning to start an online business or website? That's great! Pick the right CMS (Content Management System) that better suits your needs. CMS is a platform that allows an easy to create and organize content such as blogs along with functions, including site and design creation. Typo3 and WordPress are two different types of popular CMS that are widely used to create and manage a website. Out of several CMS available findings, the best is quite severe. Therefore, get a clear idea about your needs and understand better each platform with below pointers.
To start off, let know some interesting facts about these two TYPO3 and WordPress platforms:
WordPress was released in 2003, where a Typo3 CMS platform was released long ago in 1998.
Both WordPress and Typo3 are open source and are licensed under GPLv2.
Talking about CMS market share, WordPress has 60%, and Typo3 has 1.2%.
There are in total of 24.8 million WordPress sites and 1.1 million Typo3 sites.
In America, WordPress is the most popular, and In Germany, Typo3 CMS development is famous.
Typo3 is for industry and Engineering, while WordPress is for Technology, Electronics, and Computers.
Let's dive in to understand the comparison and technical requirements of TYPO3 and WordPress.
TYPO3 and WordPress Comparison
Typo3 CMS Platform
WordPress CMS Platform

Typo3 is available for Linux, Mac, Windows, and all cloud-based infrastructure.

It is built on PHP and works on PHP 5.5+ to PHP 7.2 version.

Typo3 works on MySQL 5.5, PostgreSQL, and MariaDB.

It supports the caddy server, Microsoft IIS and NGINX.

WordPress is available for Linux, Mac, Windows, and all cloud-based infrastructure.

It's built on PHP and works on PHP 5.6 version.

It works on MYSQL 5.0 to MariaDB 10.0

It supports Apache server, NGINX, and other PHP and MySQL.

The WebHost will support HTTPS
Moving on with both WordPress and Typo3 CMS Development platform, we have found various comparisons where Typo3 can support more databases and need a server to run on PHP, whereas PHP needs MYSQL support. If you're using outdated software on either of these two platforms, then the proper setup of the platform is highly recommended. Let's understand all feature comparisons and challenges of WordPress and Typo3 CMS Development.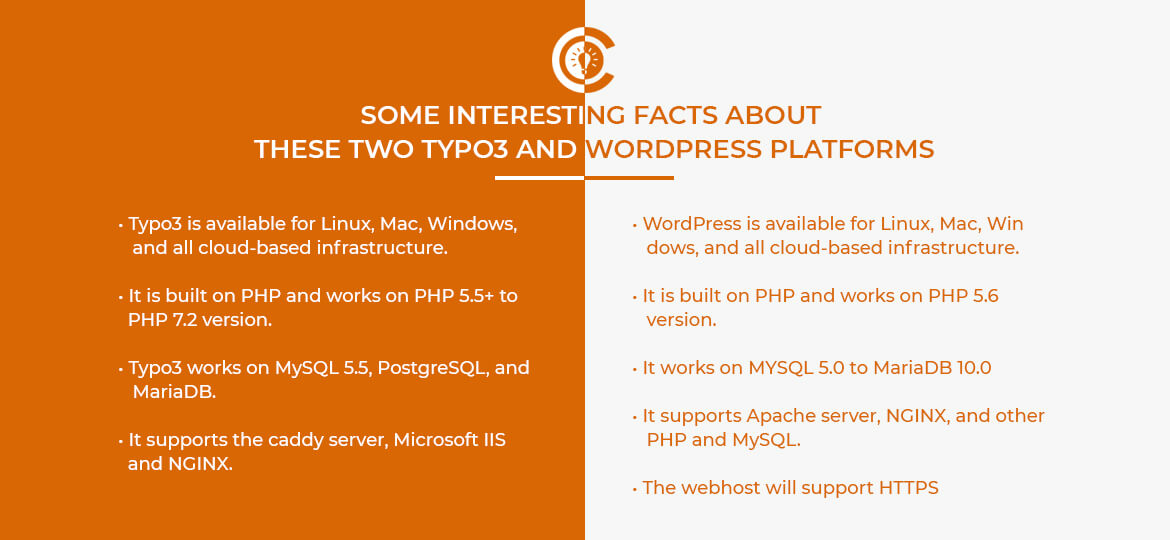 1. Cost-Effectiveness:
Why are we talking about cost-effectiveness if both platforms are open-source? There are a few other areas that we have to consider that are hosting costs. These CMS can work on any type of web hosting and OS so you can save here. Special hosting packages are available towards optimizing these platforms. Taking a note on plugins and themes, then WordPress cost is $20-$100, which is estimate whereas Typo3 is majorly free.
2. Ease to Use:
For beginners, WordPress is the easiest CMS that is easy to learn and use. You can also add features that are much harder to grasp for non-developers. People mostly use the installation guide and process the website in less than five steps. Whereas Typo3 web developers can easily create a website from scratch. And there is no longer a complicated setup guide for this CMS. Typo3 is for more substantial sites, while WordPress is for easy pickers such as bloggers and most start-ups.
3. Functionality:
WordPress is simple CMS with lots of features added to it. They include: Easy to create posts, pages, publishing tools, image, media upload manager, and customization of the theme. It is clutter-free and easy to navigate. But Typo3 Development Company can offer out-of-box features and functionality. The elements it covers won't be complicated for the first-time start-up company and bloggers. It also uses marketing tools and built-in form creator. Typo3 has made it easier for businesses as it comes with different plugins for the same functionality without digging deep into looking for fewer premium fees.
No doubt, WordPress is definitely the more comfortable and simplest, but Typo3 has more advanced features for all of you to handle with ease.
4. Security:
Security is one of the significant issues in WordPress, and the platform powers nearly all websites and code can potentially affect thousands to millions of users of the sites. Hackers can get their way out. If you have a public website, then there's always a fear of your website being hacked. But with security updates released, one can counteract that fear. Another problem is Third-party insecure themes and plugins. However, it becomes essential to get knowledge about how to be safe and stay wary.
Moving on with Typo3, we can't say that there is no security risk included, but as it is open source, there might be very fewer chances of risk. Besides, it's doesn't have massive traffic compared to WordPress, so no more fear of security. It adds features such as audit logs, access manager, and other paid security features that aren't covered with WordPress.
5. SEO and Mobile-Friendliness:
In this fast-running world, one needs to create an SEO-friendly website. WordPress is capable of SEO-friendly website, but it takes a longer time to get everything coordinated on more complex sites. Besides this, Typo3 by default install plugin, including responsive multiscreen size preview and AMP support.
6. Multisite:
WordPress is multisite but not always comfortable to use. Most sites use this code and installation, so it causes more problems. On the other side, Typo3 comes with multisite features designed to make hosting site painless. Typo3 CMS Platform supports multi-language websites and less across networks. It comes with a smoother process and easy to manage a large number of multilingual websites.
7. Community:
Typo3 web developers can use all advanced functions which aren't in WordPress. If you want easier theme, plugins, and extension, then go for WordPress, but if you think you want to add more features, create your extension then Typo3 is your cup of tea, Grab it.
8. Support:
Official Support is quite limited as both WordPress and Typo3 lack official support. It might be impossible to resolve the issue if you're facing massive problems. Therefore, Typo3 has extended support, which grants an extensive suite of support, security, and legal help. You can hire a Typo3 developer for easy resolution of your coding or internal issues or can get help from your preferred Typo3 Development Company.
Which is best?
We cannot identify which is better WordPress or Typo3. Let's quickly summarized both characteristics.
Go for WordPress if you're looking for these points in your website:
Want a simple Website with standard features
Have small-to-medium budget
Do not require multiple languages
Go for Typo3 if you're looking for these points in your website:
Needs Multiple languages
Complex hierarchies and specialized functionality
Have medium to large-sized budget (mostly used by professionals)
Need to integrate content with other system data
Ending Thoughts:
Out of the two CMS, Typo3 is highly recommended as Typo3 web design uses advanced features with easy to understand and use criteria. But if you're a blogger and want to start with low, then WordPress best fits you.
In short, if you're serious about making your website far, Typo3 CMS platform makes it worthy for you. If you have made your decision for CMS, then install the test site to see what it looks like and what's your experience to the CMS you've chosen.
If you're looking for the best Typo3 Development Company or want to Hire Typo3 Developer we are a very good option for you. Get the best CMS solution for your website needs with us.