Reading Time:
12
minutes
Under the Statista's report;
The global telemedicine market is expected to grow more by 4 times in the upcoming 6 years. It simply means that the healthcare sector will undoubtedly go mobile.
But, What Benefit Does It Bring To The Business?
Well, telemedicine help doctors and patients to simplify the consultation process by going online. Doctors that are currently running a private clinic will no longer need to rent space while the hospitals can even reduce their readmission rate. It is a one-of-a-kind powerful channel or medium to disburse the services at your convenience.
Want to know how telemedicine app works, its cost, features? Keep up with this article to get detailed insight into telemedicine app development.
How Do Telemedicine App Development Works?
Before moving further with understanding telemedicine workflow, let's understand what exactly telemedicine refers to.
Telemedicine is a method of delivering healthcare services to the patient remotely. It's a one-of-a-kind system that lets seamless interaction of patients and doctors without getting confined to the geographical boundary. There are three main things to be considered by the patient and doctor to use telehealth.
Customized software.
Camera
Microphone.
Here's how it works:
Using customized software, physicians and patients can connect. The camera is used to examine and see patients while with the help of a microphone, patients can do voice chat. However, telemedicine app development can be categorized into the below parts.
Online Video Conferencing
It is one of the most common types of telehealth applications that let doctors examine patients via their device camera. Many times, patients are aware of what's there behind their symptoms and they just need a confirmation of the diagnosis. In such a case, this method proves to be fruitful. Patients can skip going to the hospital, standing in a long line by simply reserving an online appointment with a doctor.
Treatment Advice
This type applies to the patient who already has a treatment plan. In case the patient has any concerns regarding their medicine or drug schedule, they can leave a text message for their doctor. As text messages do not distract the doctors from the other clients in the queue, these messages are generally prioritized. However, for further serious questions, they can make use of the voice call features.
Prescription management
This module allows patients to get online drug prescription. As it stores users' EHRs, physicians can suggest prescriptions based on the patient's medical history. All patients need to do is apply for the receipt and wait until submitted. Later, they can visit the pharmacy and buy medicines by showing prescriptions printed or on digital devices.
Why Telemedicine App Development Is On Roar In On-Demand App Market?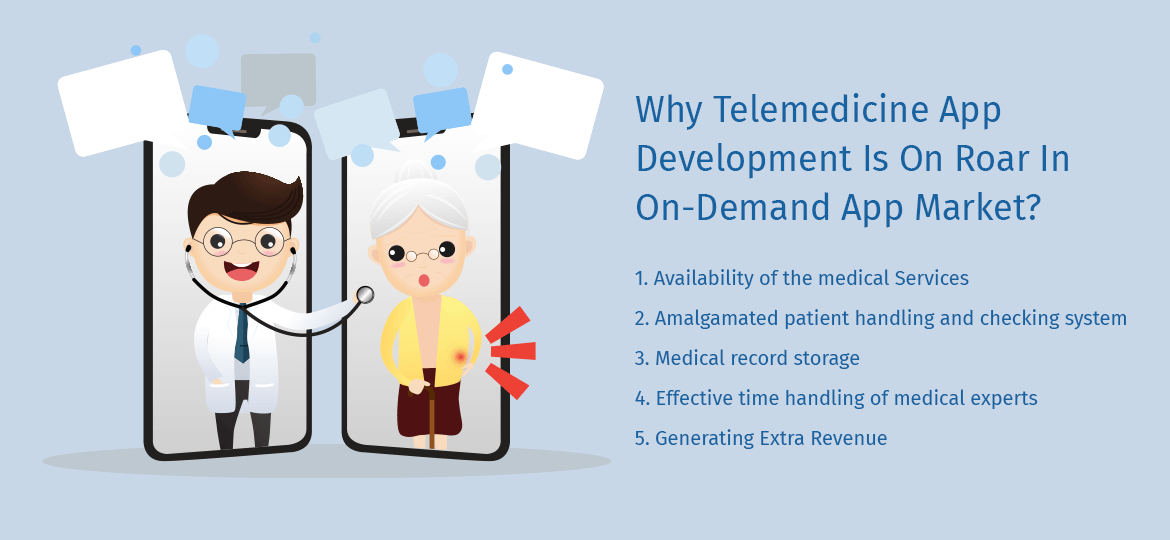 Below are some of the reasons that make telemedicine app roar in the market.
Availability of the medical Services
Telemedicine application offers medical services as and when needed for remote areas without clinical access. Such services help people from rural areas where access to healthcare services is near negligible. Telehealth apps can help school students, veterans, and old age peoples to reach healthcare services with ease.
Amalgamated patient handling and checking system
With this app, doctors can monitor the fatal disease, prescribe medicines, update new drugs and medicines, and follow up consultation in a hassle freeway.
Medical record storage
A telemedicine mobile doctor app helps medical practitioners to store and access patient's medical data in an efficient way. Nowadays, it's really hard to record and send such data to other doctors but with this app, it's now possible to prescribe medicines accurately.
Effective time handling of medical experts
Medical service providers can channelize their workload more operatively. This implies there is a probability to test more patients precisely.
Generating Extra Revenue
A mobile doctor app allows medical experts to produce extra revenue for after-hour services and the ability to check more patients, in comparison with face-to-face appointments in the office increases.
What Features Are Essential To Build Telemedicine App?
Let's get an idea about some of the essential telemedicine mobile app features.
How Much Does A Telemedicine App Cost?
Well, its highly essential to estimate the telemedicine app development cost as well as allocate an adequate amount of budget for app promotion and marketing.
Speaking about the development cost, it greatly depends on its concepts, development approach, features and functionalities, and of course the chosen development vendor. If you're working with an offshore  Mobile app development company you can roughly expect to spend around $60K – $100k for the first working version of your app on any of the subsequent platforms – Android, iOS, or Web.
If you are looking forward to creating an app with more complexity and features, then get ready to spend more. The telemedicine app cost can even go around $240,000 per platform if you choose to build a complex and feature-rich solution.
This price includes a patient app, doctor app, and an admin panel for a single platform with an hourly rate of $30-50. The timeline varies around 3 to 5 development months.
If you're looking forward to building Telemedicine mobile app in the Android platform in the initial phase, it is advisable to consult and partner with the top android app development company to build an accurate, robust yet interactive mobile app.
Conclusion:
Healthcare is a growing industry and is expected to grow more in the upcoming few years. And, the telemedicine app development will be the main tech advancement this year to rule in 2020 and beyond.
So, if you're looking to invest in such a futuristic concept or have an app idea to develop an on-demand telemedicine mobile app, you can seek help from our on-demand app developers. They will surely guide you through the process and give you a walkthrough from ideation till deployment. Get in touch with Concetto Labs now to discuss more.
FAQ
1. What type of technology is needed for telehealth app development?
To build an amazing telehealth mobile app, you need to have a flawless design, robust back end that delivers outstanding video quality. Below are some of the tools our developers used for telemedicine mobile app development
Programming languages:
Kotlin, Java for Android
Swift for iOS
Back-end development:
Programming language: Node.js
Videoconferencing: RTMP, Twilio, WebRTC
Chat: Twilio, Socket.io
Database: MySQL
APIs and frameworks: Stripe, EC2, S3
Tools:
Search & filters: Elastic search
Mailing: Elastic Emails
Geolocation: Google Maps Platform
Notifications: Firebase Cloud Messaging
2. Which are the most promising technology trends in the telehealth industry?
The most promising tech involved in the telehealth industry is:
Machine learning
AI
Natural Processing Language
 Blockchain
3. What is the revenue model of telemedicine mobile app?
There are multiple ways through which telemedicine app can make money like an annual membership, per-minute charge, transaction fee, monthly fees, etc.
4. Which are the best telemedicine apps available in the market?
Some of the telemedicine apps available are Babylon, Amwell, Teladoc, Medoc, Aerotel, etc.

How Much Does It Cost To Build On-Demand Telemedicine App Development?