Reading Time:
22
minutes
In 2019, the team collaboration software market touched a new height with $9.5 billion globally.
And this COVID-19 pandemic situation has forced everyone to work remotely. During this, remote work, collaboration, and chat tools have played a major role.
To maintain productivity and increase, businesses have started using collaboration software.
If you are into the IT industry, you probably know that there are major two market leaders in the sector: Slack and Microsoft Teams.
That was a rumor that in 2016, Microsoft made the monumental decision to forgo a potential acquisition of Slack for $8 billion and instead expand on their existing Skype for Business model. This led to the creation of Microsoft Teams in 2017, which has changed the game for enterprise collaboration services.
After the launch, in just three years, Microsoft Teams reached 13 million daily active users. On the other hand, it took almost six years for Slack to reach 10 million.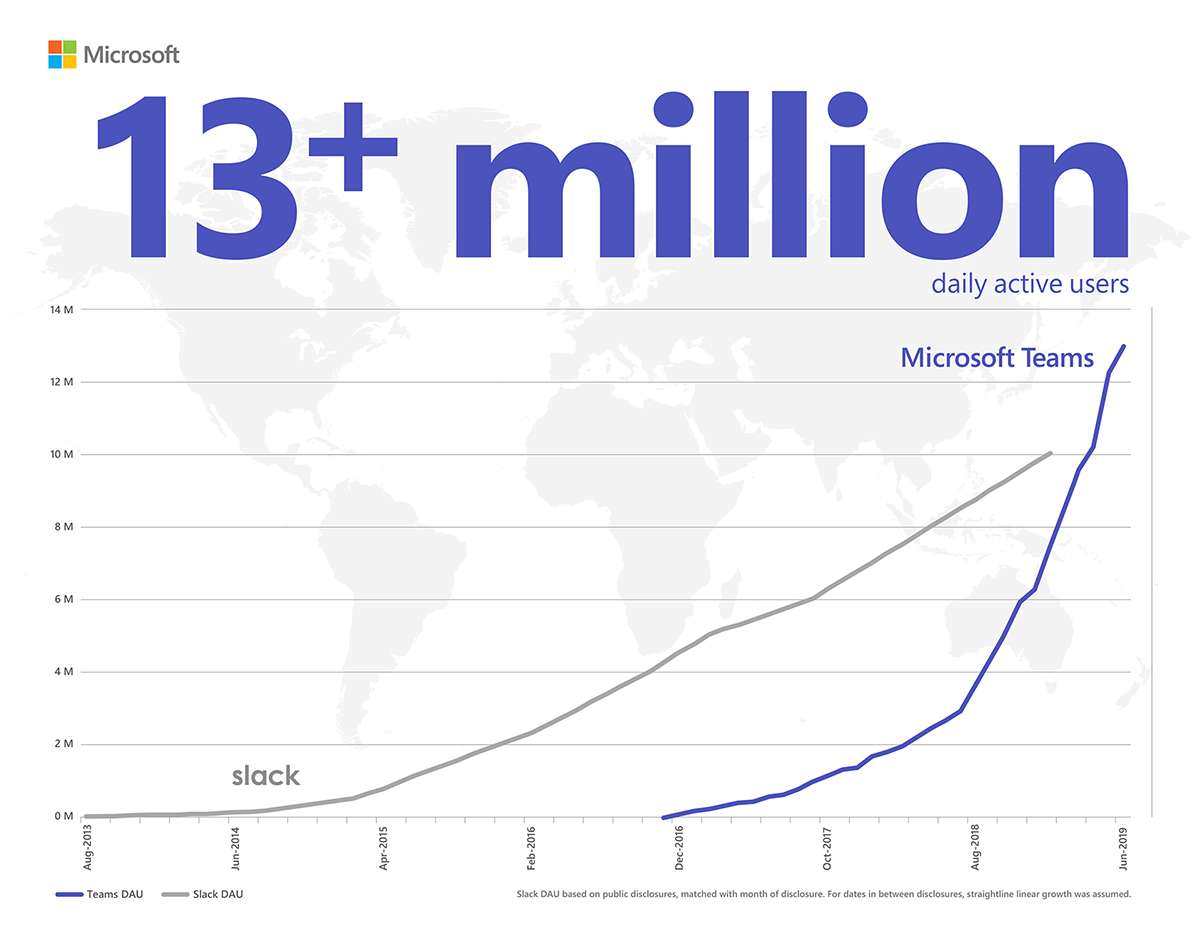 After the launch, in just under three years, Teams reached 13 million daily active users when it took Slack six years to reach 10 million.
Moreover, a few months back, Microsoft has claimed the number of active users has now jumped 50% to 115 million, which is 75 million daily active users.
Even after the announcement, IBM joined hands with Microsoft. They said we would deploy Slack to the workforce of 350,000 employees. Officially, this has made them Slack's biggest customer yet.
This heated collaboration has brought plenty of questions.
What forces users to use Microsoft Teams over Slack and vice-versa?
However, these two collaboration platforms look the same at the first glance but are completely different in their design and structure.
If you are looking to get an answer to which one would be preferred, we actively used both tools to find out their pros and cons. So, here are some key differences and our review of Slack Vs Microsoft Teams, based on real-world use from our team.
Slack Vs Microsoft Teams: Fast Facts
If you are looking for a quick overview of the two tools, here is everything you need to know.
The fact was that Teams did not have a freemium plan. This changed in July 2018, when Microsoft rolled out a new version of Teams for free, strengthening its potion as a Slack competitor.
However, when we compare Slack with Microsoft Teams, Slack is easier to set up and administrate. On the other hand, Microsoft Teams is designed for large enterprises and its setup is more complex. However, it comes up with excellent integrations with Office 365 applications, which is hard to miss.
So, if the integration is your primary concern for your team chat app, then Slack wins the race as it integrates with every other tool under the sun.
Slack
Microsoft Teams
Pricing Model
Freemium

Standard $6.67 user/month (billed annually)

Plus $12.50 user/month (billed annually)

Freemium

Office 365 Business Essentials

$5 per user/month

(billed annually)

Office 365 Business Premium

$12.50 per user/month

(billed annually)

You can try both paid plans for free for 30 days

Message History Limit
10K messages in Free plan, unlimited in Standard and Plus plans
Unlimited in all plans

Audio/Video Calls
Unlimited 1:1 voice and video calls in Free plan

Conference calls for up to 15 participants in Paid plans

Voice/video calls with up to 250 people in a meeting.
Integrations
10 integrations limit in Free plan, 800+ integrations in paid plans
180+ apps and services (as of July 2018)
File Storage Limit
Free plan: 5GB file storage for a team

Standard plan: 10GB per user

Plus plan: 20GB per user

Free plan: 2 GB/user and 10GB of shared storage

Paid plans: 1 TB per organization

Screen Sharing
Unavailable in Free version, available in Standard and Plus versions
Available in all plans

Interface Color Options
Custom sidebar themes
3 themes (light, dark, high contrast)
Conversation Threads
Yes
Yes
Private Messaging
Yes
Yes
Group Chats
Yes
Yes
Pricing Models
Having mentioned earlier, both tools come up with freemium plans. However, if you are looking for all the features, then you will have to pay for it.
In Microsoft Tools, that means you need to have either a Business Premium or Essentials account to access it. In other words, you need Office 365, and Teams comes as an add-on.
Precisely, Business Essentials has the cheapest Office 365 that has Teams. Its cost is $5 per month and you have to choose an annual plan to get started. Honestly, this is quite cheaper than Slack's cheapest plan, which is Standard and which costs $6.67 per user per month if you calculate annually.
When you realize that $5 spent on Microsoft Teams also gives you access to Office 365. If you are planning to upgrade your plan in Slack or Microsoft Teams, they cost the same, at $12.50 per user per month. However, you will get Office 365 included with Teams.
Microsoft Teams and Slack Free Capabilities
| | | |
| --- | --- | --- |
| Microsoft Teams | Slack | |
| Max users | 300 per org | Unlimited |
| File storage | 2 GB/user and 10 GB of shared storage | 5 GB total |
| Guest access | Yes | No |
| 1:1 and group online audio and video calls | Yes | Yes |
| Channel meetings | Yes | No |
| Screen sharing | Yes | Yes |
| App integration | Unlimited | 10 |
| Chat messages | Unlimited | 10K most recent messages |
| Two-factor authentication | No | Yes |
User Interface
Now let's compare the user interface
Here, we will consider how easy it is for new users to try and use the tool. If you look at the first time, they both look the same. But if you ask a regular user who uses both, they will tell you the complete difference.
The user interface of Slack is sleek and it has become the industry standard.
Moreover, Slack shows a step-by-step tutorial for new users.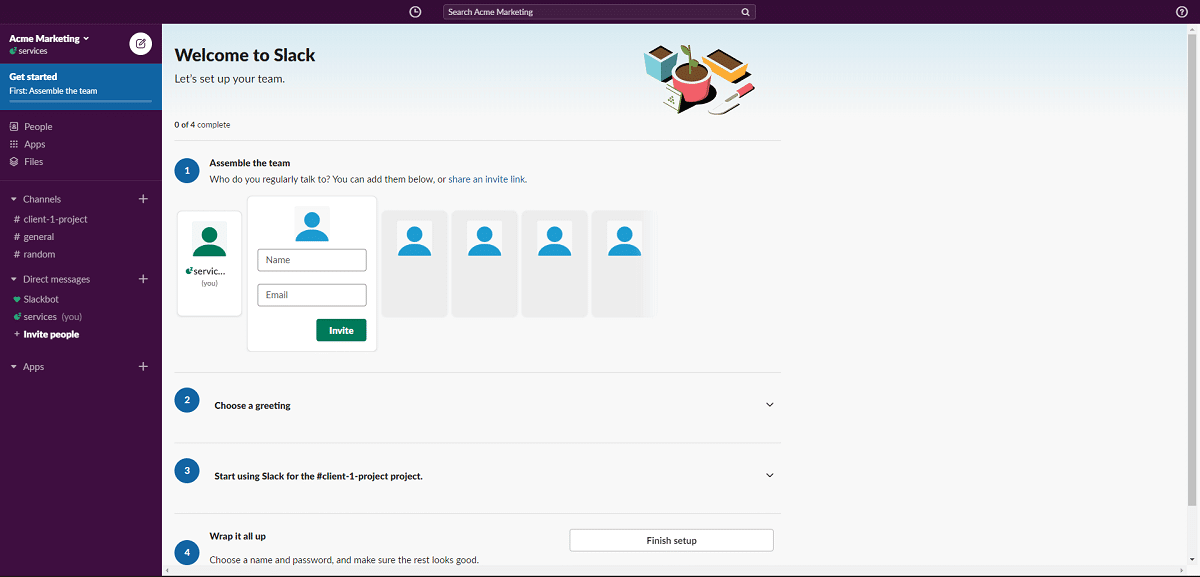 (Onboarding experience with Slack)
In this tab, you can easily add new users to your workspace in the "People" tab.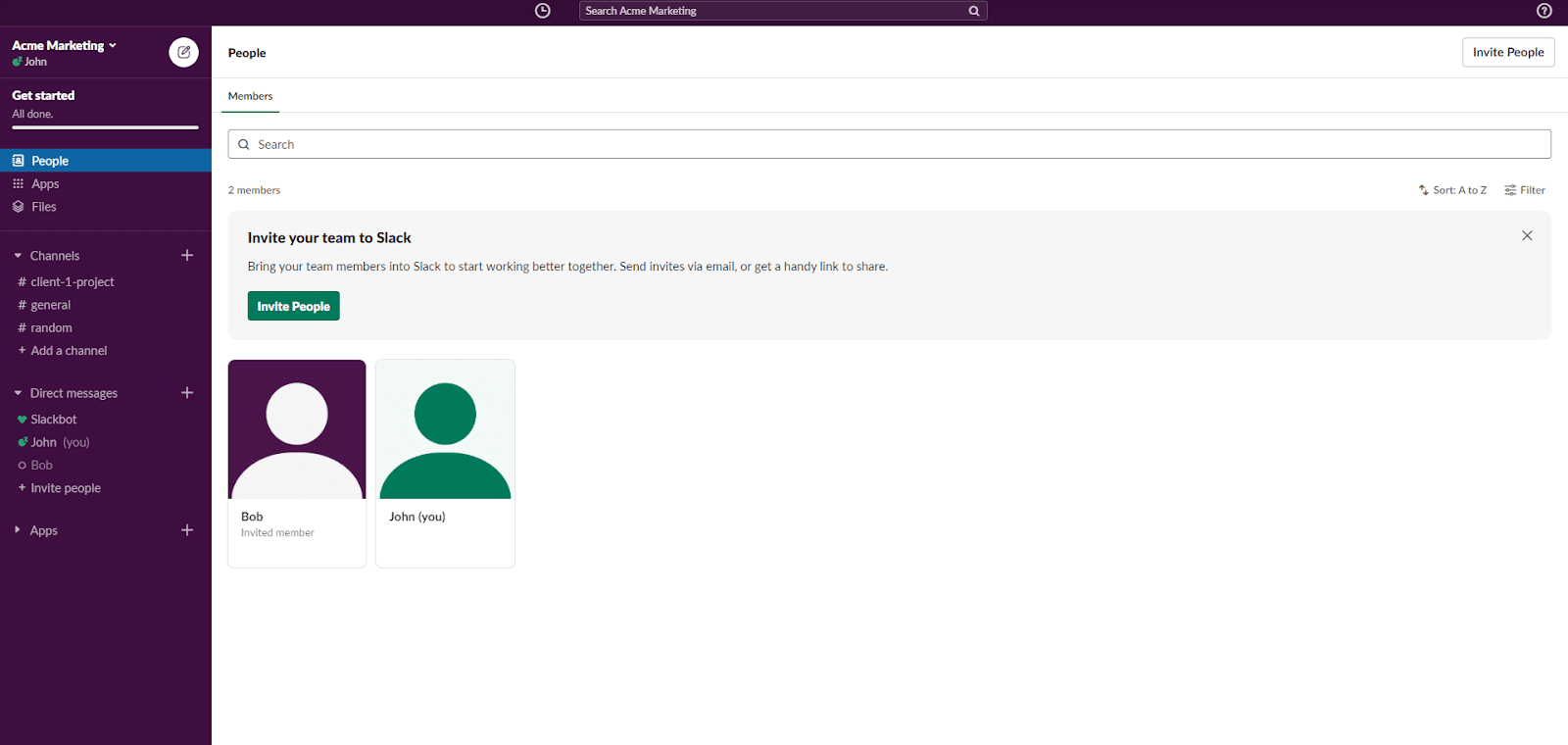 (Slack workspace)
If users are not on Slack, they will receive an invitation by email. If they are already on a Slack, they will be added to their workspace.
You can easily add a Slack channel by clicking the "Add a channel" link in the sidebar menu.
Moreover, you can easily send a message to your team on a channel by typing a message. You can target a message in a channel to a specific person by using @ and their username.
By mentioning their username, it will notify that person.
Now, let's talk about Microsoft Teams.
Microsoft Teams has the same UI as Slack. The touch and feel of the UI are not different though.
Once you sign up for Microsoft Teams, it offers some guidance in the form of docs and a tutorial video. But it doesn't include a guide like Slack.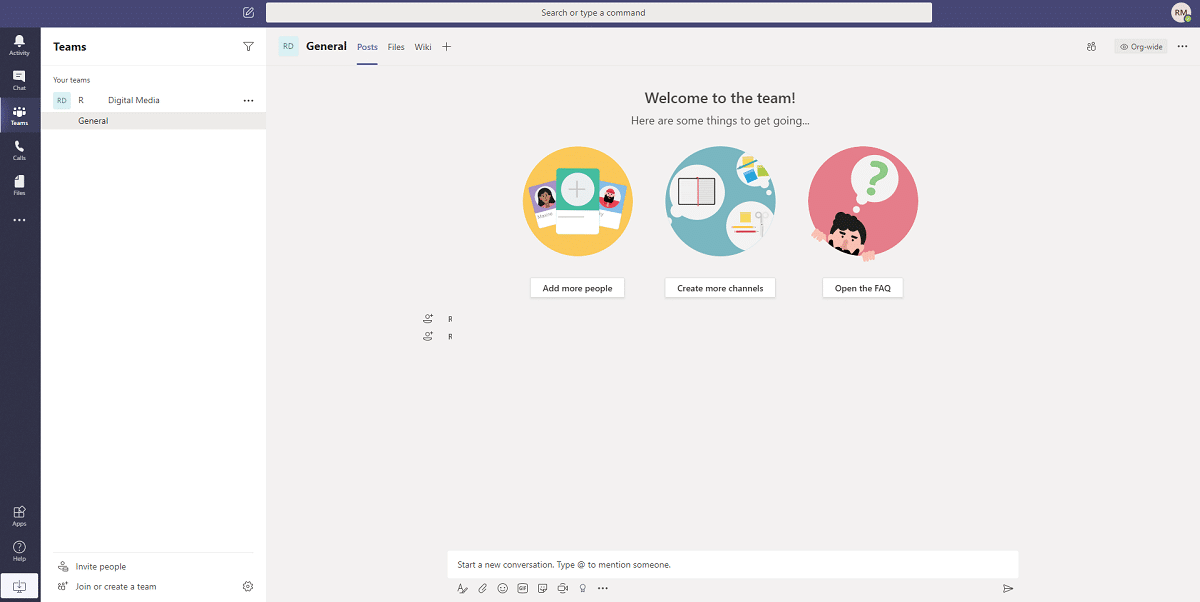 (UI of Microsoft Teams)
Microsoft Teams has replaced the "channels" word with "teams" in the menu section. Each team can have various channels/teams to keep communication separate for different projects.
If you click a button or menu, it comes up with a light-box rather than a completely new page.
In this case, you can create new channels by clicking the "Create more channels" button on any team page.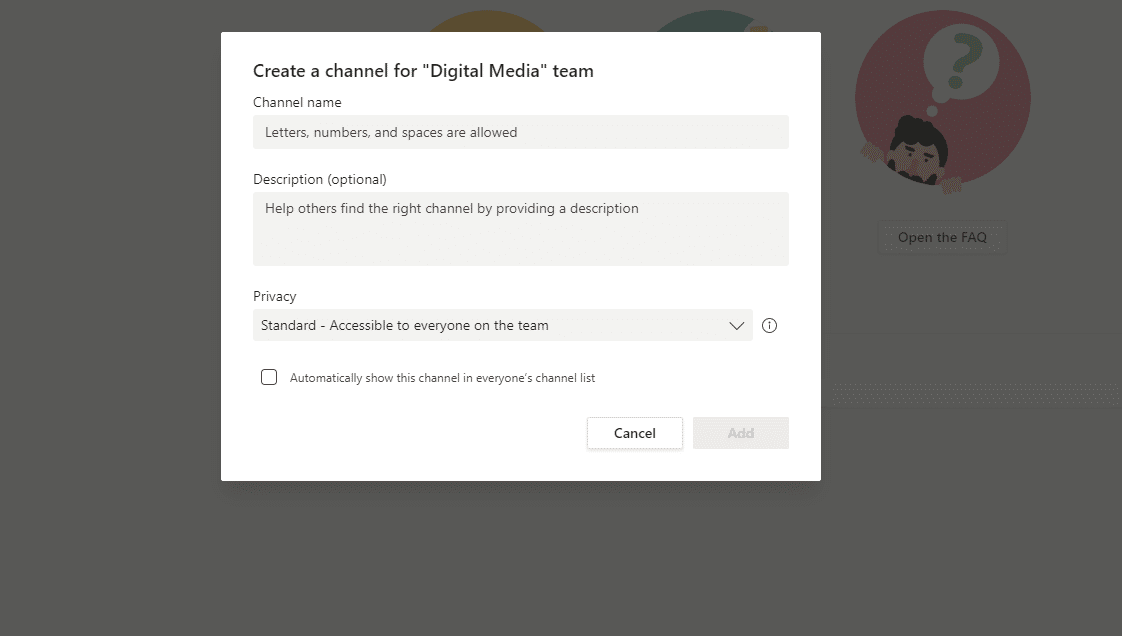 (New Channel Creation in Microsoft Teams)
Like with Slack, you can also tag someone by mentioning @ to make sure they notice your message.
Both Slack and Microsoft Teams are easy to use, but Slack has a slight edge when it comes to the step-by-step guide and general UX.
Messaging Ability
Booth tools offer a group functionality with threaded messaging, where you can create a group channel for your team.
The text box provides the edit, delete, pin your message, mention someone, start a new thread, attachment sharing, and other features.
When we talk about Slack, it doesn't just provide users to "like" someone's message but also leave a variety of other emojis as a reaction. In addition, Slack lets you set reminders on messages.
Here's a handy comparison of what you can do with messages in both tools.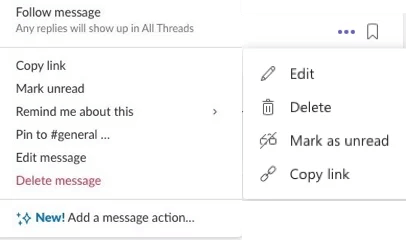 (Slack/Microsoft Teams)
When it comes to notifications, both offer advanced notification systems that you can set up to your liking.
However, Microsoft Teams comes up with the advanced formatting feature for the messages you send. This allows you to change the color of your font, add bullet points, and make the words bold or italic, etc.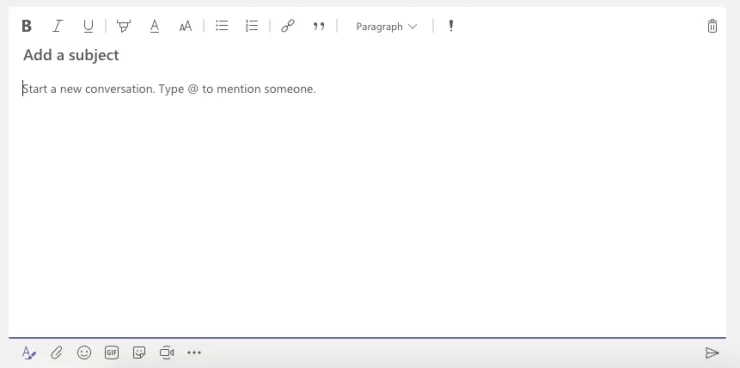 (Formatting Options in Microsoft Teams)
Another cool feature that Microsoft Teams offers is .gif images and emojis. You can easily find an ideal emoji or gif by searching the name in the result box.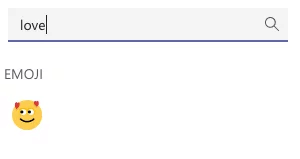 (Emoji search by name in Microsoft Teams)
But both apps miss a central notifications hub.
Storage Limits
The freemium of Slack offers 5GB of file storage for a single team. With the paid plan, it can increase to 10GB, 20GB, or 1TB per user, as per your plan. In the free version, you will also get a cap of 10,000 on message history, which disappears for the paid versions.
The freemium of Microsoft Teams offers 10GB of total shared storage for a team. It can increase to 1TB for the entire organization if you choose a Business BAsic, Business Standard, or Office 365 E3 plans. It also offers "plus 10GB per license". Teams have no message history limits.
Video Conferencing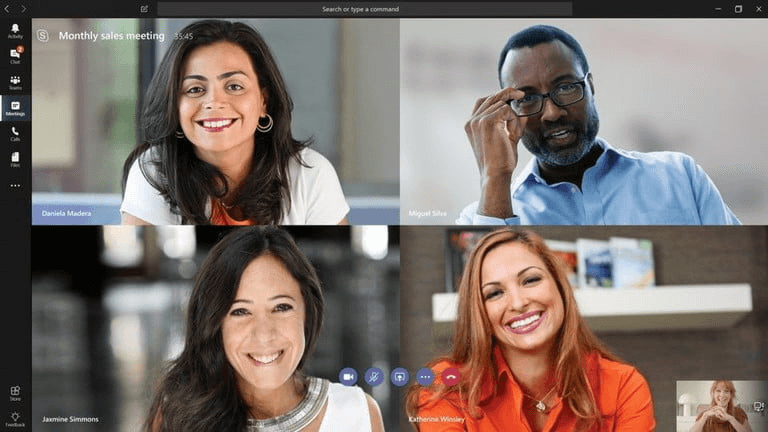 Both tools provide online audio and video sharing options to users. But Teams was developed under the experience of Microsoft which caters to the needs of every business – large and small. So, naturally, Team rules the video feature when it compares to Slack.
The free plan of Slack offers unlimited one-to-one audio or video calls. However, to add more callers, you will have to buy a plan, which supports up to 15 participants with a screen sharing option.
On the other hand, Teams offers you to host a meeting with up to 300 participants. When you purchase a plan, you can even conduct live events to host large meetings and webinars with up to 10,000 participants inside or outside your organization.
Teams also offer you to record meetings, which Slack doesn't provide.
Integrated Apps
The free model of Slack offers you an app integration of up to 10. This hassle, you will not face if you upgrade your plan. Therefore, paid Slack offers more than 2200 app integrations possibilities. If you are using any other productivity app at work, there's a very good chance it's compatible with Slack.
Whereas, Microsoft Teams has other plans. It offers unlimited integrations with other apps for all pricing tiers but only supports around 250 apps. However, Teams does have the best integration options with Microsoft 365. This will be the most useful feature for businesses that use Microsoft 365.
Which does Collaboration App win?
Both Slack and Microsoft Teams are amazing tools for organizations. And ultimately, the choice between the two depends on your requirements and what you are looking for in a collaboration app. If you are looking for a specific type of app integration, verify with Slack and Teams to see if they are compatible or not.
Microsoft Teams has clearly overtaken Slack as the market leader in terms of active users and is rapidly booming in every organization.
On the other hand, Slack is a bit more familiar, innovative, and a bit more "comfortable" tool. It's mainly used by many startups and smaller companies.
Slack has many integrations, a better bot, and slightly better usability. When it comes to cost, Microsoft Teams is a bit cheaper. It offers better free plans and integrates natively with Office 365 tools. That's the reason, Slack is an ideal choice for the majority of businesses.
Which tool is the right choice for your business between Slack Vs Microsoft Teams? But in this heated battle to be the better platform, which one will you choose? Microsoft Team vs Slack?
Slack Vs Microsoft Teams Which Tool is Ahead in 2020?
Confused? Which one will you choose?