Reading Time:
11
minutes
Earlier this summer, the iOS 14 update was introduced in the Steve Jobs Theatre in Apple Park. This social distancing has left each individual onstage for Apple's online-only WWDC. Apple's mobile OS adds App Library that allows A-Z view for all installed apps. Widget gets their time to shine and move around among app icons. Messages shift with slack-line inline responses. Meanwhile, Apple Maps has become more friendly to electric vehicles and bikes with detailed information about routes. Memoji will create more values and will have age options and accessory of the moment.
An iOS app developer can now be more comfortable to use this updated feature. iOS 14 dark mode is one of the best features that allow in talking care of scene delegate and modal presentation. As iPhone app development company has released the public beta version of Apple iOS 14 with lots of new features and functionalities.
How can you get a Public Beta version?
The public beta version is stable at iOS 14. Some of the existing apps might not work correctly with OS, and you may lose your data. So better you can try out this version as it comes free. The public beta version uses to find bugs that developers could not cover.
If you love using iOS, then this beta version is interesting for you. If you're using an older iOS device, then it's affordable to upgrade it with buggy software. Before that make sure to back up your phone then signup using the Apple Beta Software program. If you have already done this, sign in. Open the browser and move to beta.apple.com/profile and choose to download the profile.
Now, go to setting>General>Software Update and choose to download and install.
Once you're done with this, restart your phone, and you'll get an updated iOS version.
Let's move ahead with understanding Apple iOS 14 Features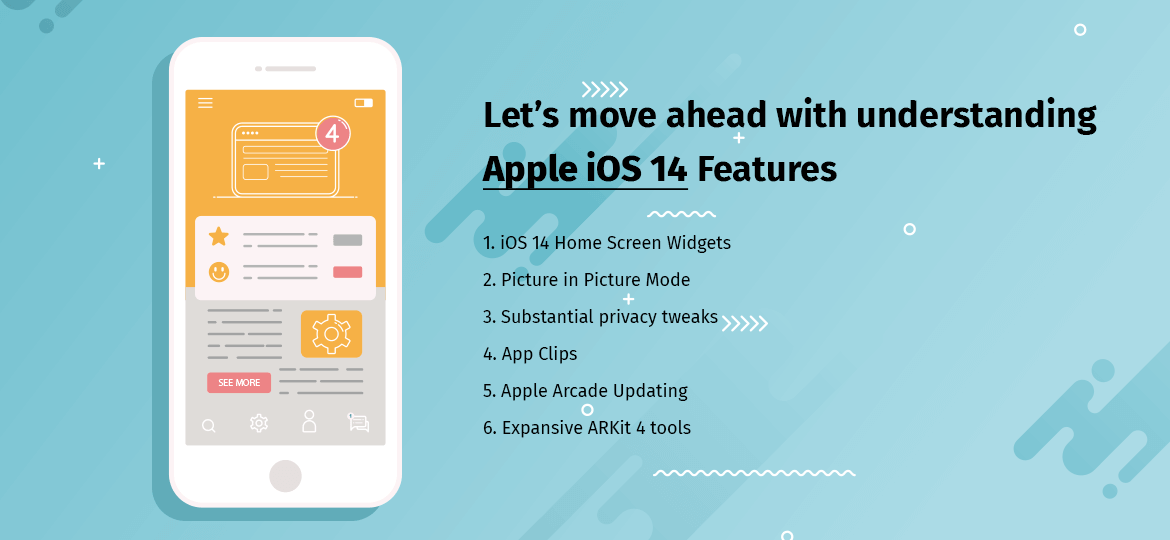 1. iOS 14 Home Screen Widgets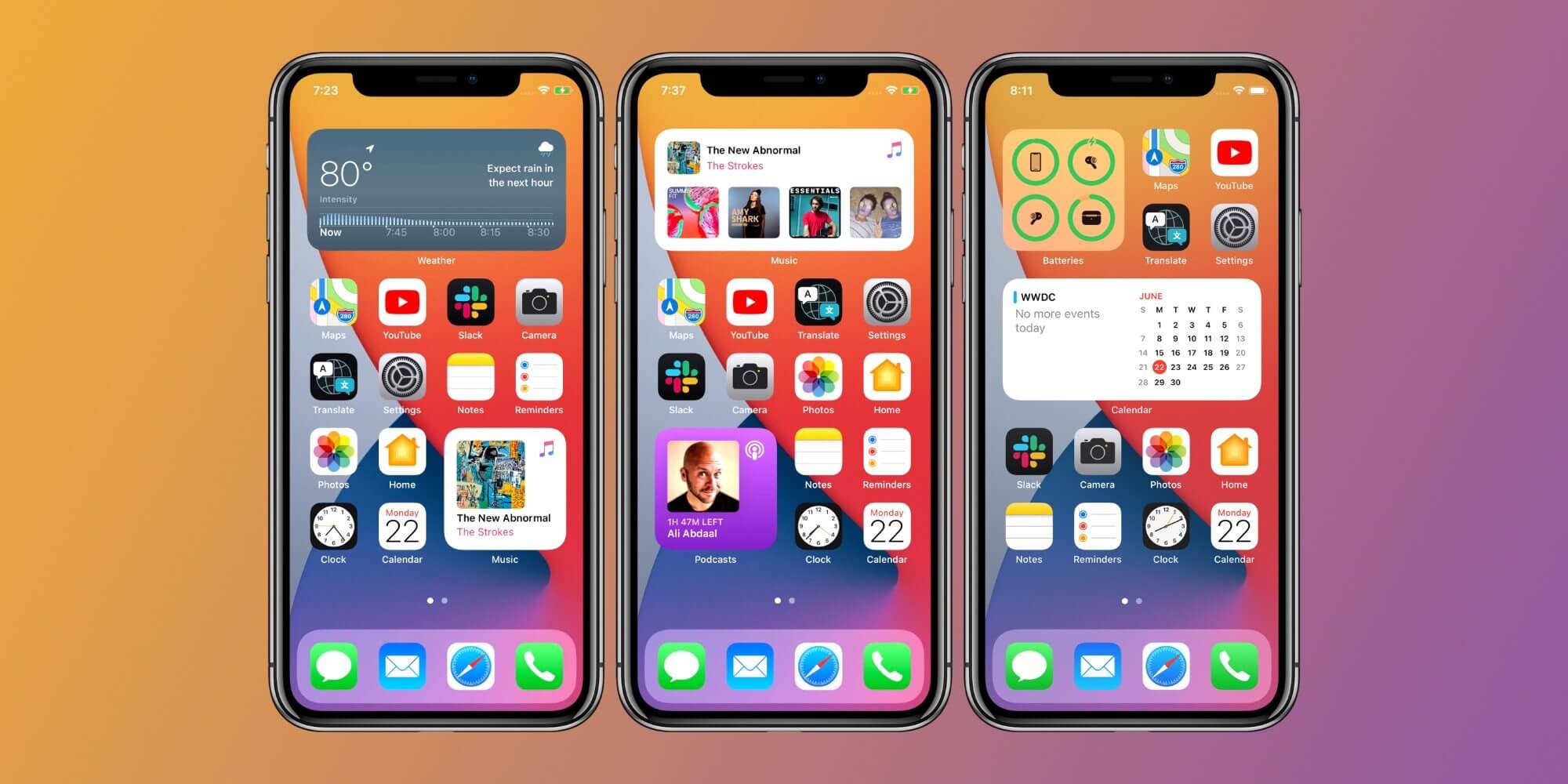 It's one of the best features where the proper widget is used and comes in a variety of sizes with a great look. It offers a specific widget gallery including clocks, apple news, weather, calendar, and more. The App library comes with a big folder that shows the recently used app. One can enable users to search for the application in the search box at the top of the screen.
2. Picture in Picture Mode
In this mode of the picture in picture when you make a facetime call or watch the video, one can quickly swipe back to the home screen while the call screen will continue to load on the screen. Using this feature one can soon move the box around and can swipe up to make the tab little.
3. Substantial privacy tweaks
Apple has stated that it will maintain a leg up in the Android vs iOS security faceoff with iOS 14 with a list of privacy features expanded. The user gives the app details, based on an estimate location instead of the exact location. The application asks for photos, you can select to share specific images instead of the complete library. iOS 14 update offers privacy which shows a green dot when an app is ready to access your camera. And gives access to the microphone when the amber dot is available.
4. App Clips
We can get inspired from Google, where Tim Cook agreed to rely on Google Search, and Apple launched App Clips with iOS 14. We'll find several micro parts of the application which enable users to use parts of the application without downloading, installing, and signing up the app to perform the task. You can Hire iOS 14 developers to create App Clips with ensuring the experience under 10 MB. Users are encouraged to use Apple Pay and Sign in with Apple facility to prevent users from logging in the application.
5. Apple Arcade Updating
At the point when Apple arcade was dispatched to change the gaming business, Apple is demonstrating clients games that play, access the ongoing games, and make it think that its simple to sort Arcade games.
6. Expansive ARKit 4 tools
Apple has expanded its AR tools for every ios app development using ARKit 4. There's a device used in it A12 Bionic Chip which performs facial tracking using the front camera when it's not a TrueDepth module. The team has introduced a depth API for iOS app developers to develop a 3D mesh environment with having a LiDAR scanner. The process for iOS 14 for an iOS app development company will notify users if the app collects unique device code known as IDFA.
Also Read: Impressive iOS Mobile Application Tools for your business
How to get ready for the iOS 14 update and where to start from?
Review: It's essential to do the review of current IDFA as it gives you a solid understanding of where and how to use it and how to grow your business.
Consent: After doing the review, user consent its the next priority. If the user is opt-in, then you'll be able to return to near-normal pre-iOS 14 activity and become a real competitive advantage to get higher consent rates.
Re-evaluating BI stack: The change of consent will give a significant impact on your BI stack. You'll find a different set with analysis from where you can figure out how to contribute together after iOS 14 is released.
User Acquisition: There are a lot of marketers which take time to talk with marketing partners and align on IDFA with using targeting strategy.
Monetization: One will find significantly affect by using monetization capabilities. Depending on your business model, it will offer a significant impact on your RPM (Revenue Per Mille).
What's the navigating change:
iOS 14 update will offer solutions using granular and SKAdNetwork implementation. hire an ios developer to discuss your requirement or take help from any iOS app development companies to grow your business. Connect with us to hire resources as we have a team of experts who are ready to expand and move your project with iOS 14 update.