Reading Time:
10
minutes
By the end of February, Google has already teased us with the Android 11 developer preview. Android 10 was already a big hit, and Google finally started to take Android seriously. It was with Android 10 that Google finally gave up naming its operating systems with desserts. Further including, there are high hopes among the developers and all the tech enthusiasts with the release of Android 11. With every new consequent update, Google is looking forward to ramping up security and privacy.
New Features Added in Android 11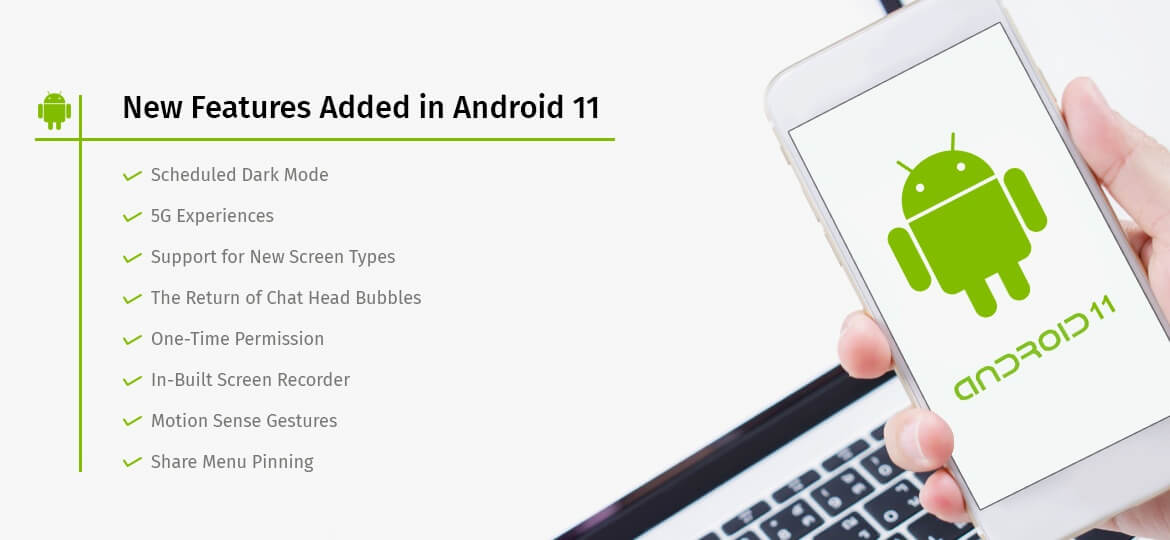 Although Android 11 has only been released for the developers, that fairly gives us a rough idea of what you will be getting. Down below is a list of all the new features that you can enjoy:
1.Scheduled Dark Mode
It is something that the android app development company can make the best use of. The dark mode was one of the biggest hits of Android 10, and Google has just made it better. You now have the liberty to schedule your dark mode. You can either set up a custom time for the dark mode, or Android will shift according to your time zone. Such small detailed tweaks are what make the Android ecosystem so fascinating.
2. 5G Experiences
5G has become one of the most debatable technological trends since 2019. One of the biggest advantages of 5G is not just a faster speed but also a lower latency rate. That means users can now stream 4K videos and high-resolution games specifically designed for 5G. With the release of Android 11, connectivity APIs have been updated, which makes the best use of 5G.
3. Support for New Screen Types
There is a point in arguing to the fact that every other manufacturer has come up with new form-factor and skin types. This is something that lets the developers run for their money. The new Android comes with better APIs that can optimize the applications according to the screen types and aspect ratios. Whether it is a pinhole or waterdrop screen, you can now manage all of them. This helps developers to create applications that can interact even near the edge of the skin.
4. The Return of Chat Head Bubbles
While it is not a significant update, but all the hardcore Android lovers will surely appreciate it. It all started with Facebook Messenger, but there is also a world of possibilities for other applications. With the release of Android 11, Google has already stated the developers to make use of the bubble APIs. So, once the latest Android starts to roll out, you will see a lot of bubbles around.
5. One-Time Permission
Now is the time to look for the security features that Google has under its sleeve. With the release of Android 10, we have already seen to types of permission granting the option. You can either grant it while using the application or deny it. But this time around, you can see another option. 'Only This Time' option lets users grant permission only at the time of using it. Added that you will need the permission. This is surely an indication that Google is truly working to make Android more secure and private.
6. In-Built Screen Recorder
This is one of the updates we all have been waiting for. While screen capturing has been around for a while now, screen recording was something where we needed to use third-party applications. With the release of Android 11, there is no need for such applications. The screen recorder appeared in one of the early builds of Android 10 but soon disappeared. So, let us hope that we can see them this time around.
7. Motion Sense Gestures
Motion sensing is only available for the Pixel devices for now. But with the later iterations of smartphones, they can also make use of the same. This feature allows the users to play or pause with the Motion Sense Gestures. While with Android 10, it was a little bit gimmicky, Android 11 tries to perfect the same. For example, while listing to music, you can show gestures towards your device to pause the music. This can come handy while conversing with someone or when your device out of your reach.
8. Share Menu Pinning
Android Share Menu is something that has always been into the controversy. While Android 10 fixed the majority of the issues, there is still room for further improvement. One of the most common apps that one uses for sharing is Google Drive. Using it that often, that app is still buried in the Share Menu. At times this can get frustrating. That is what the Android 11 update tries to change. With this, you can be able to pin applications and create shortcuts in the Share Menu.
Wrapping Up
With all the exciting new features that have been added to Android 11, it is surely going to be a big hit. Now one can hire android developer India and make the best use of these features. After all, apart from providing users with new experiences, it is going to open a whole new world of possibilities for the developers. So, make sure to go through the developer preview and bring your application to Android 11, so that you are not left behind.