Reading Time:
10
minutes
Today, innovations are advancing quickly where the manual yearly predictions of trends can seem out-of-date. Technology enables faster change and profound high impact on the people and spaces they inhabit. According to Gartner, 'Rather than building a technology stack, one should explore potential applications where the organization must consider the business and the human context first.'
The year 2022 will bring 70% of the increase of enterprise and will be experimenting with immersive technologies. By 2024, 65% of application development activity will reach a higher peak. In this post-digital world, we will require technology that will intensely customize with changing on-demand experiences. The top technology trends for 2020 will work as a crucial part of adopting the technology.
Below image shows the digital ecosystem which transition from social and cloud along with various distributed and quantum computing.
Let's start discussing top technology trends for 2020 that will shape the future tech market.
1. AI- Artificial Intelligence
In recent years, AI has created a buzz in the tech market and will continue to shape the various industries globally. Artificial Intelligence is already in use to improve customer experience and to streamline their business operations. The year 2020 is a year of AI, which refers to a computer system built to imitate human intelligence and carry tasks such as image recognition, patterns of speech, and other decision making. AI comes with the ability to do faster work than humans.
2. Hyperautomation
Here in hyper-automation, we'll talk about automation, automating tasks, integration, and various processes across the organization. Mainly it comes with a combination of multiple machine learning, packaged software, and automation tools. We can't say that RPA stands for hyper-automation in fact, it requires a combination of tools to develop a replicating piece where human is involved in a task.
3. Virtual Reality and Augmented Reality
VR immerses the user in an environment while AR enhances the environment. Both VR and AI come with enormous potential in training, marketing, education, and rehabilitation. Google, Samsung, and other Oculus are the significant players of the VR market. It does not require much knowledge to get started with VR.
4. The democratization of Expertise
Talking about advanced technologies, it is available for end-user organizations. It includes technologies such as AI and machine learning to accelerate the trends. According to Gartner, four key aspects are kept into consideration. Such as data and analytics, the democratization of design & development, and democratization of knowledge.
5. Momentary Markets
As digital reality is getting narrow to an exclusive fact every moment, more customized and on-demand experience, you'll get to fulfill customer needs. For a momentary market, businesses would need to combine real-time analytics capabilities with another backend system with always capturing customer needs.
6. Data Policing
Today, businesses and consumers have become more aware of the vulnerability of data breaches and cyber-attacks. Nearly 70% of the organization will expose to personal data archiving where there are technologies such as cryptocurrency yet comes with a complaint the privacy laws. But the ecosystem will always drive to grow interconnection to benefits businesses.
7. Edge Computing
There are several technology trends to watch out, such as AWS, Microsoft Azure, and Google cloud are significant players of it. Cloud computing adoption is growing its business widely and migrate to a cloud solution. But it won't emerge longer as with edge computing, and you can bypass the problem and get data to a datacentre for processing with ease. Edge computing will increase IoT usage along with a growing market.
8. DARQ
The DARQ is the shortened name for distributed ledger technology, Artificial Intelligence, Augmented Reality, and Quantum computing. DARQ is one kind of future technology pattern where businesses must onboard on need. Using this technology, one can approach training, procuring, and employee retention.
9. Autonomous Driving
Soon by 2020, autonomous driving will begin to spread its awareness outside the tech world. But before that law changing, existing infrastructure and other social dispositions will be prone before autonomous driving for a large portion of us. Now no more question of 'if' or 'when' it will end up being a reality.
10. Computer Vision
We are going to see computer vision tools in the coming years, where various technologies used to expand the market. Soon, production lines will be utilizing cameras for flawed products, which will bring options to alert us if anything happening around us seems strange. Computer vision will empower face recognition, which is the most useful Technology Trends in 2020.
So, What's Next?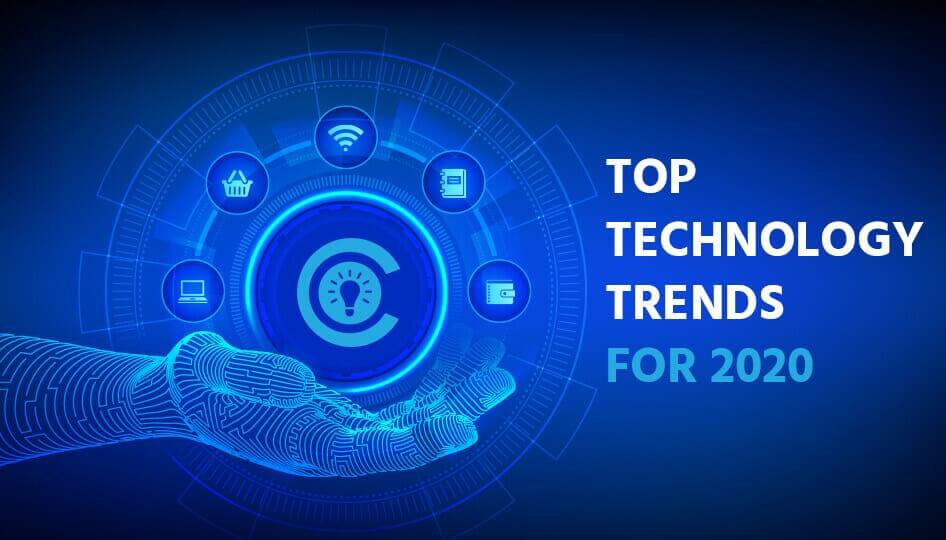 Although technologies are evolving around us, these above tech trends come with the full potential to have a foreseeable future. We'll find a dramatic change for businesses in terms of product modification. We can assume that by 2022, there will be more than 20 times smart devices that will be connected globally. Why not choose the right technology and position yourself at an early stage to gain success in the current digital world? The list can go on and on, but here we have only listed the top technology trends that will rule the market shortly. Get in touch to discuss your project in brief.