Reading Time:
8
minutes
Today we are not just talking about technology but living it. Our entire work system is personal or professional is secured in just one device "our Smartphone". And in this palm-size world, is one character called App, who is the IT lingo today. The better it is, the better is the results in terms of revenue and reach for any company. But these best apps call for some of the inimitable app developers who can tailor fit this IT character with the finest armor to combat the competitive scenario victoriously. Therefore here are the essential guidelines which can assist an individual entrepreneur or company to shortlist and hire the preeminent Android app developer for its app:
Jump Down:
Some tips for hire Best Android App Developer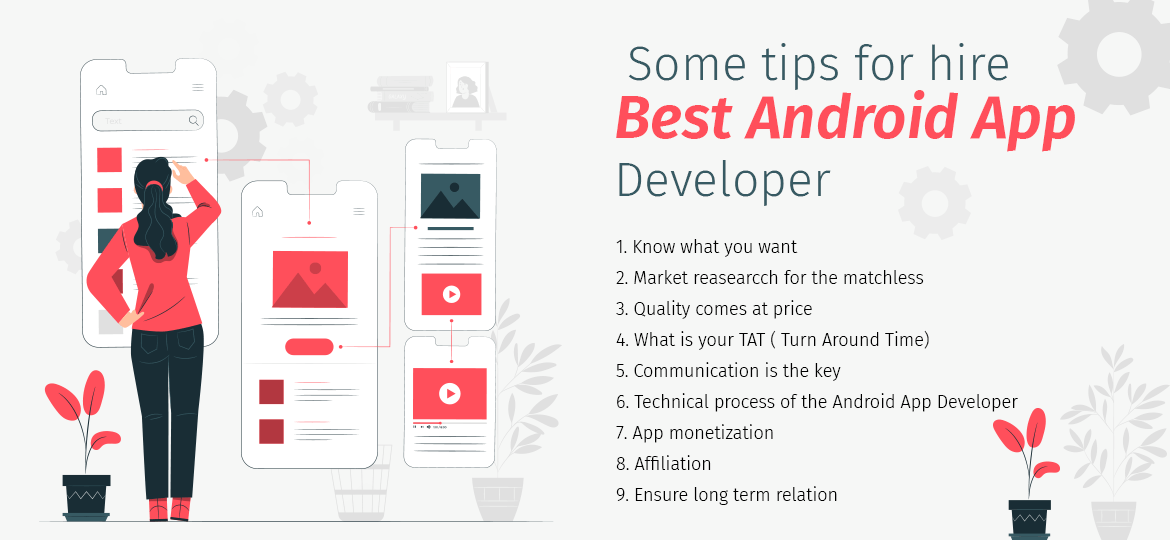 1. KNOW WHAT YOU WANT
Before initiating your research for the Android app developer, the motive behind app development should be well defined. This markedly depends on the industry you belong to and the products and services you deal with.
2. MARKET RESEARCH FOR THE MATCHLESS
Expand your search field. Don't just rely on the neighborhood app development company. There are offshore options, freelancers, and other app developers too. But one thing which does matter the most is the app developer's track record or experience as you call it. Check for referrals and also study their past work. As we all know work speaks louder than words.
3. QUALITY COMES AT PRICE
Don't compromise on quality because of cost. Set up a reasonable budget which you can afford to get the best in the market. This will also help in making the price comparison amongst the few shortlisted options. Have a transparent picture of the entire pricing from software to licensing.
4. WHAT IS YOUR TAT (TURN AROUND TIME)
Have a well-defined deadline from your end and get the same confirmed by the app developer. Time once is gone, can never be bought back. Moreover, a crossing of the timeline will lead to the crossing of the budget. Inspect from the developer's previous clients their record in terms of maintaining the timeline for app development and also for completing the rectifications if any (required after the launch).
5. COMMUNICATION IS THE KEY
Be it a freelancer, a neighborhood company, or an offshore developer, communication between the needy and the server has to be mobile and transparent. In the course of app development, there might be several issues that need to be discussed or shared upright. Seamless communication is also essential to remain updated with the trends, suggestions, and most significant trust in the developer.
6. TECHNICAL PROWESS OF THE Android App DEVELOPER
Specification and specialization are the two S behind success in technology. A web developer need not be an efficient app developer. The entire process and the use of technological software are much different in both cases. So an app developer seeker should be thorough with the kind of technology the developer uses and if it is at par with the need.
7. APP MONETIZATION
Whether you have to hire Android game developer or e-commerce app developer, the main aim is to churn revenue. An experienced app developer can very well guide on the ways to maximize the revenue and reach through the app thus leading to app monetization. So select carefully.
8. AFFILIATIONS
Affiliations of app developers speak a lot about their credentials. Therefore you can rely on these affiliations of Android app developers for the quality and coding standards of the app.
9. ENSURE LONG TERM RELATION
Since technology keeps on changing with time, app development and maintenance is an ongoing process, which is to be adhered to by the Android app developer. Therefore ensure finalizing a developer who has goodwill and distinguishable work in the market apart from long term relationship commitment.
Also Read: Android or Ios App Development: Which One TO Select?
Concetto Labs can help create Android App Development.
Concetto Labs is a web and Mobile application development Company in India as well as an Android Application Development Company that has developed a large number of Apps. Their development expands several apps like educational, Shopping, and Travel more. Concetto Labs is the best place to Hire Android App Developer.
Concetto Labs can help createAndroid App Development
Thats Exactly what we do