Reading Time:
11
minutes
Flutter is a buzzword that's rolling everywhere these days. When you have a look at first sight, it's a butterfly. But Flutter is one type of Google's new framework. It's built for developing high-quality native apps for android and iOS.
In today's time, the market is competitive. If you wish to do your business on the top, then you must have a mobile-first approach. For that, your business needs to make a necessary decision. They should choose mobile technology for gaining business from clients. With various technology available, it is difficult to decide on the platform. Among them, native or cross-platform are most suits your needs. Which platform works well for your business? Well, we have an answer here to end this debate.
What companies are using Flutter?
Flutter App Development has proven its worth and is winning the hearts of millions. Top companies like Hamilton Musical, Alibaba, Reflectly, Tencent, etc. have embraced this technology. Flutter mobile development, the cross-platform framework is used to build next-generation applications. It comes with a reliable mobile UI. One can get a quality-rich native interface that can work on all cross-platforms. While you're reading this, we'll get hundreds of new flutter applications launched in the market.
If you're looking to develop one for your emerging business, then hire a top flutter app development company and get benefits. In this blog, your all questions will be answered in an easy-to-understand manner.
Flutter Overview
Flutter is an open-source and cross-platform development tool developed by Google. works like an umbrella and craft beautiful application that gives a native-like feel. It can work on multiple platforms and uses Dart as a programming language. it helps to get a smooth learning curve and assist in developing a single codebase and resolve any level of project complexities. Understand better with how to flutter app development influences startups and enterprises.
What are the reasons to fall in love with Flutter?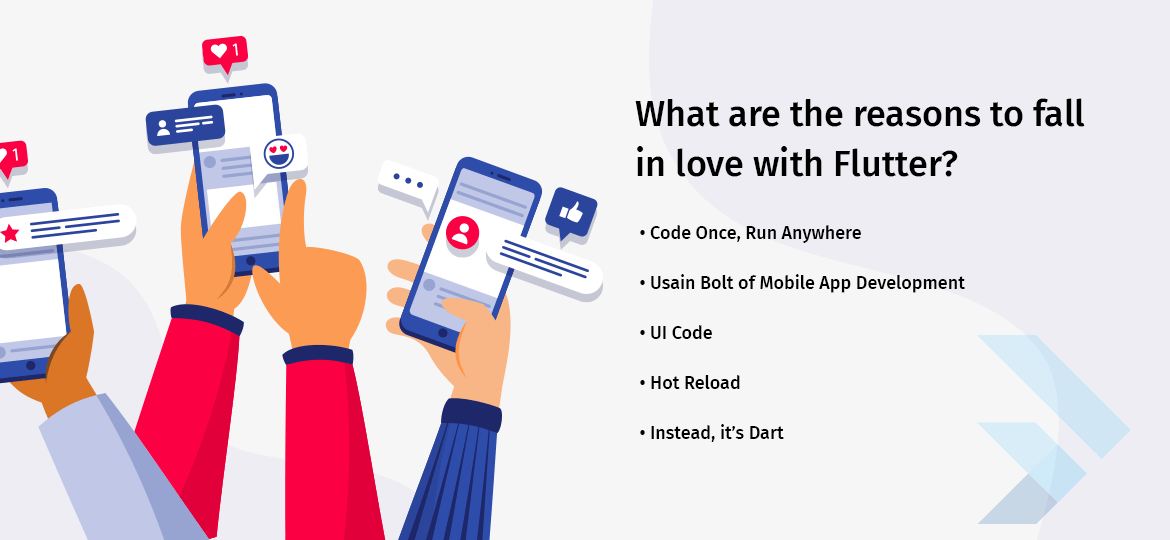 Google has been best for whatever software it creates. People like us know and trust Google that whatever comes from it is efficient and well-defined to use it. If you're a mobile developer, then you need to take a look over these pointers as to how people are going to love this.
Code Once, Run Anywhere
With Flutter, one can code one time and run on any devices. It can automatically adapt to the operative system. If you have different stuff on each device, we still can use Flutter's same code.
Usain Bolt of Mobile App Development
With Flutter, you can get everything fast from code writing to compiling. If you're looking to build an app as quickly as possible, then Flutter is best for you. Also, it comes with fewer complications.
 UI Code
Its simplicity is you need one language for your whole project and now forget loads of files created when developing using Android Native. But there's some downside that it comes with nested code. Can you imagine using it all iterations, event handlers, conditional, and UI in the same functions? But no worry, you'll get used to it once you start working on it.
Hot Reload
Flutter comes with a Hot Reload feature as it has Dart compiler technology. It allows to use load code and runs without losing its actual state. The changes done will apply instantly in the running app.
Instead, it's Dart
To build an application with flutter, you'll need to learn Dart or else hire a dart developer to perform the task. Moreover, learning Dart isn't hard to understand. If you're a flutter developer, you can learn it quickly. But you'll need some time to get used to it.
How one can choose Flutter mobile app development company?
Choosing one of the best top flutter app development company isn't a cakewalk. One needs to meet the unprecedented demand for mobile applications. The flutter web company you choose should have extensive experience and offer services at an affordable rate.
Consider below this you need to consider before you start your selection of a development partner.
Identify your exact business requirements: Understand your business expectations. Build a roadmap that comes with solutions. Know which platform you need? What features to integrate? Who is your target audience? What do you want to achieve from this app?
Define your budget: Firstly, you need to decide your budget and plan where to spend on app development using flutter. Get quotations from various companies and compare their features and charges.
Shortlist a few options: Once you have shortlisted and understand the options, you can ask your friends to share references. Make a company list and start visiting its website. Look out for all small details and pen down any particular observations.
Check the company size: This point won't make much difference, but it's good to understand the necessary research about the company. The company size will let you know if they can handle the project of your size. As in the case of a few employees, they get overloaded.
Ensure on-time delivery and pricing: Talking straight, the company shouldn't give you false excuses. If you don't feel comfortable, then check online reviews and discuss the budget along with deadlines.
Check after service support: The job of any company doesn't end once the project is delivered. But there are several pitfalls responsible that needed support in the future. Therefore, provide upgrade is a must.
Do check Reputation: Now, with an online search, it has become easier to find out any information about the company. Therefore, through research, we can build a prospective development partner.
Also Read: Build Run First Web Application Using Flutter For Web
Wrapping up
Flutter has conquered the internet today by providing unique applications. Flutter App development comes with a cutting-edge framework for helping developers and building highly-graded applications. If you have any questions regarding Flutter mobile development, then feel free to contact us. We have an excellent team of developer who is ready to provide you application with utmost ease and remarkable. Hire flutter developer from us as we are capable of handling all the flutter-related challenges and offering you live up your project-goals.
Why People are going Crazy Behind Flutter and How to choose Flutter App Development Company?