Reading Time:
7
minutes
Laravel framework is extremely popular among the software developers, due to various reasons. This is a PHP framework on Github, used by above 56 K developers using it from different parts of the world. Its popularity has given a boost to different features and functionalities in the development field. It provides the right tools to the developers to build websites and web apps faster and safer. Recently, a new version of Laravel 7.19 released, which has brought many new features to be a part of it.
Let's understand more about Laravel benefits and about its new version through this post.
Benefits of using Laravel in web/ web app development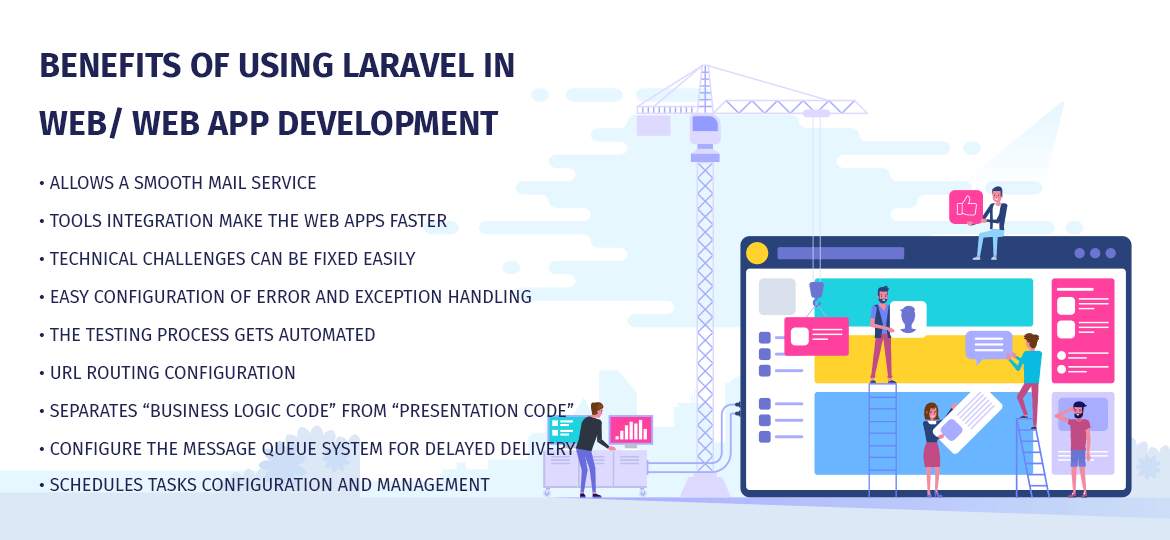 Allows a smooth mail service
Tools integration make the web apps faster
Technical challenges can be fixed easily
Easy configuration of error and exception handling
The testing process gets automated
URL routing configuration
Separates "Business Logic Code" from "Presentation Code"
Configure the message queue system for delayed delivery
Schedules tasks configuration and management
Why Laravel-based web applications are faster?
The environment of web apps demands to run them as fast as possible. Laravel offers PHP with a clean web development framework. Also, it lets developers stay away from the complex coding, this helps in making simple and wonderful apps using a simple syntax. This makes Laravel based web-apps faster and smarter.
Laravel and its new version
It has been observed that Laravel and its other first-party packages follow Semantic Versioning. This makes them release the major framework releases every six months starting from Feb to Aug then Sep to Feb. Now recently Laravel has brought the ground-breaking changes in its Laravel v7.19.0.
What new has been brought in the latest version?
TheLaravel v7.19.0 is all about the new scheduler frequency shortcuts, conditionally appending attributes to API resources, and a new Stringable when using () method. Let's explore more.
Scheduler Frequency Shortcuts
Now, it is possible for the developers to contribute more useful scheduler frequency shortcuts:
everyTwoHours()
everyThreeHours()
everyFourHours()
everySixHours()
Also, they offer readable shortcuts to the developers instead of using cron:
API resources conditional return appended attributes
With the new update, the 'whenAppended' method can be used for the API resources to append attributes conditionally.
Scheduled Task Failed Event
Laravel new version has got a new update, in the event of 'ScheduledTaskFailed' it rejects or fires when a scheduled task fails, making it easier for the developers to save their time and efforts.
What were the issues faced in the earlier Laravel Version?
There are few issues, which existed earlier, are now fixed, such as:
Fixed signed URLs with custom parameters (bcb133e)
Determine model key name correctly in Illuminate/Validation/Concerns/ValidatesAttributes.php (a1fdd53)
Fixed notifications database channel for anonymous notifiable (#33409)
How this new Laravel version would benefit web developers?
This new version has also amplified the development experience to another level by changing a few aspects, such as:
Improved SQL Server last insert id retrieval (#33430, de1d159)
Made Str::endsWith return false if both haystack and needle are empty strings (#33434)
Do you still have questions like:
What's new in the latest Laravel version?
Is Laravel having any support tool for API creation?
Is Laravel worth implementing for eCommerce development in 2020?
How long does it take for Laravel web development?
Why consider Laravel framework for your eCommerce needs?
If so, all you need to do is just drop us an email along with your questions and requirements and our Laravel experts will get back to you within 24 business working hours.
CTA: Schedule Consultation with Laravel Expert
Final takeaway
As a leading Laravel Development Company, we at Concetto Labs, provide the best development services to our clients. You can Hire Laravel Developers from us and help your web project to grow higher. We have successfully developed efficient web solutions for various clients globally, you must get in touch with us to hire Dedicated Laravel Developer and bring a change in your user-experience journey.
Laravel 7.19 Releases – What You Can Expect from The New Laravel Version?